Faced with a coming wave of Chinese electric vehicles, Europe's carmakers need more time.
An anti-subsidy probe into imported models, announced by the European Commission on Wednesday, may have bought the industry the breathing room it needs to adapt.
But even as president Ursula von der Leyen announced a months-long probe that could lead to higher tariffs, fears were circling that the Commission president's action plan is already too late.
"We have been denouncing this risk for years," said Matteo Salvini, Italy's transport minister and leader of the hard-right League. "Europe is waking up only now: were they distracted, incompetent or complicit?"
While the probe deals with imported Chinese-built cars, it will not address the larger issue of European carmakers' reliance on Chinese battery technology, which is the reason why China dominates the region's nascent battery scene.
On the fringes of last week's Munich auto show, a regular meeting of the region's top auto executives focused almost exclusively on the threat from the Chinese brands whose glitzy stands dominated the trade show.
"The rules of the international chess board have been changed," Sigrid de Vries, head of ACEA, which represents Europe's carmakers, told the FT hours after the meeting broke up. "Europe needs to up its game."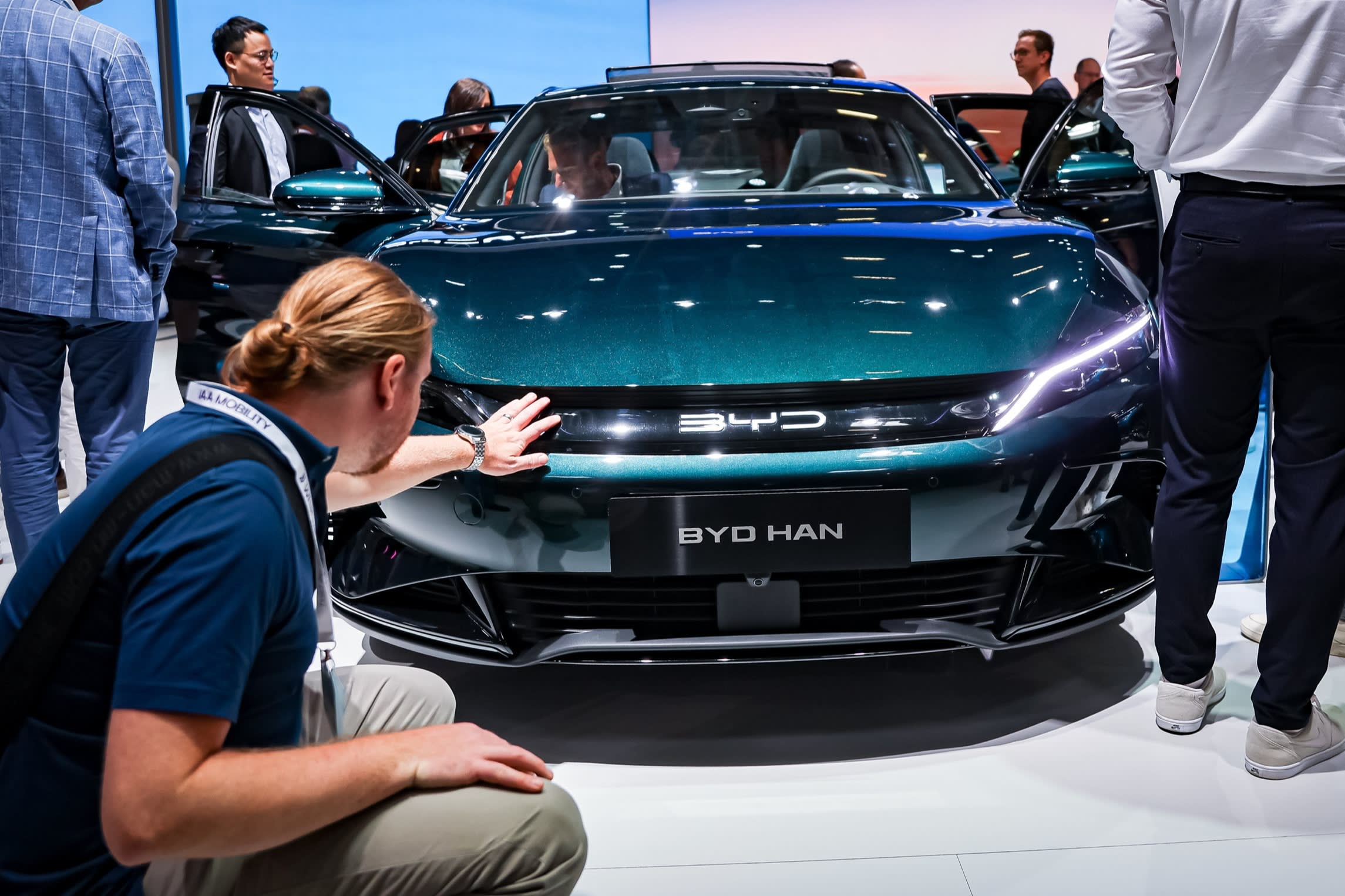 China's car building capacity and battery technology has advanced considerably. Yet even under the most aggressive plans, it will still take years for Chinese groups to increase sales and grow name recognition in a region that plays home to many of the world's most storied auto brands.
"It's a two-year process before they really have a presence," said Philippe Houchois, the auto analyst at Jefferies. "That's a two-year window for the European industry to get its act together."
Having only recently released their first competitive range of EVs, which coincided with new emissions rules in the region, Europe's carmakers are expecting the next wave to be much more cost-efficient.
Renault's next models would cost significantly less than its current offerings, chief executive Luca de Meo told the FT at the Munich show. "We have the visibility to reduce costs by 30-40 per cent," he said.
Yet while carmakers often complain that Chinese brands will use lower labour and energy costs — along with hefty subsidies — to undercut Europeans, it is not borne out yet in the market.
The average price of a Chinese EV sold in the EU was €48,581 in the first half of 2023, compared with a cost of €67,607 for non-Chinese brands, according to data group Jato Dynamics.
The figures, however, are skewed by MG, a European brand now owned by China's SAIC, which has dominated the lower end of the market with its €35,000 MG4.
The company accounts for two-thirds of the imports from Chinese-owned carmakers, according to Matthias Schmidt, an analyst who tracks Chinese imports into the region.
While cheaper cars come from China — Renault will manufacture the cut-price Dacia Spring in the country — most European plants focus on more expensive models.
"Until last year, most of the offer from the European, American, Korean, and Japanese brands was concentrated on the upper segments," says Juan Felipe Munoz, an analyst at data group Jato Dynamics. "This started to change recently, but still today half of the offer corresponds to midsize or large SUVs and sedans. The West has positioned the EVs as "premium" cars (until now), while China has always looked to all segments."
While Europeans grapple with integrating expensive batteries into cheaper models, China's long-term strategy to bet on batteries has allowed its players a lead in the technology that feeds into its lower-end models.
That said, aside from MG, most Chinese electric cars sold in Europe remained expensive. "Look at the NIOs, BYDs, Xpengs that are on sale in Europe, they are not cheap," says Lei Xing, an independent Chinese auto expert.
He adds: "China EVs have been subsidised domestically for years but that shouldn't discount the fact that Chinese cars are becoming competitive and quality products."
When faced with two evenly-priced cars, the Chinese brands such as BYD hope that consumers will judge them as equals, looking at technology and interior quality when making their decision.
"If you enter a [cheaper] European electric car, you can see where they're cutting corners, it's full of hard plastic," said Schmidt, the independent analyst. "The tables have definitely turned, you would expect the Chinese to be plastic, and the Europeans the other way around."
Yet concerns that Europe has been caught flat-footed are well founded.
Much of this stems from the bloc's painstaking efforts to appear "technology neutral", rather than prescribing one system, such as battery cars, as the preferred solution.
"By arguing for neutrality, they [the EU] didn't have to make decisions on the total value chain," said Houchois. "But it became clear a number of years ago that the only way we were getting there was batteries, but because the European position was neutrality, they didn't have anything on batteries or charging."
Many draw parallels with fears over the Japanese importers Toyota, Honda and Nissan, which came to Europe in the 1990s and were viewed by comfortable incumbents with similar alarm.
"Europe never wanted to keep the Japanese out," said Houchois. "They just wanted them to give time for the industry to raise its game."