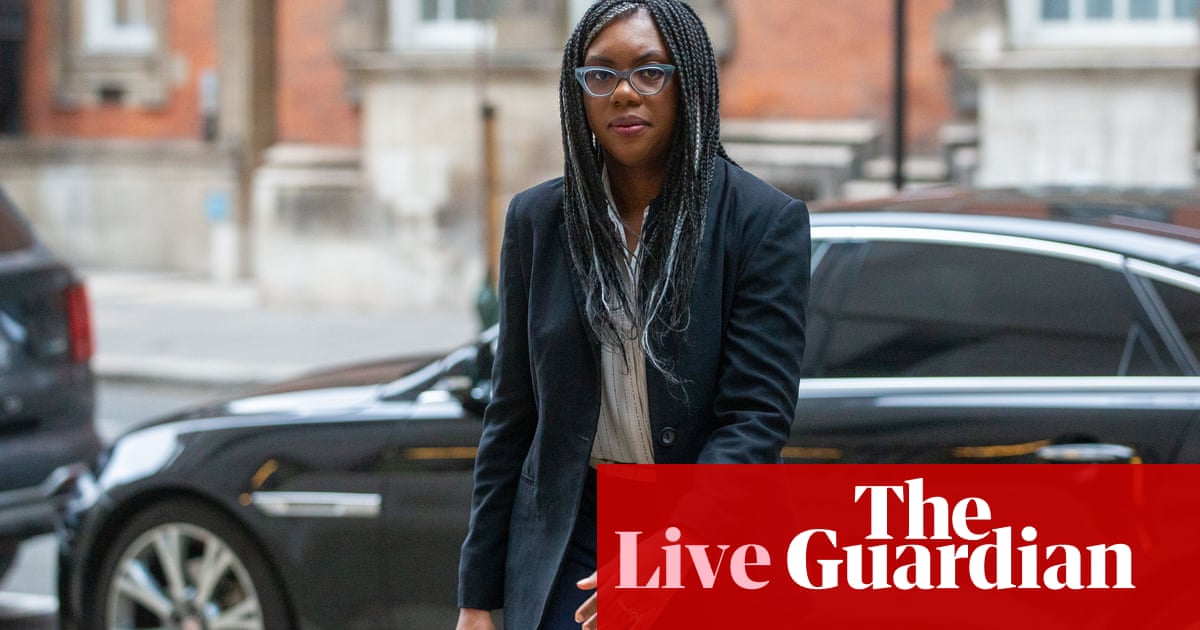 Good morning. One of the many aspects of politics that has changed dramatically over the past decade is the way the government views China. David Cameron came to power determined to establish warm relations with Beijing, but in recent years relations have deteriorated considerably and a Conservative government that views China with considerable suspicion is being urged by some of its hawkish backbenchers to go much further, and to treat it as a hostile opponent.
The revelation yesterday that a parliamentary researcher linked to the Conservative has been arrested on spying charges has turbocharged this debate. Understandably, the hawks are feeling vindicated.
As Helen Davidson and Peter Walker report, China has dismissed the news as Sinophobic propaganda. "The claim that China is suspected of 'stealing British intelligence' is completely fabricated and nothing but malicious slander," the Chinese government in London said.
The Tory hawks want the government to categorise China as a threat. In an update to the integrated review of defence and security published in March, the government instead said it posed "an epoch-defining challenge" (although that was an advance on the previous review, which said the country was a "systemic competitor".)
This morning Kemi Badenoch, the business and trade secretary, was doing a morning interview round and she suggested that toughening the rhetoric used to describe China would be counterproductive. Asked on Sky News whether China was friend or foe, she replied:
China is a country that we do a lot of business with. China is a country that is significant in terms of world economics. It sits on the UN Security Council. We certainly should not be describing China as a foe but we can describe it as a challenge… I don't think we should be careless in terms of how we speak about other countries when these sorts of things happen.
She said it was important not to use "language that makes people scared" and to remain diplomatic.
And asked on the Today programme if China should be designated a threat, she suggested that might "escalate" the problem. She said:
Whether or not you use words like threat I think is a reflection of how far you want to escalate things.

China is the second largest economy in the world, it's heavily integrated in our economy as it is with many of our allies … We're taking the same approach that those countries are taking.
I will post more from her interviews shortly.
Here is the agenda for the day.
10.30am: Kemi Badenoch, the business and trade secretary, visits Oxford to mark the BMW announcement about its investment to produce the electric Mini in the city. Graeme Wearden has more on this on his business live blog.
Morning: Keir Starmer and Bridget Phillipson, the education secretary, visit a school in Dagenham.
11.30am: Downing Street holds a lobby briefing.
Morning: Paul Nowak, the TUC general secretary, speaks on the first full day of its annual conference in Liverpool.
After 3.30pm: A minister may give a statement, or have to respond to an urgent Commons question, about the arrest of a parliamentary researcher on suspicion of spying for China.
Also, James Cleverly, the foreign secretary, is on the first day of a trip to Israel and the Occupied Palestinian Territories. He is due to meet the Israeli prime minister, Benjamin Netanyahu.
If you want to contact me, do try the "send us a message" feature. You'll see it just below the byline – on the left of the screen, if you are reading on a laptop or a desktop. This is for people who want to message me directly. I find it very useful when people message to point out errors (even typos – no mistake is too small to correct). Often I find your questions very interesting, too. I can't promise to reply to them all, but I will try to reply to as many as I can, either in the comments below the line, privately (if you leave an email address and that seems more appropriate), or in the main blog, if I think it is a topic of wide interest.