Four years ago, North Korean leader Kim Jong Un made a symbolic journey southwards, crossing the border with his armored train to engage with the leaders of the democratic world. A similar image is in the making, only this time, his train will head in the opposite direction – towards a deepening bromance with his fellow leader of the authoritarian world, Russian president Vladimir Putin.
Kim is expected to visit the Russian Far East in the coming days, Russian news agency Interfax said on Monday, citing multiple unnamed sources. "A source in the government of a constituent territory in Russia's Far Eastern Federal District said that the North Korean leader 'might visit the region shortly'," it reported, adding that a government official of another region also confirmed preparations for Kim's visit.
A person familiar with the matter told Radio Free Asia that Kim Jong Un had already departed the North Korean capital. 
The report lends weight to multiple signs that have indicated an impending summit between North Korea and Russia in Vladivostok. The increased bilateral diplomatic exchanges – the most recent being the Russian defense minister, Sergei Shoigu's visit to Pyongyang in July – served to signal that preparations for a major visit are underway. Japanese media including ANN reported on Russia preparing for what appears to be a welcome ceremony at its border station of Khasan, where a red carpet will be rolled out.
While such signs are not conclusive of a summit taking place, the high-level meeting is very plausible, according to multiple South Korean diplomatic sources who told Radio Free Asia that Seoul is closely monitoring the possibility of Kim traveling to Russia during the period of the Eastern Economic Forum, held from Sunday to Wednesday in Vladivostok. The Russian state-owned news agency Tass reported on Monday that Putin is on a two-day trip to the far east to attend the forum.  
In April 2019, Kim and Putin also met in Vladivostok, where the two reinforced their solid diplomatic ties. The meeting came a mere two months after Kim's high-stakes nuclear negotiation with the United States collapsed in Hanoi. After the summit, where Putin reiterated Russia's role as a regime backer, Kim returned to his brinkmanship diplomacy, firing multiple missiles.
This week's potential summit between the two authoritarian leaders is likely to be fully loaded with ammunition that could exacerbate the precarious geopolitical dynamics and inflict further consequences to global and regional security, not only posing new threats to the U.S. and its allies' spectrum of policies from Europe to Asia, but also affecting Pyongyang's relations with its other backer, China.   
Ukraine War and Europe
The Kim-Putin summit could change security-related dynamics in Europe, as arms trade is likely to dominate the agenda. 
"As we have warned publicly, arms negotiations between Russia and the DPRK are actively advancing," U.S. National Security Council spokeswoman Adrienne Watson said last week, referring to North Korea by its formal name. "We have information that Kim Jong Un expects these discussions to continue, to include leader-level diplomatic engagement in Russia," she added. 
Any ammunition supplies to Russia would prolong its aggression against Ukraine and drag the war into a long-term conflict that further destabilizes Europe. Strained ammunition supplies are currently holding Russia back to advance deeper into Ukrainian territories. 
"I think the potential talks, should it take place, would be aimed primarily at enhancing the bilateral military cooperation," said Yang Moo-jin, a professor at the University of North Korean Studies in Seoul who had advised the South Korean government over the years. 
"Especially from Russia's point of view, it desperately needs conventional weapons from North Korea, in the form of artillery shells, drones and missiles, as it continues its war with Ukraine." 
Wang Son-taek, director of the Global Policy Center at the Han Pyeong Peace Institute, agreed. It "wouldn't be a bad idea" from Russia's perspective to cooperate with North Korea as leverage to break the U.S.-led order and create a "neo-Cold War-like" confrontational security climate, Wang said.
Denuclearization of North Korea
The summit would also set the U.S. back in its denuclearization efforts in the Korean peninsula. North Korea's acquisition of  hi-tech Russian weapons would inevitably boost the country's deterrence capability against the U.S. and its regional allies. Some of those technologies may include satellite launch technology, advanced inter continental ballistic missiles (ICBMs), and nuclear-powered submarines.  
"It is possible that North Korea could demand a gradual and phased transfer of technology from Russia," Yang said. "The North could first request technology transfer for its spy satellite, as it has already announced that it will launch one in October. Then, it could ask for ICBM re-entry technology, followed by nuclear-powered submarine technology, and so on."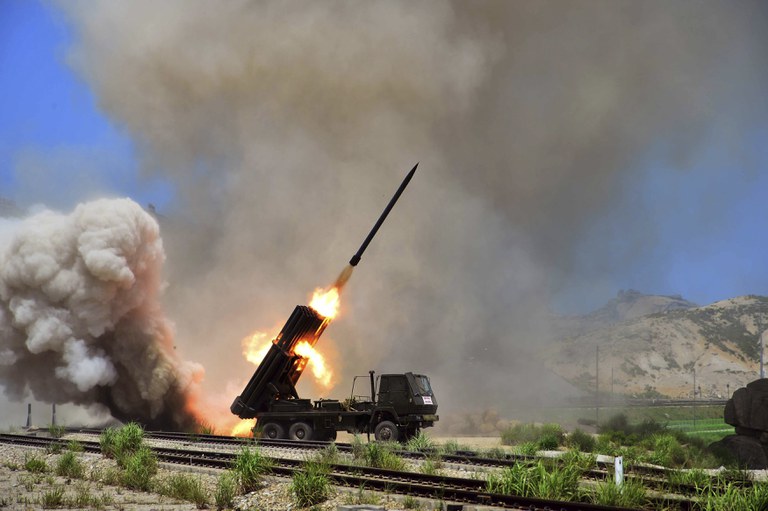 Any economic support from Russia may also undermine and water down the effects of the international community's imposed sanctions to force North Korea to denuclearize. On the other hand, a bolstered alliance between Moscow and Pyongyang would  reshape the region's geopolitical dynamics, pulling it further away from the pressure to disarm and non-proliferation.  
Still, Pyongyang's indignance to international condemnation comes at the expense of a crippling domestic economy. Almost half of the North Korean people were undernourished between 2020 and 2022, a World Food Program report published in July found. The food shortage in North Korea appears to be spreading, with sources inside the country telling Radio Free Asia that as many as 30% of farmers in two northern provinces are unable to work on collective farms because they're weak from hunger.
"In the case of North Korea and Russia, they are already under economic sanctions under the U.S.-led world order," Wang said. "And they may have believed that it may prove difficult for them to remain in compliance with the current order."
China on the fence
Would the burgeoning Kim-Putin bromance create an opportunity for the U.S. to thaw the ice with China? While it is unlikely for China, which wants to elevate its bargaining power against the U.S. and degrade Washington's global leadership over time, to prematurely collide directly with the U.S. at this stage, Beijing could be compelled to reassess its relations with its authoritarian neighbors, as well as with Washington.  
Equally, Washington may use the summit as a means to strengthen cooperation among allies, Wang pointed out. "It could strengthen liberal-democratic alliances and provide an opportunity for the U.S. to align with the democracies, which would put pressure on China to conform more to the rule-based-order."
For Beijing, the two authoritarian regimes are valued as a strategic asset against the U.S., but cuddling too close with them may jeopardize its relations with the U.S. and its regional allies, which are crucial to improving its economic situation. It needs to maintain access to international markets and foreign investment in order to prevent a further deterioration of its economy. 
"China's position is to continue its cooperation with North Korea and Russia, but not to confront the U.S. head-on," Wang said. "In fact, there are fundamental constraints when it comes to North Korea-Russia relations, which arguably question its sustainability. Historically, North Korea has harbored resentment towards Russian imperialism, while Russia perceives North Korea as a demanding friend, often making challenging requests.
"A long-lasting friendship between them might seem elusive. This dynamic may explain China's fence-sitting, as it appears Beijing is carefully assessing the situation, by neither actively participating nor intervening, gauging the sustainability of these relationships."
Edited by Elaine Chan and Mike Firn.