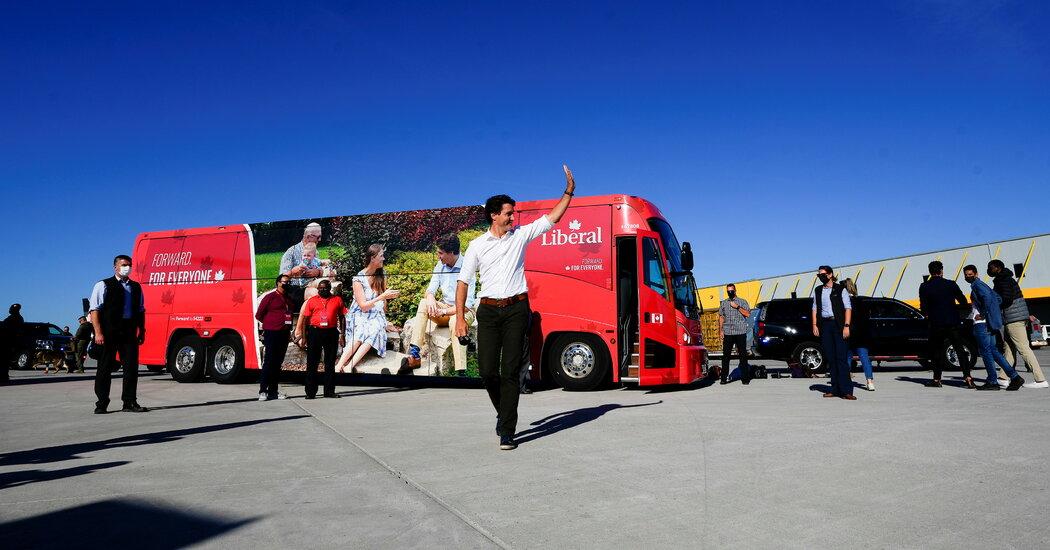 OTTAWA — The leaked intelligence reports have set off a political firestorm. They describe plans by the government of China and its diplomats in Canada to ensure that Prime Minister Justin Trudeau's Liberal Party took power in the last two elections, raising troubling questions about the integrity of Canada's democracy.
But as two prominent Canadian news organizations have published a series of leaks over the past month, Mr. Trudeau has refused calls to launch a public inquiry into the matter, angering political opponents and leading to accusations that he is covering up foreign attempts to undermine his country's elections.
The news reports do not present any evidence that the Chinese carried out any of their plans for meddling or changing election outcomes. And an independent review released this month as part of Canada's routine monitoring of election interference upheld the integrity of the 2019 and 2021 votes.
Even so, the leaks pose a risk for Mr. Trudeau of appearing weak in the face of potential Chinese aggression and indecisive as a leader acting to preserve election integrity. His political opponents have accused him of being disloyal to Canada.
As the intelligence leaks have flowed, Mr. Trudeau has shifted from trying to dismiss them and refusing to discuss them because of secrecy laws, to announcing a series of closed-door reviews related to election integrity.
Still, he continues to rebuff repeated calls for a public inquiry — which would include not just an independent investigation, but public hearings — arguing that other inquiries are more appropriate. He said he would only establish a public inquiry if one of his other reviews concludes it's necessary.
"Canada has some of the best and most robust elections in the world," Mr. Trudeau told reporters. "All Canadians can have total confidence that the outcomes of the 2019 and 2021 elections were determined by Canadians, and Canadians alone, at the voting booth."
The Liberals have accused Conservatives of undermining the public's confidence in Canada's electoral system by falsely claiming that the government ignored warnings of potential Chinese interference. Liberals have also accused Conservatives of using the leaks to fan fear and suspicion of Chinese-Canadian elected officials, in an effort to discredit them and undermine their participation in electoral politics.
The political attacks on Mr. Trudeau have been spearheaded by the leader of the Conservative Party, which says it is raising legitimate threats to Canadian democracy.
"He's covered it up, even encouraged it to continue," said the leader, Pierre Poilievre, who suggested that "the prime minister is acting against Canada's interest and in favor of a foreign dictatorship's interests."
Current and past inquiries about recent elections are not transparent and, in some cases, they lack independence from the Liberals, Mr. Poilievre said.
"He wants closed and controlled and we want an open and independent inquiry to make sure it never happens again," Mr. Poilievre said in the House of Commons.
Heightened scrutiny of China's efforts to subvert Canada's political process — and corresponding pressure on Mr. Trudeau — started in mid-February after the publication of an article in the Globe and Mail, a Toronto newspaper.
According to the newspaper, its reporters had seen unspecified secret and top secret reports from the Canadian Security and Intelligence Service, commonly called CSIS, that described the intentions of Chinese officials to manipulate the last two elections. The goal, according to the paper's description of the leaks, was to prevent a win by the Conservative Party, which the Chinese viewed as excessively hard line toward China.
A Chinese consular official boasted to her superiors that she had engineered the defeat of two Conservative candidates in 2021, the Globe and Mail reported, though the newspaper provided no evidence to support her claim.
The Globe and Mail's articles and reports on Global News, a broadcaster based-in Canada, said the leaks described orders given to Chinese diplomats based in Canada and, according to the news reports, involved 11 of Canada's 338 electoral districts.
The leaks to both news organizations described illegal cash payments to Liberals and illegal hiring by Chinese officials or their agents in Canada of international students from China, who were reportedly then presented to Liberal campaigns as volunteers. Mr. Trudeau and other Liberals have characterized the reports as "inaccurate."
Some of the supposed plans would have been difficult to execute within Canada's electoral system, analysts said, because Canada limits and tightly controls campaign spending and fund-raising.
"It does come across as a highly unsophisticated understanding of Canadian politics," said Lori Turnbull, an associate professor of political science at Dalhousie University in Halifax, Nova Scotia.
Aside from originating with the intelligence service, little has been revealed about the exact nature of most of the documents leaked to the two news outlets and it is unclear if the reporters saw them in their entirety. The sources for the information contained in the intelligence reports haves also not been revealed.
"It's not necessarily evidence that a crime took place," said Stephanie Carvin, a professor of national security studies at Carleton University in Ottawa, and a former Canadian government intelligence analyst. "We frankly don't know. The way I feel about this issue is that it's a puzzle. There's a thousand pieces that the service has and we're seeing 10 of them."
Even so, Conservatives have been able to push Mr. Trudeau into a corner, while casting doubt on the allegiance of certain Chinese-Canadian elected officials in the Liberal Party, such as Michael Chan, a former Liberal cabinet minister in Ontario's provincial government.
Global News reported last month that CSIS said that at Beijing's request, Mr. Chan arranged to replace a Liberal member of Parliament from Toronto with a different candidate.
Mr. Chan called that report nonsense because he's never had the authority to orchestrate such a thing. "I don't know where the heck CSIS gets this information," he said.
Mr. Chan and other Chinese-Canadian officials have been subject to increased scrutiny and what he says are false, racially motivated accusations that he was under the influence of officials in the Chinese consulate in Toronto.
He has asked Mr. Trudeau to open an inquiry into "racial profiling" of the Chinese community by the intelligence service. "The informant who informed them just got it wrong, completely wrong," he said.
Mr. Trudeau initially responded to allegations of Chinese interference in elections by urging the public to wait for the release of a routine review that Canada uses to monitor foreign interference in elections.
That report, made public on March 2, concluded that while China, Russia and Iran tried to interfere in the 2019 and 2021 elections, they had no effect on their results. But that did not quell the calls from opposition parties for a public inquiry.
Mr. Trudeau recently announced several moves to examine foreign interference. And he committed to holding a public inquiry if it is recommended by a special reviewer who will make recommendations on preventing election subversion.
"We all agree that upholding confidence in our democratic process in our elections in our institutions, is of utmost importance," Mr. Trudeau said. "This is not and should never be a partisan issue."
On Friday, the Globe and Mail published an essay it said was written by its source, who was only described as "a national security official."
The newspaper's source said that he or she acted because after years of what he or she saw as serious escalation of the threat from foreign interference in votes, "it had become increasingly clear that no serious action was being considered."
The writer lamented that the political debate sparked by the leaks has been "marked by ugliness and division," and added that he or she does not believe that any foreign power has "dictated the present composition of our federal government."
David J. Bercuson, the director emeritus of the Centre for Military and Strategic Studies at the University of Calgary in Alberta, said he believes that Mr. Trudeau will eventually have to allow a public inquiry.
Mr. Trudeau, Professor Bercuson, has yet to "do anything to resolve the growing mistrust."