Taiwan's president has condemned the deadly shooting at a Taiwanese church in California by a man reportedly driven by hatred of the self-governing island, where debate about cross-strait tensions has intensified along with Beijing's reunification rhetoric.
Tsai Ing-wen's office issued a statement saying she condemned "any form of violence" and extended her condolences to those killed and injured, and that she had asked the island's chief representative in the US to fly to California to provide assistance.
David Chou, 68, was arrested on Sunday at Laguna Woods, Orange County, after he allegedly opened fire on a group of people at Geneva Presbyterian church, killing one and injuring five others.
Police described the shooting as a "politically motivated hate incident", saying the suspect could have been motivated by his discontent with cross-strait tensions in recent years.
Don Barnes, the Orange county sheriff, said evidence recovered from Chou's vehicle demonstrated his "hatred for the Taiwanese people", which could have developed while Chou was living in Taiwan as a young man, where he was "not well-received".
The notes also suggested Chou believed Taiwan should not be independent from China. Online pictures placed Chou at a meeting of a Las Vegas group that supports the "peaceful unification" of Taiwan and mainland China. The group had sought to distance itself from Chou, Chinese-language media reported.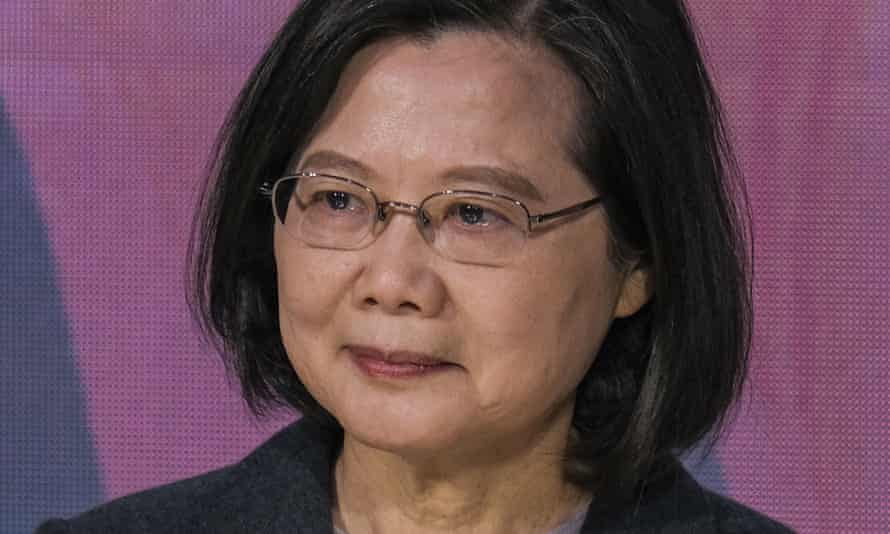 According to the Alliance for China's Peaceful Reunification, there are more than 30 such groups operating across the US. These groups, which are loosely affiliated with a central body in Beijing, can also be found among Chinese communities in Britain, publishing writings against Taiwan independence.
Chou, a US citizen, apparently had grievances with the Taiwanese community in the US, police said. Although police told the Guardian he was born in mainland China, Taiwan's Central News Agency, citing the head of the Taipei Economic and Cultural Office in Los Angeles, Taiwan's de facto consulate in the city, reported that he was born in Taiwan in 1953.
While local authorities did not make clear when Chou had moved to the US, it appears that he graduated from the Taichung First Senior High school in Taiwan in 1971 and was involved in an alumni association in the US, according to the school alumni association's website accessed by the Guardian. Chou's name has now been removed.
According to a 2012 news article, Chou had moved to Las Vegas in 2009 to become a landlord. Local authorities said he lived alone and the rest of his family was in Taiwan, adding Chou had worked as a security guard in the Las Vegas area.
News of the shooting was widely circulated in Taiwan on Tuesday, with local media highlighting Chou's ties with the pro-unification group. Pro-democracy politicians blamed Beijing's rhetoric around reunification for "radicalising" Chou into committing the violent act.
"These extremist groups or individuals could infiltrate and damage Taiwanese communities under the influence of others," legislator Freddy Lim wrote.
The Kuomintang, which is more pro-China than the ruling Democratic Progressive party, issued a statement condemning the violence, but did not touch on Chou's political stance.
Dr Wen Liu, assistant research professor at Academia Sinica, a Taiwanese government research facility, blamed the incident on Beijing's rhetoric in recent years.
"Beijing's pro-unification campaign has been sending out dehumanising languages such as 'annihilating the people and saving the island' and dismissing the Taiwanese independence movement as a violent separatist crime," Liu said.
China claims the self-ruled democratic Taiwan as its own territory and has since Tsai's election in 2016 blamed her for "pro-independence moves". In recent years, Beijing's reunification rhetoric had become increasingly militant, as Taiwan sought to align itself with western powers and rejoin the United Nations system.
Meanwhile, discourse over the shooting on Chinese social media platform Weibo mostly centred on Chou's nationality, as users argued whether he was Chinese, Taiwanese or American.
"He's been naturalised, if anything this is an American discontent with Taiwan authorities, what has this got to do with mainland [China]?" one user wrote.
Despite active public discourse, both Taiwan and Beijing authorities have not played up the incident on Tuesday.
Wang Wenbin, a spokesperson for China's ministry of foreign affairs, said he had "noticed" relevant reports on the shooting and the suspect's Taiwanese origin. He added: "We hope the US government can take action against its increasingly severe gun violence problem."
Associated Press contributed to this report