Taiwan's presidential election in January is a window of opportunity to resume dialogue between Taipei and Beijing, reduce tensions and lower the risk of conflict, an NGO has said.
A war over Taiwan is not inevitable but "the current trajectory is dangerous", a report by the International Crisis Group says.
Taiwan is now considered the greatest potential flashpoint for conflict between China and the US, which is Taiwan's strongest supporter. The report calls for all parties to take a step back, clarify their positions and "re-establish a baseline level of trust".
The government of China, led by Xi Jinping, considers Taiwan to be a Chinese province and has insisted it will be "reunified". It seeks to achieve this by peaceful means but has not ruled out using force.
Taiwan's government, led by the Democratic Progress party's Tsai Ing-wen, says Taiwan is already a sovereign nation, and its people overwhelmingly reject the prospect of Chinese rule in favour of the complicated but peaceful status quo. Recent polling by Taiwan's mainland affairs council found 85.3% of the public were opposed to Beijing's proposal of "one country, two systems".
Beijing cut off all dialogue with Taipei after Tsai's election in 2016 in response to the DPP's position. It has spent years actively deepening Taiwan's international isolation and punishing it economically, which has only strengthened Taiwanese opposition to unification, leaving the two sides at a dangerous impasse.
Tsai will step down early next year at the end of her second and final term, and the report says the handover could present "a window of opportunity to resume cross-strait dialogue". In the event of a DPP victory – noting that the opposition KMT already has "an understanding" with Beijing – the report advises the two sides to find a "mutually acceptable political formulation" of the cross-strait relationship.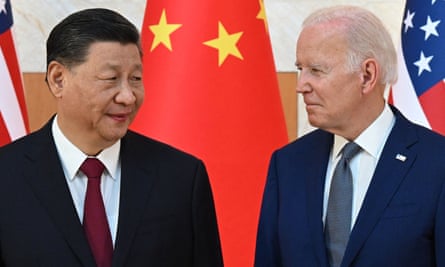 However, if this were a bridge too far under current hostilities, a new DPP government could identify other areas to restart dialogue as incentives for Beijing, in return for a reduction in economic, military and political pressure. At the same time, Taiwan had to improve its defences in order to provide "a credible threat that China will be biting off more than it can chew if it pursues invasion".
Beijing has increased its military and coercive actions towards Taiwan, including rehearsals of an attack on Taiwan, cyber-attacks and drastically scaling up its People's Liberation Army (PLA) incursions into Taiwan's air defence identification zone. On Monday, Taiwan's defence ministry reported that PLA aircraft had carried out multiple operations, including an encirclement of the main island.
The report says the US, which provides weapons to Taiwan for its self-defence and has become more vocally supportive, also has a part to play in reducing tensions. It notes high-level meetings between officials, and US politicians who it says are scoring political points with increasingly hawkish stances. It says Washington's recent behaviour "may well be making conflict more likely".
"A Chinese invasion of Taiwan is unlikely any time soon, but the risk of conflict is rising," says the report by the International Crisis Group's senior China analyst, Amanda Hsiao.
"Managing it requires the parties to re-establish a baseline level of trust by shoring up longstanding political understandings. Washington should credibly assure Beijing that it does not seek to keep Taiwan permanently separated from the mainland. Taipei should credibly assure Beijing that it does not seek formal independence. Beijing should credibly assure Washington and Taipei that it has not decided to unify with Taiwan through military force."
Additional research by Chi Hui Lin