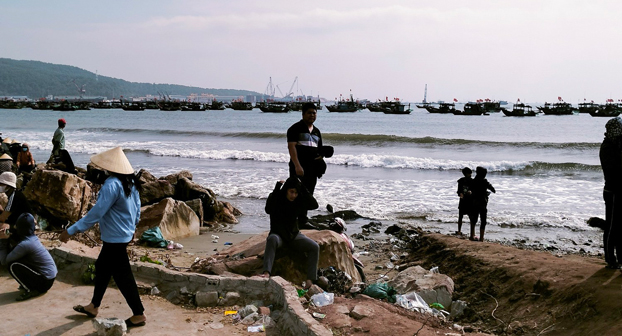 Dozens of residents from a fishing area in north-central Vietnam this week have protested the building of a port project, despite police launching a criminal investigation of them for disturbing public order, demonstrators said.
On Wednesday, Thanh Hoa provincial authorities mobilized dozens of police officers to force protesting fisherfolk — mostly women — to leave the construction site where a dock is being built, one of the sources said. Though they stayed, police did not take any measures against them and left the area at noon.
About 300 residents of Hai Ha commune first took to the streets on the morning of Oct. 23 with banners and placards to show their opposition to the Long Son Container Port project, which they say will adversely affect their livelihoods and living environment.
"We don't want the Long Son Container Port project because it is located in the coastal area we inherited from our ancestors, and it has been passed down from generation to generation," said a villager on Wednesday who declined to be named out of fear of reprisal by authorities.
Fishing provides the only income to cover her family's expenditures, including her children's education expenses, she said.
"If the port is built, residents like us will be adversely affected by pollution, and there will be no places for our boats to anchor and no places for us to trade seafood," she said.
Generating income
Long Son Ltd. Co. is investing more than US$30 million to build the 15-hectare (37-acre) project, which will have a 250-meter (820-foot) dock. It is expected to be operational in 2025.
The project will play a crucial role in the development of the first dedicated container port area at Nghi Son Port, according to state-run Vietnam News Agency. Once Dock No. 3 is built, it will serve as a dike against waves and winds and create a 10-hectare (33-foot) water area for local fishermen to safely anchor their boats.
The port is expected to generate revenue and jobs in Thanh Hoa province, including Hai Ha commune.
State media reported that Thanh Hoa provincial authorities conducted thorough studies and environmental assessments as well as consulted local people on the project. But the woman said representatives of the authorities only went around to people's homes to try to persuade them not to oppose the project and its implementation.
The protest on Oct. 23 prompted Nghi Son town police to file charges against them for obstructing traffic and causing a kilometer-long (0.6 mile) vehicle backup.
Police at the scene took photos of the protesters, recorded videos and collected other information, some villagers involved in the demonstration said.
Police also issued an order requiring Hai Ha residents to adhere to the law and not to gather in groups to disrupt public order, incite others, or be enticed to obstruct the construction of Dock No. 3 of the Long Son Container Port project.
Threatened with arrest
Police threatened them with arrest for disrupting public order — which carries a sentence of up to seven years in prison — if they continued.
Hai Ha commune includes nearly 3,000 households with about 11,000 inhabitants, most of whom rely on fishing to make a living. The villagers say they fear that port officials will cut off their access to the waters where they fish and prohibit them from anchoring their boats.
Villagers ignored the police order and continued their protest on Tuesday and Wednesday, hoping to prevent the dock's construction.
The woman quoted above said that the villagers are not afraid of going to jail because they don't want to lose their home beach.
But if they have to relocate as a result of a loss of livelihoods, villagers will expect satisfactory compensation and a new living area with spaces to safely anchor their boats, she said.
"We staged a march and did not offend anyone or did not cause any harm," she said. "None of us offended the police. We followed the traffic law, [and] we walked on the roadside and stayed in rows."
The port will join four other industrial projects surrounding the 1,200-hectare (2,965-acre) commune. The others are a cement factory, a port for coal transportation in the north, a thermal power plant in the west, and a steel factory in the south.
Though the projects have created jobs for locals, they have also created serious environmental pollution, negatively affecting residents' lives, a second woman said.
Translated by Anna Vu for RFA Vietnamese. Edited by Roseanne Gerin and Malcolm Foster.