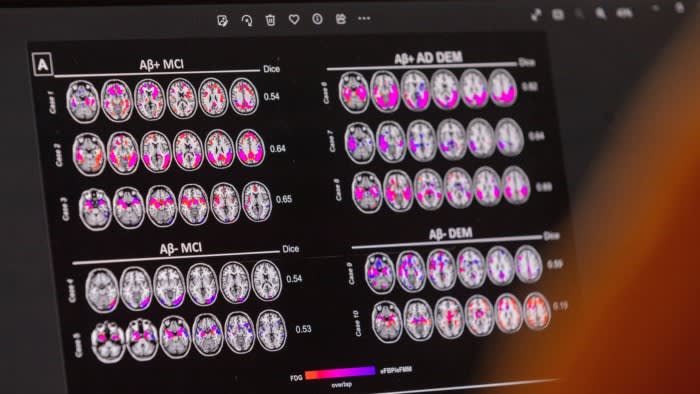 Unlock the Editor's Digest for free
Roula Khalaf, Editor of the FT, selects her favourite stories in this weekly newsletter.
Drugmakers Eisai and Eli Lilly have presented research that shows the benefits to patients from using pioneering new Alzheimer's drugs very early in the development of the disease.
Japanese pharma group Eisai said new analysis found 60 per cent of patients at the very early stages of Alzheimer's showed a clinical improvement after taking its drug Leqembi for 18 months, compared to 28 per cent on a placebo. Some 76 per cent of participants showed no decline in their condition, compared to 55 per cent in the placebo group.
Leqembi, which Eisai developed with Biogen, was approved in the US and Japan earlier this year. It is the first drug found to slow the progression of the disease, rather than just treat the symptoms. It already targets patients in the early stages of Alzheimer's but the new data suggests it is worth starting even earlier.
Alex Scott, executive vice-president of Eisai, said that the company wanted to identify the earliest possible stage that patients could benefit from the drug. The subgroup studied in the research had low levels of tau protein tangles, which are characteristic of the disease, on brain scans.
Both Leqembi and Eli Lilly's new drug donanemab target amyloid, a toxic protein that builds up in the brain, usually before significant levels of tau develop.
"We think this adds a dose of urgency to the system to identify these patients and treat these patients. It is sort of like with cancer, do you want to find cancer at stage three, or do you want us to find cancer in stage one or earlier?" Scott said.
Alzheimer's is the most common form of dementia, which affects 55mn people worldwide. But until recently, many large pharmaceutical companies were reluctant to invest heavily in finding treatments after decades of failure.
Eisai presented the new data at the Clinical Trials on Alzheimer's Disease conference in Boston on Wednesday, where Eli Lilly also presented research showing that donanemab is more effective when taken earlier.
Following positive results announced in May, Lilly said that further analysis of the donanemab data showed that after 76 weeks, disease progression in participants with low to medium levels of tau slowed by 36 per cent, compared to 29 per cent in all participants. The drug also lowered the risk of progressing to moderate Alzheimer's more significantly for the group with lower tau levels.
Eisai also announced new data at the conference that showed a subcutaneous formulation of Leqembi, which could be given at home as a weekly injection, was more effective than the current method of a fortnightly infusion in a clinic.
The study found it cleared 14 per cent more of the amyloid plaques seen in the brains of Alzheimer's patients after six months, and had similar levels of the most concerning side effects, microhaemorrhages in the brain known as ARIA.
On Wednesday, Biogen also revealed data from an early stage trial of a new drug that it said was the first to show a medicine targeting tau could reduce evidence of that protein in the brain and improve patient outcomes. Priya Singhal, head of development at Biogen, said the company is excited about the "preliminary findings" and is enrolling participants in a phase 2 trial.
"We believe defeating Alzheimer's disease will take different approaches and we are committed to exploring the targeting of tau as a new generation of treatment," she said.