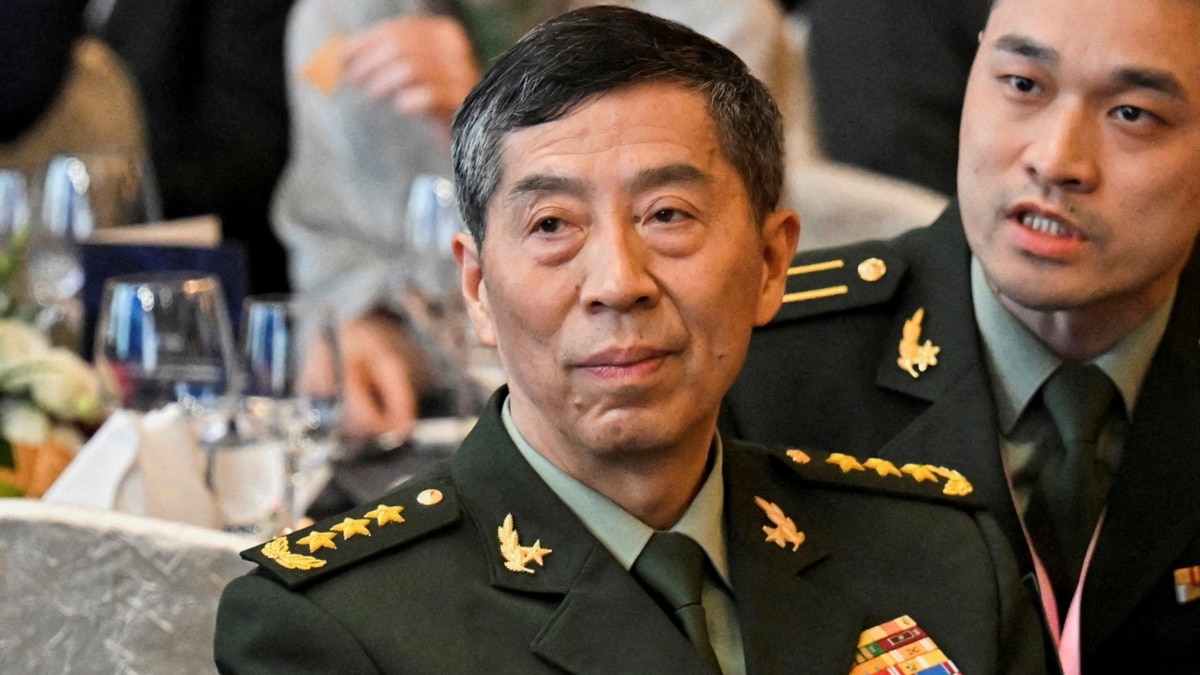 Taipei —
The removal of Chinese Defense Minister Li Shangfu is a sign of growing turbulence in China's political system under the leadership of Xi Jinping, some analysts say. They also say his removal Tuesday and that of another top-level official in recent months just as Xi begins a norm-breaking third term in office may only be the beginning of an emerging trend.
"The Chinese Communist Party used to have some kind of check and balance in their system, [but since Xi began his third term,] no one can play that function and everything depends on Xi's own will," said Alfred Wu, an expert on Chinese politics at the National University of Singapore (in the Lee Kuan Yew School of Public Policy).
Wu added that the lack of checks and balances in the Chinese political system may lead to a trend of abrupt removals of top-level officials. "This might be the pattern that would persist throughout Xi's third term and it might even get worse," he told VOA by phone.
Li disappeared from public view on August 29 after delivering a speech at the China-Africa Peace and Security Conference in Beijing. Some media reports suggest he may be under investigation for corruption related to the procurement and development of equipment.
It also follows the removal of Qin Gang as China's foreign minister in July. He too suddenly disappeared from public view prior to his ousting. On Tuesday, the standing committee of China's rubber-stamp parliament removed Qin from his only remaining government position as state councilor. In neither case did the Chinese government provide an official explanation for its action.
Some analysts see the lack of explanation for Qin and Li's removal as "highly unusual."
"Normally when these things happen, you know, there is usually a statement about corruption charges or some other criminal activity that leads to this kind of removal," Dennis Wilder, a senior fellow for the Initiative for U.S.-China Dialogue on Global Issues at Georgetown University, told VOA by phone.
While some media reports have suggested Li's removal is related to corruption, Wilder said the incident may also reflect Xi's displeasure toward the Chinese military. "There are other possibilities, one of which may be that if it's true — and the New York Times reported this — Xi Jinping was very upset with the balloon incident," he added.
Since authorities have yet to name Li's successor, his removal leaves China, which has the world's largest military, without a defense minister. Since the Chinese defense minister doesn't command and direct the military during combat, analysts say this this will have a limited effect on the combat readiness of China's People's Liberation Army.
"Chinese defense ministers are mainly in charge of military diplomacy, so Li's removal won't have much impact on the Chinese military," Lin Ying-yu, a China military expert at Tamkang University in Taiwan, told VOA by phone.
While the absence of a new defense minister may have minimal impact on the operation of the Chinese military, Rorry Daniels, managing director of Asia Society Policy Institute, or ASPI, says the successive removal of Li and Qin, who were both hand-picked by Xi, may remind other Chinese officials that no one is safe from being purged in the current political system.
"It's clear that there are some areas of real risk inside the Chinese system and I imagine this will lead to a sense that no one is sacred and everyone has a target on their back among other Chinese officials," Daniels told VOA in a phone interview.
She said the chilling effect extending from Li and Qin's removal might create obstacles for policymaking in China. "In this type of environment, it's very difficult to make any policy if officials are always looking behind their backs at what might be coming for them," she said.
Li's removal comes days before China hosts the Beijing Xiangshan Forum, a multilateral dialogue where defense officials from different countries meet and discuss joint military strategy. U.S. defense officials confirmed that a delegation from the Pentagon was invited and will attend the forum.
Wu in Singapore said that since the U.S. will likely not send a top-level delegation to attend the forum, he thinks the absence of a new Chinese defense minister won't have much impact on Beijing and Washington's bilateral military engagement during the conference.
"China and the U.S. would already have some workarounds to continue the military-related dialogue and engagement," he told VOA.
And since Li was sanctioned by the U.S. government, which hindered his engagement with his American counterpart Lloyd Austin during his time as the Chinese defense minister, Wilder from Georgetown University predicted that his removal might make military-to-military interaction between Beijing and Washington easier.
"I would expect that whomever Xi Jinping picks as the next defense minister will not have these kinds of sanctions on them," he told VOA, adding that this is a positive development from the U.S. perspective.
As the U.S. and China pave the way for a potential meeting between Xi and U.S. President Joe Biden at the APEC leaders' summit in San Francisco in November, Daniels from ASPI said Washington would hope that the meeting could generate some concrete outcomes for lower-level officials to follow up on.
"There's a range of options that could come out of the meeting [between Xi and Biden,] and whether or not it will be successful depends partially on the yardstick by which we are measuring success," she told VOA.
In her view, a successful outcome may be for both sides to have the room they need to create an agreement that is "durable" and able to be followed up on by officials and interested parties on both sides.
VOA Mandarin service reporter Adam Xu contributed to this report.