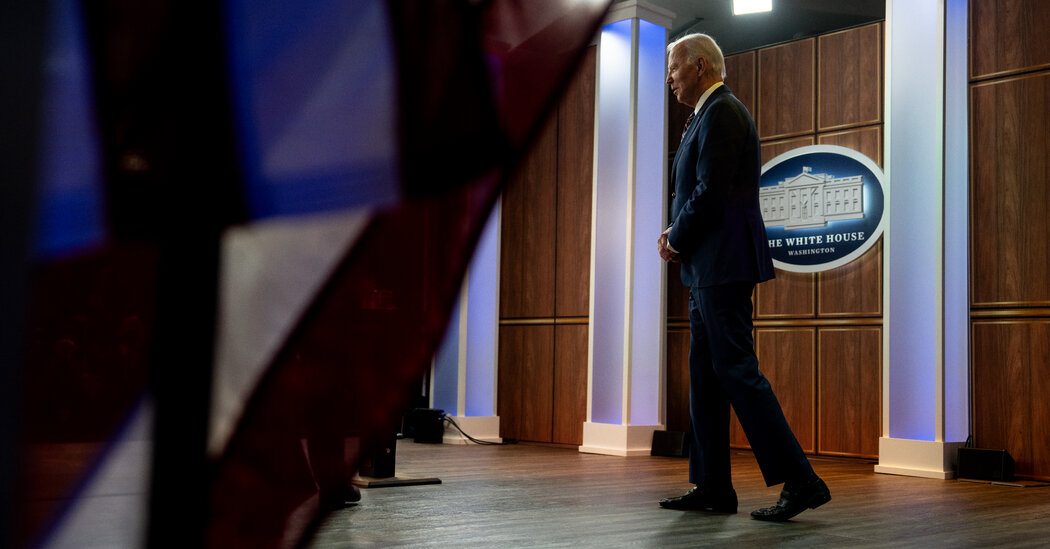 Five months ago, President Biden canceled a trip to Australia because the United States was on the brink of defaulting on its debt, and it seemed like a bad time to leave town. Then he extended an invitation to Anthony Albanese, the prime minister of Australia, for a state visit in Washington — a redo of sorts, when things would be calmer.
Then again, maybe there's never really a good time.
This week, Mr. Biden is steering American involvement in two overseas wars and monitoring the continuing calamity of a speakerless House of Representatives, and there is another government shutdown crisis looming next month.
This state visit, set to begin on Tuesday evening and feature a lavish dinner on Wednesday after a day of diplomacy, gives Mr. Biden an opportunity to nurture relations with an ally he sees as key to countering China, one of the president's top priorities at a time of domestic and international tumult. John F. Kirby, a White House spokesman, played down the idea that global crises could distract Mr. Biden from his visitor, or perhaps even keep him waiting.
"Being president of the United States means balancing an awful lot of priorities and challenges, whether they're domestic or foreign, and oftentimes the line between those blur pretty dang quickly," Mr. Kirby told reporters on Tuesday.
The crush of news did prompt the White House to change its plans at the last minute for the entertainment portion of the visit. The B-52s, a Georgia-bred group most famous for their hits "Love Shack" and "Rock Lobster," had been scheduled to perform, but Jill Biden, the first lady, said on Tuesday that the group would attend as guests. The U.S. Marine Band and the Army and Air Force Strolling Strings will provide instrumental music instead.
"We are now in a time when so many are facing sorrow and pain, so we made a few adjustments to the entertainment portion of the evening," Dr. Biden said.
During Mr. Biden and Mr. Albanese's time together, which includes a news conference scheduled for Wednesday afternoon, they are expected to emphasize their shared interests. The most crucial areas of cooperation are a joint contract with Britain to develop and deploy nuclear-powered attack submarines — which gives the United States a crucial technological edge against China — and expansion of a joint military presence in the Pacific islands, including Papua New Guinea.
The war between Israel and Hamas will also be on the agenda, Mr. Kirby said, including discussions of artificial intelligence, clean energy and fighting climate change. He said he expected several conversations about China, without offering specifics.
Bruce Jones, senior fellow at the Center for East Asia Policy Studies at the Brookings Institution, said in an interview that the United States-Australia relationship has been nurtured across presidential administrations. He added that Mr. Albanese's visit was "cementing the notion that across administrations and across party politics, Australia is really emerging as central to America's strategy for the Indo-Pacific region."
In 2019, President Donald J. Trump hosted Mr. Albanese's predecessor, Scott Morrison, for a rare state visit. Both Mr. Trump and Mr. Morrison were conservative leaders who rose to power on a wave of populism. Their agenda focused on intelligence sharing, joint military initiatives — including an American-led effort to protect ships from Iranian threats in the critical Strait of Hormuz — and cleaning ocean water.
Those elements of the relationship remain crucial regardless of the presidential administration, according to analysts. But the Biden administration's emphasis on countering China — coupled with a rise in Chinese aggression and pressure tactics in the Indo-Pacific — has brought the United States into closer cooperation with Australia, even as Mr. Albanese plans to meet President Xi Jinping of China next month to discuss removing tariffs on Australian wine that China imposed during the pandemic.
"The shared sense of the objective of limiting and constraining Chinese naval and political ambitions in the region overrides the differences on trade relations," Mr. Jones said.
Mr. Biden's advisers say the administration is supportive of the meeting between Mr. Albanese and Mr. Xi.
Mr. Biden and Mr. Albanese are also likely to touch on the dysfunction in Congress. The Biden administration is relying on Congress to pass legislation that would allow for the shipment of nuclear-powered submarines to Australia, as part of an agreement called AUKUS between the United States, Britain and Australia.
U.S. officials said on Tuesday that Mr. Biden would tell the prime minister that the United States will fulfill that promise, but it is unclear how his administration's legislative proposal would fare in a barely functional Congress.
As for the dinner, which is scheduled for Wednesday evening, the East Wing has arranged an outdoor affair under tents on the South Lawn.
The menu, which was to be unveiled on Tuesday evening by Dr. Biden, traditionally contains nods to the visiting country's most famous experts, as well as the guest of honor's taste.