Construction of the Laos-Vietnam high-speed railway is expected to begin in early 2024, but its potential impacts on villagers who live along the planned route through Laos' Khammouane province have not yet been made public, provincial officials and residents said.
The US$6.3 billion, 555-kilometer (345-mile) railway is being built under a public-private partnership and will connect Laos' capital Vientiane to the Vietnamese seaport of Vung Ang in Ha Tinh province. The cross-border railway is a joint venture between Petroleum Trading Lao Public Company and Vietnam's Deo Ca Group Joint Stock Company.
The project is part of a larger plan by the Lao government to build several new railroads to increase trade in the mostly poor, landlocked country.

The 150 kilometers (93 miles) of railway built during the first phase of construction in Laos will run from the Lao-Thai border in Khammouane province's Thakhek district to the Lao-Vietnamese border.
During phase two, 313 kilometers (194 miles) will be built from the Laos-Thai border to Vientiane. The project survey and design for this phase has yet to be completed.
The project's environmental impact assessment and an environmental and social impact assessment have been completed but not disclosed to the public, the sources said.
An official from the province's Department of Natural Resources and the Environment told Radio Free Asia that he didn't know how many Lao residents would be affected by the construction because the companies involved have not shared the information with him.
"Everything has to be based on the information from the companies," he said Monday. "I have not seen any reports about how many families and villages will be affected. The district has not been informed."
Major infrastructure projects in Laos, such as hydropower dams and other railways, have caused the forced relocation of villagers and the loss of land they use along with their planted crops. Those affected have complained of being shortchanged on monetary compensation offered by the companies involved in the projects.
An official from Khammouane province's People's Council told RFA on Monday that he has not seen the assessments either, so he doesn't know how many villagers will lose their land or be relocated.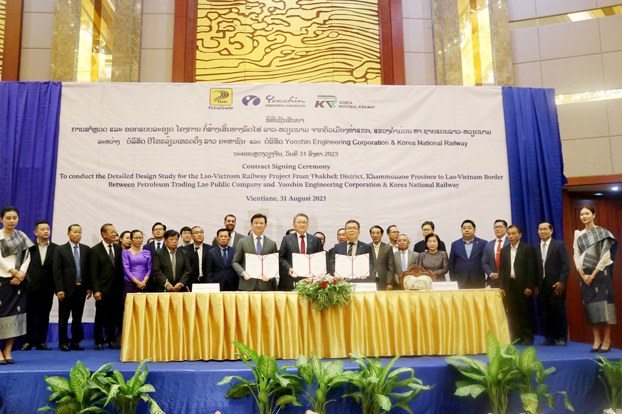 Villagers express concern
Some residents who believe they may be affected by the project said they have not received any information, and there is no relevant office they can go to for information about the project's impacts.
A villager in Thakhek district said he has not received any information about the railway construction project and that provincial administrators have not informed villagers because they are afraid that some will oppose the project and demand fair compensation.
With other development projects in the province, some affected residents complained about receiving low compensation, he said.
The villagers were not happy about receiving compensation that was less than the market value of land they lost, he said.
"The Lao government rarely reports on this via state media," the villager added.
Another villager in Mahaxay district said she learned about the railway project via social media, but officials have yet to inform villagers about the potential impacts.
The signing ceremony for the construction took place in Vientiane in late August between Petroleum Trading Lao Public Company, South Korea's Yooshin Engineering Corporation, and Korea National Railway, which were tasked with conducting a detailed design study of the railway before construction began.
Chanthone Sitthixay, chairman of Petroleum Trading Lao Public Company, told Lao Star Channel on Aug. 31 that phase one of the railways in Laos was expected to take a little over two years to complete.
In Vietnam, the railway will span 103 kilometers (64 miles) from the Laos-Vietnam border to Vung Ang seaport.
The Laos-Vietnam railway is expected to be completed and enter into operation by 2028.
Translated by Phouvong for RFA Lao. Edited by Roseanne Gerin and Matt Reed.