Feminist journalist Sophia Huang and labor activist Wang Jianbing stood trial in the southern Chinese city of Guangzhou on Friday for "incitement to subvert state power" as dozens of rights groups called for their release.
Huang and Wang were detained on Sept. 19, 2021, and later charged with "incitement to subvert state power," a charge frequently used to target peaceful critics of the ruling Chinese Communist Party.
Huang had planned to leave China via Hong Kong the following day – Sept. 20, 2021 – for the United Kingdom, where she planned to embark on a master's degree in development with a prestigious Chevening Scholarship. Wang, who is a labor and healthcare rights activist, had planned to see her off on her journey.
"Today (Sept. 22) at 9:30 am, feminist activist #HuangXueqin & labor activist #WangJianbing will appear on trial after two years' arbitrary detention," the Free Xueqin and Jianbing group said on its Facebook page.
"The road around & to the courthouse have been CLOSED since last night, & no one was allowed to approach or gather this region," the post said, attaching images of traffic barriers across a deserted, night-time street bearing the logo of the Guangzhou traffic police and "Baiyun Security."
Large numbers of police were also patrolling the area during the closed-doors trial, which comes amid allegations of torture and mistreatment of Huang by authorities in the Guangzhou No. 1 Detention Center.
Sleep deprivation
A close friend of Huang's who gave only the nickname Wanxia said she had been subject to torture in the form of sleep deprivation.
Another of Huang's friends who gave only the nickname Mark for fear of reprisals said Huang hasn't done anything wrong. "I firmly believe that my friend is innocent and hope that the trial will set a limit to the time she spends behind bars," he said.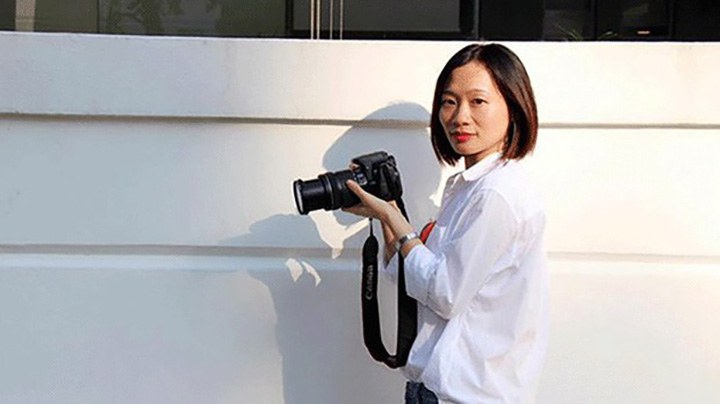 He said neither Huang nor Wang had been allowed to meet with their attorneys for the first year of their detention.
"Very little was known about their situation," Mark said. "It should be the right of every citizen to see their lawyer, but even that right was taken away."
"We are very worried [about them] … although it's a relief that they have finally gotten to the trial stage after two years' detention," he said.
#MeToo movement
Before being targeted by the authorities in 2019, Huang had been an outspoken member of the country's #MeToo movement, and had carried out a survey of sexual harassment and assault cases among Chinese women working in journalism.
Huang was present at a million-strong protest in Hong Kong on June 9, 2019, against plans to allow extradition to mainland China, and was detained for "picking quarrels and stirring up trouble" in October 2019, before being released on bail in January 2020, a status that often involves ongoing surveillance and restrictions on a person's activities.
Huang had previously assisted in the investigation and reporting of a number of high-profile sexual harassment allegations against professors at Peking University, Wuhan University of Technology, Henan University and Sun Yat-sen University in Guangzhou.
Another friend of the defendants who gave the nickname Sui Feng said he doesn't expect a good outcome from the trial.
"A lot of so-called criminal evidence is illegally fabricated through intimidation and threats, or through false confessions," Sui Feng said. "They should make it clear how they obtained any incriminating evidence, so the public can review it."
"In the absence of such arrangements, including allowing the families to attend the trial, there will be no justice done at all at this trial," they said.
The case against Huang and Wang is believed to be related to their attendance at weekly gatherings with fellow activists, hosted by Wang Jianbing, the statement said.
The Chinese authorities systematically use national security charges with extremely vague provisions, such as "subverting state power" and "inciting subversion of state power," to prosecute lawyers, scholars, journalists, activists and NGO workers, it added.
The UN Working Group on Arbitrary Detention determined in 2022 that Wang Jianbing is being arbitrarily detained and has repeatedly called on China to repeal the crime of "inciting subversion" or bring it into line with international standards.
'Courageous wave of younger activists'
Dozens of rights groups including Amnesty International, Safeguard Defenders and China Human Rights Defenders signed a statement calling for Huang and Wang's "immediate and unconditional" release.
Since Huang and Wang's arrest, both activists have been prevented from seeing family members, the statement from 32 rights groups said.
"Sophia Huang is believed to have been subjected to ill-treatment in detention, leading to the dramatic deterioration of her health," it added.
The statement said the pair could face jail terms of up to five years, or longer if they are considered "ringleaders."
"Sophia Huang Xueqin and Wang Jianbing represent the courageous wave of younger Chinese activists who have connected with the public concerned about social issues," Amnesty International deputy regional director for China Sarah Brooks said.
"They have been targeted for their peaceful activism on women's and labor rights by a government that fears organized dissent," she said, adding: "these baseless charges are motivated purely by the Chinese authorities' relentless determination to crush critical voices."
Translated by Luisetta Mudie. Edited by Malcolm Foster.