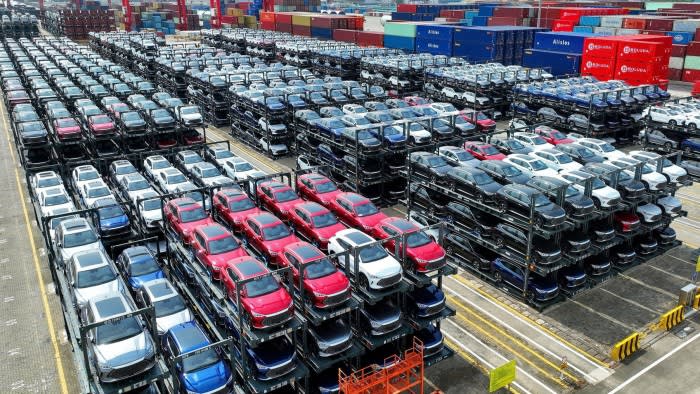 Receive free Lex updates
We'll send you a myFT Daily Digest email rounding up the latest Lex news every morning.
Electrical storms are characterised by much thunder and lightning. So, too, is the spat between the EU and China over the latter's exports of cheap electric vehicles. The EU is threatening to impose import tariffs if it finds Chinese EVs in breach of trade rules. China is making retaliatory noises. The growing animosity is a reflection of the perilous place European carmakers find themselves in.
Europe's legacy car companies have a long, illustrious history producing internal combustion engines. Their heavy spend on branding has supported these types of products.
But ICEs are on their way out. EVs are now materially cheaper to run than their fossil fuel equivalents. Worse, the purchase price of EVs has fallen as well. That alone helps attract consumers. Sales are set to increase worldwide from about 10mn in 2022 to about 14mn in 2023, or 18 per cent of all cars sold.
This partly explains legacy carmakers low valuations. Volkswagen trades at 3.5 times this year's forward earnings. Stellantis and Renault are even cheaper, hovering around 3 times.
Moreover, consumers are increasingly focused on the software in the cockpit, alongside the hardware. So far, Chinese carmakers have integrated these capabilities well. Volkswagen, which previously was a leader in China's own auto market, has been surpassed by EV specialist BYD.
The switch to EVs — where legacy branding matter less — lowers barriers to entry into the European market. Indeed, Chinese imports already account for about 15 per cent of EVs sold on the continent. Currently, Chinese carmakers such as BYD are penetrating the mass market segment, which offers a $130bn revenue opportunity by 2030.
It is no wonder, then, that EU policymakers are keen to protect their domestic industries — especially if Chinese carmakers are found to benefit from market distorting subsidies. But imposing tariffs would not be a straightforward win. For one, it raises the possibility of a trade war. That would hit German automaker Volkswagen particularly hard: over half its net income comes from Chinese operations, estimates Daniel Roeska at Bernstein. BMW's is above 30 per cent.
Investors are fully aware of problems legacy carmakers face. The persistently lowly valuations of their shares, even as operating margins surged in 2021-2022, point to this reality.
If you are a subscriber and would like to receive alerts when Lex articles are published, just click the button "Add to myFT", which appears at the top of this page above the headline.