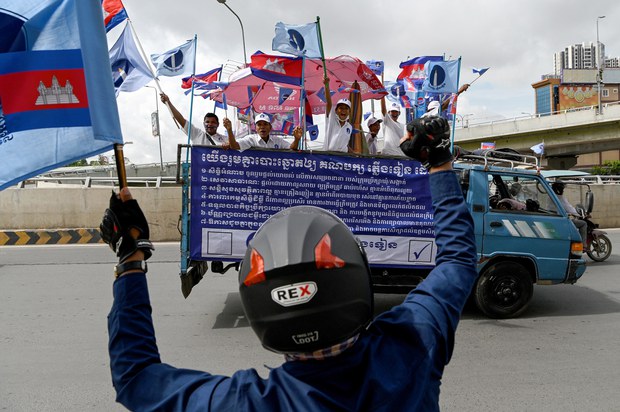 Cambodia has charged six members of the opposition Candlelight Party with incitement for attempting to form a new political party – and after they refused to defect to the ruling party, a senior party official told Radio Free Asia.
Earlier this month, police in the northwestern province of Banteay Meanchey arrested 23 Candlelight Party activists for hosting a rally to collect fingerprints, a necessary step to register new parties.
Rights groups lambasted the arrests as the latest bid by Hun Sen's ruling Cambodian People's Party to eliminate its political rivals by using tactics that include bureaucratic obfuscation, legal technicalities and intimidation.
Though 17 of the Candlelight members were released after 30 hours in custody, the six leaders – Sin Vatha, Tep Sambath Vathano, Long Lavi, Tuot Veasna, Chhum Sinath Van Siw– remained in detention for "further questioning," former Candlelight Party secretary Suon Khemrin, who was among the 17, told RFA Khmer on Tuesday, two days after his release.
Ly Meng Keang, a member of the board for the Banteay Meanchey branch of the party, told RFA Thursday that the six leaders were charged with incitement and remain in detention because they refused to take the local government's offer to defect to the ruling party.
"They were pressured and threatened," he said. "This is an awful act of the court and the authorities to try to convince members of another party to defect to their party. … .This shows that Cambodia has no freedom or democracy."
The Banteay Meanchey Provincial Court has sent the six activists to pretrial detention. RFA was not able to reach court spokesperson Roeun Lyna for comment Thursday.
Seung Senkaruna, the spokesperson for the local Cambodian Human Rights and Development Association NGO, said authorities can't legally force people to defect to the ruling party. He said it is yet another example of Cambodia's government walking away from democracy.
"This is a violation of political rights which is guaranteed by the constitution that allows people to freely engage in politics," he said. "Please stop [intimidation] and allow freedom and opportunities for people to participate in politics without intimidation and restrictions."
Translated by Yun Samean. Edited by Eugene Whong and Malcolm Foster.