"Northeast Asia will form a confrontational situation between the
'quasi-alliance'
of the United States, Japan and South Korea and that of Russia and North Korea. It cannot be ruled out that hotspot issues may suddenly get out of control," he said.
"It will become more difficult to restart the denuclearisation process on the Korean peninsula and build a security and
peace mechanism
in northeast Asia."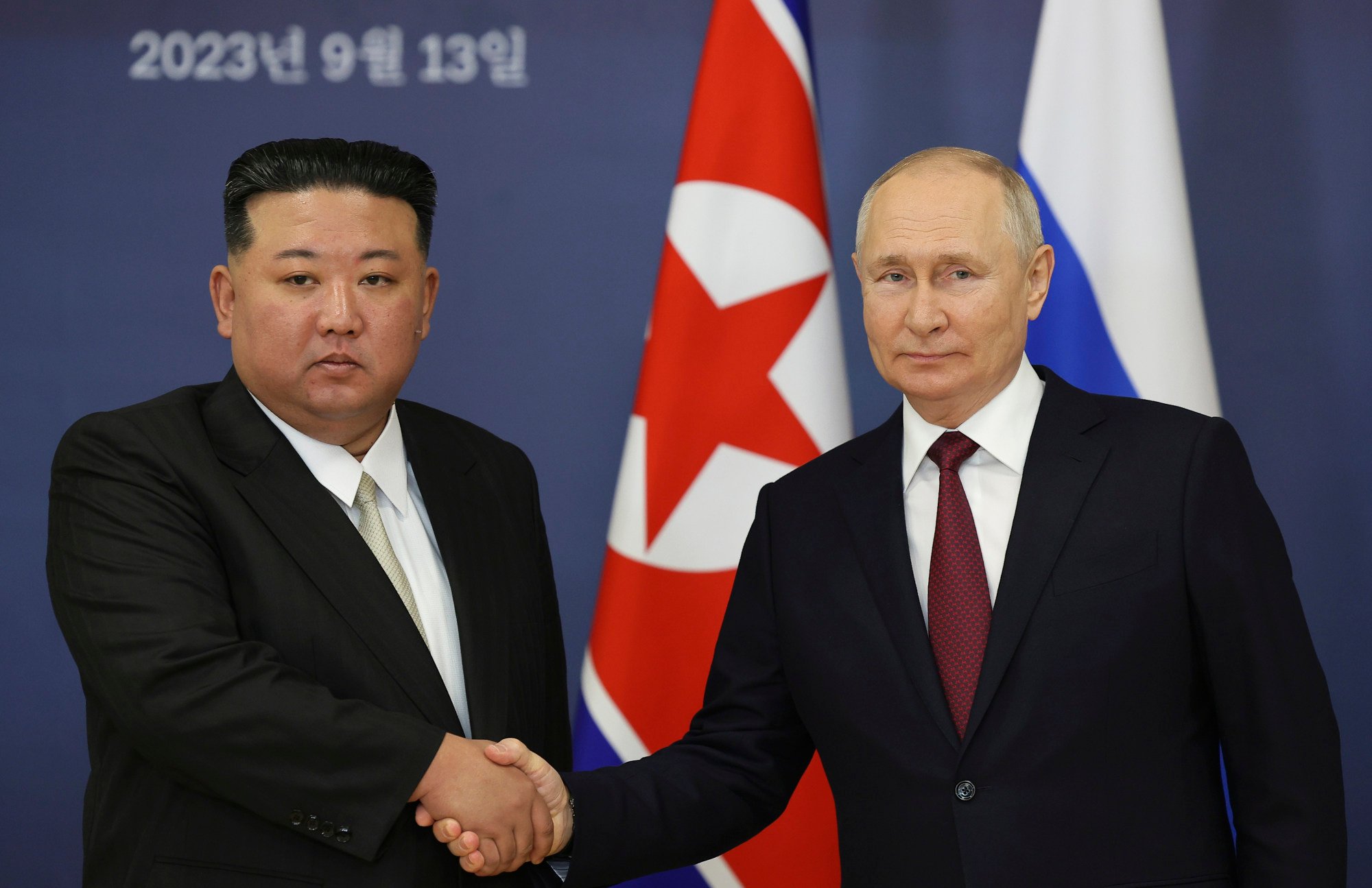 Pyongyang fired two short-range missiles on Wednesday morning, just hours before Kim was received by Russian President Vladimir Putin at the Vostochny Cosmodrome space centre in Russia's Far East. He arrived in the country
by train
on Tuesday.
Kim told Putin on Wednesday that relations with Russia are a "priority" of North Korea. He said he supports every decision by Russia which is fighting "a sacred fight" for its sovereignty and security.
At the space centre, the pair also inspected Soyuz-2 and Angara rocket launch vehicles, according to videos released by Russian news agency Tass.
The
US has warned
Pyongyang not to sell arms to Russia, threatening more sanctions. The South Korean presidential office also called on Moscow to "act responsibly" towards North Korea.
The US, Japan and South Korea have strengthened coordination in the Indo-Pacific region in recent years in response to North Korea's nuclear threats and China's military activities in the South China Sea.
Chen said closer cooperation between Russia and North Korea was a countermeasure due to the "US hegemony" that has increased under President
Joe Biden's
administration against its former Cold War rivals, which also includes China.
"In the west, the United States took advantage of the Ukraine crisis to resurrect Nato, incited all their member states to engage in military confrontation with Russia, and proposed to weaken or even dismember Russia.
"In the east, the United States is using the North Korean nuclear issue to tighten trilateral security cooperation with Japan and South Korea, trying to overwhelm or even subvert the regimes of China and North Korea," he wrote.
Pyongyang has shown active re-engagement with both Moscow and Beijing after it appeared to reopen its borders, inviting Russian and Chinese delegations to North Korea twice since July for celebration events.
In July, Russian Defence Minister Sergei Shoigu reportedly proposed to Kim a trilateral naval drill with Moscow and Beijing, according to Yonhap, citing the South Korean intelligence agency. It is also widely speculated that Putin and Kim will discuss this proposal again during Kim's visit this week.
China has yet to respond to the proposal and has remained low-key about Kim's high-profile visit to Russia, saying only it is a matter between Russia and North Korea, with which China maintains good relations.
Zhang Baohui, a Lingnan University professor specialising in Asia-Pacific studies, said China would be cautious about holding joint drills with Russia and North Korea.
"In the near future this prospect is limited as Beijing understands that it could have major impacts on its relations with the US and South Korea. In particular, Beijing does not want to push Seoul further towards Washington and Tokyo," he said.
"However, if a new cold war with the US becomes irreversible and if Seoul further moves toward a trilateral security mechanism with Washington and Tokyo, Beijing could then enhance its own security relations with North Korea."
Chinese Premier Li Qiang held a bilateral meeting with South Korean President Yoon Suk-yeol on the sidelines of the Asean summit in Jakarta last week, during which Yoon pressed China to do more to curb North Korea's nuclear threats.
In a Chinese foreign ministry response on the matter, spokeswoman Mao Ning said China is committed to peace and stability in the peninsula but stressed that "good relations between China and North Korea and China's influence on North Korea are two different concepts".