Authorities in Hong Kong have charged a man with "possession of seditious publications" after he bought copies of the banned "Sheep Village" series of children's picture books from the United Kingdom.
Kurt Leung, 38, was charged with bringing 18 books into Hong Kong with the intention of inciting hatred of the Chinese and Hong Kong government, and promoting "feelings of ill-will and enmity."
Leung is accused of having three copies each of "The Guardians of Sheep Village," and other titles in the series — which the authorities say glorifies protesters who fought back against riot police during the 2019 protest movement, "beautifying bad behavior" and "poisoning" children's impressionable minds.
One book characterizes the wolves as dirty and the sheep as clean, while another lauds the actions of heroic sheep who use their horns to fight back despite being naturally peaceful.
Five speech therapists who co-wrote the books were jailed for 19 months apiece in September 2022 after being found guilty of "conspiracy to print, publish, distribute, display and/or reproduce seditious publications" under a colonial-era sedition law.
Hong Kong's Ming Pao newspaper said the books had been mailed to Yeung from the United Kingdom, and were found following a joint search operation by the national security police and customs officials.
Chief Magistrate Victor So denied Yeung bail in a hearing at the West Kowloon Magistrate's Court on Sept. 6.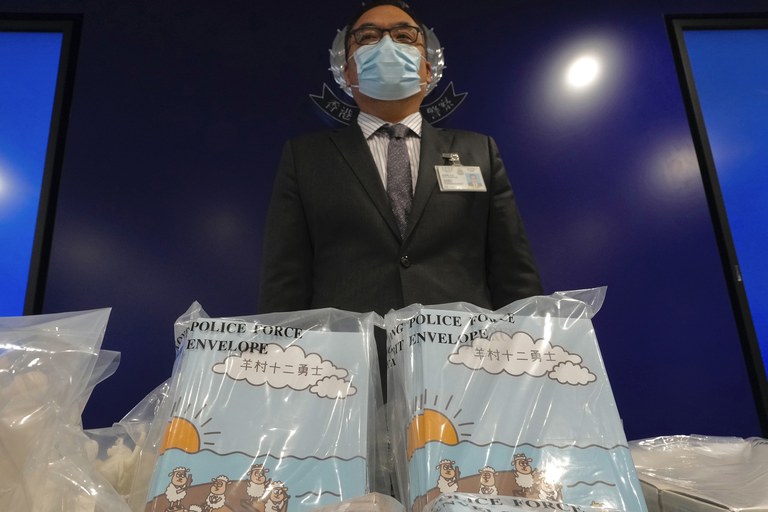 According to the charge, Leung imported the books with "the specific purpose" of inciting hatred or "provoking rebellion" against the Hong Kong and Chinese governments, as well as to "incite others to violence" and encouraging people to disobey the law.
London-based rights group Amnesty International said Yeung's arrest — which came alongside the arrest of another man who has yet to be charged — marked a "new low" for human rights in Hong Kong.
"People's freedoms have been battered in Hong Kong since the introduction of the National Security Law in 2020, but even in that context this feels like another new low for human rights in the city," the group's deputy regional director Hana Young said in a statement at the time of the arrests.
"It is the latest example of the Hong Kong authorities using the colonial-era sedition law as a pretext for cracking down on critical voices," Young said.
"These ludicrous sedition charges must be dropped. No one should be imprisoned only because they own children's books."
'Red lines'
U.K.-based writer and former pro-democracy District Councilor Franco Cheung said it was unreasonable to arrest people for buying books from overseas.
"We're not talking about fighting the government," Cheung said. "Even if there is a reason [for this], there should be a list of [banned] books."
"The blurring of the lines has gotten to the point where even schools and libraries don't know which books are acceptable and which aren't," he said, in a reference to recent culls of potentially sensitive titles from public libraries and schools in Hong Kong.
He said everyone in the city currently runs the risk of inadvertently crossing one of the government's "red lines."
"Those of us who are overseas don't need to worry or censor ourselves, and we must hold onto these books," he said. "We don't know when books that are being published now will no longer be published, or be destroyed."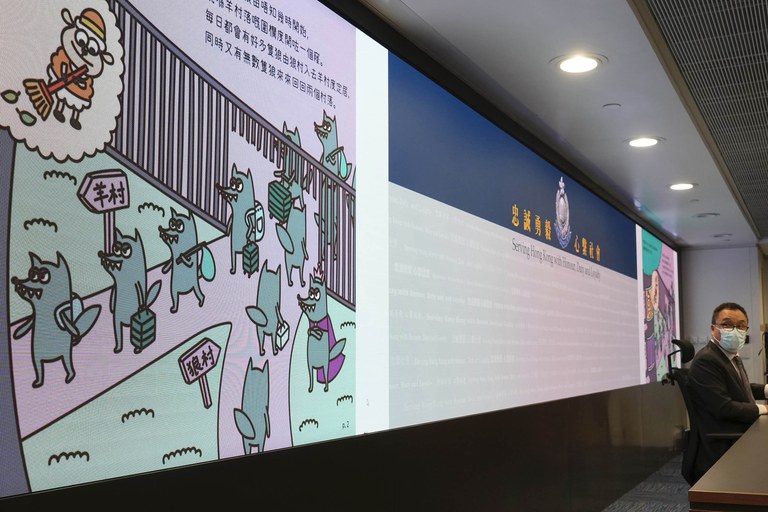 The proprietor of online bookstore Misy Baby, which specializes in importing children's titles from democratic Taiwan, said she is already being more cautious about which books she brings into Hong Kong.
"You can get charges pinned on you for anything nowadays," the proprietor, who gave only the nickname Anna for fear of reprisals, told Radio Free Asia.
She said she was recently warned by a Taiwanese publishing house to be careful about what she bought.
"Some books published in Taiwan are about Hong Kong, but I don't buy them any more," Anna said. "Publishing houses … have warned me … not to make them public."
"The government can haul you in or shut you down for reading anything that is politically sensitive nowadays," she said. "I'd rather not take that risk right now — I'd rather wait."
"Right now I'm too scared to read any sensitive books."
Translated with additional reporting by Luisetta Mudie.