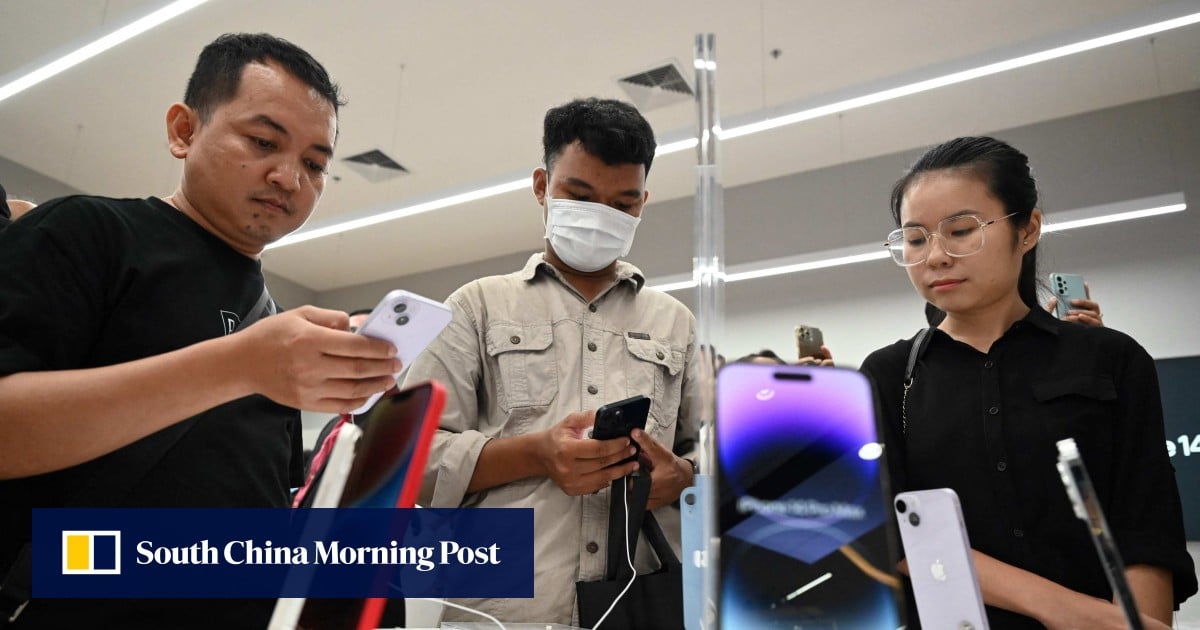 Apple is facing one of its toughest sales seasons yet in China, with next week's planned launch of the new iPhone 15 range coming just as the company's products have been banned for use by government agencies and state-owned enterprises in the country, according to industry analysts.
While China is still home to thousands of loyal Apple consumers, there are growing signs that the road ahead will be tough for the Cupertino, California-based company, amid continuing geopolitical tensions and as Huawei Technologies tries to make a comeback with its new Mate 60 Pro handset.
"The new Mate phones will bring a serious challenge to Apple, which currently reins in the high-end segment of the Chinese handset market," said Toby Zhu, an analyst with market research firm Canalys. He noted that a key factor in the battle ahead would be the stability of Huawei's supply chain.
The Shenzhen-based telecoms equipment giant jolted the Chinese smartphone market this month with presales of a new Mate 60 series, which sports a powerful processor despite Huawei being subject to tough US trade sanctions. The surprise launch came two weeks before Apple is scheduled to launch its latest iPhone 15 models.
China became the world's largest iPhone market in the second quarter of this year, according to an
estimate
by market research company TechInsights, accounting for 24 per cent of all iPhone shipments, ahead of the 21 per cent for Apple's US market.
This development came despite a fall of 9.3 per cent in iPhone sales year-on-year over the same period globally, marking the highest second-quarter sales slump for Apple in the last 8 years. Hence the growing interest of industry analysts in how Apple will fare with the iPhone 15 in China.
Apple's current high-end models, the iPhone 14 Pro and Pro Max, were the top two most popular devices in China last October, according to market consultancy Counterpoint.
However, the new Mate 60 Pro – which is said to be powered by a chip from
Semiconductor Manufacturing International
Corp (SMIC) according to a third-party teardown – could disrupt the premium segment of the Chinese smartphone market.
The Mate 60 Pro, priced at 6,999 yuan (US$958) is currently sold out on Huawei's official channels on Taobao and
JD.com
, and the company is only accepting batches of reservations on its own e-commerce site
Vmall.com
, according to a check by the South China Morning Post on Friday.
Even the nation's iPhone scalpers are taking note of the growing interest for the new Huawei phones.
One such scalper outside an Apple Store located in Beijing's chic Sanlitun area, said that he had been keeping a close eye on things, and is now planning to get some Mate 60 Pro handsets in addition to high-end iPhone 15 Pro models.
Shop assistants at Huawei's retail stores in Beijing and Sundan, a retail chain specialising in premium electronics and home appliances, said that they are out of stock for the Mate 60 Pro, with new shipments taking up to two weeks.
One shop assistant at a Sundan store in the Wangjing area of Beijing said they had around 20 customers with forward reservations for the new Huawei handset. The assistant, who declined to be identified, said most of the consumers who wanted the new phone were existing Android users although a few were switching from iPhones.
Another assistant at a Sundan store in the Sanlitun area, who also asked not to be identified, said the Mate 60 was benefiting from a patriotic wave, with some local consumers cheering Huawei's fightback against US sanctions.
Apple, meanwhile, is working with
JD.com
on its presales programme.
Paid subscribers to the official Apple online store on
JD.com
will have the option to pre-purchase designated products to be launched at next week's Apple event, according to a post published on
JD.com
's official Weibo account.