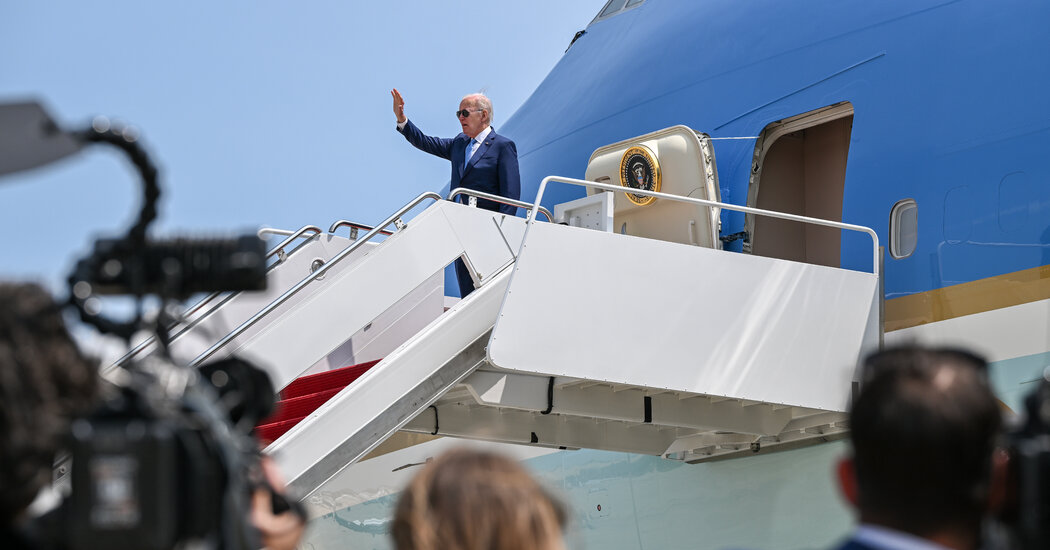 President Biden began his foreshortened Asia trip on Thursday in Hiroshima, a city that devotes itself to reminding the world of what happens when a brutal war escalates into a nuclear one. There he prepared for discussions with his closest allies on two crucial issues: how to better arm Ukraine as it enters its counteroffensive against the Russian invaders, and how to slow, or halt, the downward spiral in relations with China.
Both are now familiar topics to the leaders of the Group of 7 nations, who have grown far tighter, and have remained surprisingly unified, since Russia began its assault on Ukraine 15 months ago. But at some point over three days of discussions, the G7 leaders are also expected to venture into new territory: the first conversations among the world's largest democratic economies about a common approach to regulating the use of generative artificial intelligence programs like GPT-4.
Artificial intelligence was not on the early agenda as Prime Minister Fumio Kishida invited the other six leaders — joined by Prime Minister Narendra Modi of India and, via video or in person, President Volodymyr Zelensky of Ukraine — to the Japanese prefecture where he got his political start.
But as the new artificial intelligence language model from OpenAI made nations around the world focus for the first time on the possibilities for disinformation, chaos and the physical destruction of critical infrastructure, Mr. Biden's national security adviser, Jake Sullivan, began calling counterparts to seek a common discussion.
It is far from clear that this group of leaders — the G7 also includes Germany, Britain, France, Canada and Italy — can sustain a conversation on a technology that appeared to burst on the scene so quickly, even if it was years in the making. Past efforts to get the group to take up far more straightforward cybersecurity issues usually descended into platitudes about "public-private partnerships," and there has never been serious discussion of rules to guide the use of offensive cyberweapons.
American officials say that in the case of chatbots, even a vague foundational discussion may help in establishing some shared principles: that the corporations that bring products using the large-language models will be primarily responsible for their safety, and that there must be transparency rules that make it clear what kind of data each system was trained on. That will enable lower-level aides to discuss details of what those first regulations would look like, the officials said.
But as the G7 leaders convene starting on Friday, it will be Ukraine that will dominate the conversation, at a critical moment for Mr. Zelensky, for Ukraine and for the core Western democracies now seized with an urgent mission of bringing about what Mr. Biden calls the "strategic defeat of Russia in Ukraine."
Mr. Biden often says that Russia is already defeated. But the fear permeating the seven large democracies here is that unless the counteroffensive proves highly successful, Ukraine will settle into a bloody, frozen conflict in which the best hope would be an armistice, reminiscent of the one that brought a halt to fighting on the Korean Peninsula 70 years ago this summer.
Such a confrontation seemed almost impossible to imagine in 1997, when President Bill Clinton and Prime Minister Tony Blair of Britain invited Russia to become a full member of the group, expanding it — for nearly two decades — into the G8. Russia was "suspended" after its annexation of Crimea in 2014, and it withdrew from the group three years later.
Now, with his troops already seeking to destroy Russian weapons depots ahead of the counteroffensive, Mr. Zelensky just completed a series of rapid-fire visits to European capitals to shore up support for continued heavy spending on armaments and aid. He is expected to address the leaders in Hiroshima virtually, but there have been behind-the-scenes conversations about whether to take the risk of bringing him personally to the other side of the world to make his case.
Either way, he will have a large audience. In addition to India, the leaders of Australia, South Korea, Brazil, Indonesia and Vietnam will all be present as guests. It is part of a broader strategy by Mr. Biden and his allies to draw in nations that, to varying degrees, have been fence sitters on the Ukraine war, refusing to condemn Russia too harshly, to enthusiastically enforce sanctions, or to supply weapons to Ukraine.
Some of the core members are seeking to arm Mr. Zelensky in ways that may outpace Mr. Biden's willingness. When he was in Britain, Rishi Sunak, the prime minister, embraced Mr. Zelensky in a bear hug and told reporters, "They need the sustained support of the international community to defend against the barrage of unrelenting and indiscriminate attacks that have been their daily reality for over a year. We must not let them down."
Britain and the Netherlands have been pressing Washington to allow Ukraine to begin training on the use of F-16 fighter jets. But just as Mr. Biden was at first reluctant to turn over HIMARS and Patriot missile batteries and other technologies, he has been cautious about the F-16, a plane that could easily reach, and hit, the Kremlin.
So the United States seems likely to argue in Hiroshima that the fighter jets, while symbolically impressive, would be so expensive that they would come at the price of sending far more useful, inexpensive systems, including the air defenses that have proven surprisingly successful in taking down incoming Russian missiles. The apparent damage of at least part of a new Patriot missile battery in Kyiv this week has underscored the fact that such systems are precious.
Mr. Biden has consistently been cautious — overcautious in the minds of Mr. Zelensky and some NATO allies — about giving Ukraine weapons that he believes might lead to rapid escalation of the war and renewed threats by the Russian leader, Vladimir V. Putin, to use a tactical nuclear weapon.
Britain has just begun giving Ukraine another precision weapon with greater reach than the American-provided HIMARS, a missile system called Storm Shadow. Britain's foreign secretary, James Cleverly, told reporters in Washington last week that Mr. Putin's threats of escalation now ring more hollow, and that these "are gateways to which are going to have to pass."
For Mr. Kishida, the host, navigating the nuclear issues will be unusually tricky. The summit will open with a visit by Mr. Biden to the landmark atomic dome, making him the second American president to see the site of the atomic bombing ordered by President Harry S. Truman. (President Obama came in 2016, and Mr. Kishida was one of his guides to the site.)
Like many Japanese political leaders, Mr. Kishida has pressed throughout his career for the gradual elimination of nuclear weapons. But he and other Japanese politicians also concede that Mr. Putin's threats have made American "extended deterrence" under its nuclear umbrella more vital to Japan's strategy now than it has been for years.
G7 officials will also be grappling with the downward spiral in relations between China and the United States. Mr. Sullivan, the national security adviser, spent two days in Vienna last week with Wang Yi, China's top foreign affairs official, in what was widely described as an effort to get communications going again after the U.S. decision to shoot down a Chinese surveillance balloon off the coast of South Carolina.
Officials have said little about the meeting, but it appears that China told Mr. Sullivan they are open again to visits from Commerce Secretary Gina Raimondo, Treasury Secretary Janet Yellen and, ultimately, Secretary of State Antony J. Blinken.
Mr. Biden, who on Tuesday canceled additional stops on this trip in Papua New Guinea and Australia so he can return on Sunday to the United States to deal with debt ceiling negotiations, said on Wednesday he was trying to meet again with the Chinese leader, Xi Jinping. That is a sign that the freeze in relations in recent months may be beginning to let up, even if the fundamental dynamic between the United States and China, a growing nuclear power, has yet to change.