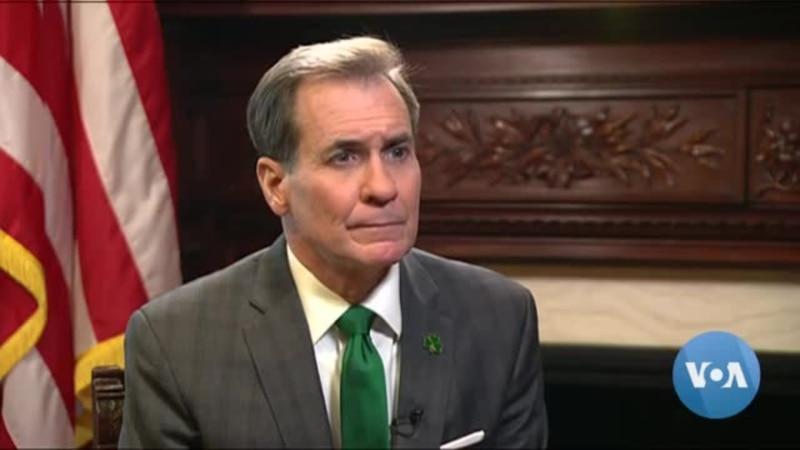 white house —
The White House is rejecting Beijing's proposal for a cease-fire in Ukraine, ahead of Chinese President Xi Jinping's meeting with Russian leader Vladimir Putin in Moscow next week, saying it would ratify Russia's territorial gains in Ukraine.
However, officials say the administration "fully supports" Xi talking to Ukrainian President Volodymyr Zelenskyy so that China may consider Kyiv's perspective. Zelenskyy is scheduled to hold a phone call following the Chinese leader's meeting with Putin.
John Kirby, National Security Council coordinator for strategic communications, spoke Friday with VOA Chinese Service White House correspondent Paris Huang. He said the U.S. still hasn't seen evidence that China has provided lethal weaponry to Russia. He said the U.S. will deliver more assistance to Ukraine in the coming days.
Kirby also spoke of Taiwan President Tsai Ing-wen's upcoming trip to the U.S., to which Beijing has objected.
This transcript has been edited for clarity and brevity.
VOA: The International Criminal Court, the ICC judges, just issued an arrest warrant against Vladimir Putin and Maria Lvova-Belova for the deportation of children. What does this mean for U.S. policies toward Putin? Does that mean President Joe Biden will not be meeting Putin in future?
John Kirby, National Security Council coordinator for strategic communications: Look, this is just breaking news. We're going to have to take a look at this before we can make any kind of official comment. Separate and distinct from that, President Biden has been clear, we want to make sure that Russia is held accountable for the atrocities, for the war crimes, for the crimes against humanity that they are perpetrating inside Ukraine and against the Ukrainian people. We're going to continue to help international bodies as they collect evidence and begin to analyze that evidence going forward. But I won't go any further than that right now.
VOA: China's President Xi Jinping is going to Moscow to meet with Putin next week. Do you think Xi Jinping's words carry weight in Putin's mind? Any concern about this meeting?
Kirby: We know that China and Russia have been improving and increasing their relationship in many different ways, both sides have been. I can't speak for the kind of influence that Mr. Xi might have over Mr. Putin. We'll just have to see what it is they decide to talk about. What we are concerned about is that President Xi hasn't talked to President Zelenskyy and we believe it's important that he do that as well – that he doesn't just get the Russian perspective here on this war, but that he gets President Zelenskyy's perspective. And I would also say, while we're at this, we've seen in the China 12-point so-called peace proposal, they talk about a cease-fire. And we'd be concerned if coming out of this meeting there was some sort of a call for a cease-fire, because right now, while a cease-fire sounds good, it actually ratifies Russia's gains on the ground. It actually serves Russia's purpose for a cease-fire to basically call a stop right now without any acknowledgement that Russia is illegally inside Ukraine.
VOA: What is your response to the assessment that if there's a cease-fire that can temporarily put aside the question of territorial boundaries, that that kind of cease-fire might be what is feasible?
Kirby: That doesn't serve Ukraine's interests. Doesn't serve the world's interests. It doesn't serve the U.N. Charter's interest. It would be a violation of the U.N. Charter. Look in the first line of the Chinese proposal – it says that they want to see sovereignty respected. Well, you know what? We agree with that, everybody should agree with that, and if you want to see sovereignty respected, then that means you don't call a cease-fire right now which ratifies Russia's gains and their conquest and leaves it at that, at the expense of the Ukrainian people.
VOA: What is the administration and NATO's proposal that may be coming forward for lowering tensions? And on that note, can you give us the administration's current thinking of the discussion of the Germany, France and U.K. defense pact for Ukrainians to encourage peace talks with Moscow?
Kirby: We all want to see this war end, and it could end today if Mr. Putin would pull his troops out. That's not going to happen, so I think we all envision the possibility that there could be some sort of negotiated settlement. I won't speak for other countries and what their sovereign approach to this is. For the United States perspective, it's nothing about Ukraine without Ukraine – no negotiation, no settlement discussion can or should take place without Ukraine being squarely in the middle of it, and President Zelenskyy's perspective fully and completely understood and respected. That's where we are.
VOA: President Xi Jinping is going to talk to President Zelenskyy virtually, according to China. So, what would you like to see from that call, and have President Zelenskyy talk to the U.S. side about what kind of message he's going to convey to President Xi?
Kirby: We fully support President Xi talking to President Zelenskyy. We think it's important that he gets the Ukrainian perspective. And I won't speak for President Zelenskyy but I'm sure that if he gets that opportunity, he'll be very frank and forthright with President Xi, as he has been with leaders around the world, about what this war is doing to his country and to his people, and how much he's willing to continue to fight off Russian aggression and defend his sovereignty and his independence. And we believe that a more comprehensive picture of those efforts, and President Zelenskyy's goals and objectives, are absolutely good for President Xi to hear.
VOA: Can we expect President Biden and President Xi's phone call to happen before Xi's visit to Moscow? And if that happens, what would President Biden's message to President Xi be?
Kirby: I'm not going to get ahead of the president. The president said he wants to keep the lines of communications open with China. He means that, and he said he would look forward to a potential discussion with President Xi here in the near future. Nothing's on the schedule right now, but the president has made his intent obvious to all of us, and we look forward to getting [to] that place in the days and weeks ahead.
VOA: CNN reported that Ukrainian forces shot down a drone that was used during the war, and it turned out to be – it was made by a Chinese company. Is purchasing that kind of drones from Chinese companies, although they are private companies, a violation of sanctions?
Kirby: I don't know the specifics on this report, so I'm not going to address that. That's the first I heard of that, but we have not seen China enforce sanctions against Russia and we have been calling, since the beginning, for all nations to observe these sanctions and abide by them, and we certainly want China to be included in that, but I don't have the details on this particular account.
VOA: There are Chinese companies that have shipped the assault rifles, Chinese-made rifles and drone parts, and body armor through Turkey and UAE to Russia. You said earlier that those are long-standing deals. Does that mean if there's new deals coming out, that will be a violation?
Kirby: Our understanding is that these are long-standing business transactions, and we don't have information or confirmation that any of those dual-use items are actually on the battlefield. Now, again, that's just where we are right now. We have not seen the Chinese move in a direction to provide lethal weaponry to Russia. They've not made that decision, that official decision. And so, we urge them not to. What I can tell you is we don't think it's in China's best interests to provide lethal weapons to Russia, to Mr. Putin, so that he can turn around and just kill more innocent Ukrainians. It's hard to see how that's in China's best interests. They have a choice to make, and we obviously have made it clear privately to them and certainly publicly where we think they ought to come down on this.
VOA: U.S. House Speaker Kevin McCarthy has confirmed that he will meet with the President of Taiwan Tsai Ing-wen in California in early April. China is going to react. What precautions is the administration taking in case of China's retaliation?
Kirby: First of all, I won't speak for Speaker McCarthy and his schedule or that of Taiwan's leaders. These transits are not new. They happen and have happened in the past in a fairly routine way. And again, I won't speak to the particulars of who Speaker McCarthy will meet or when. He can speak to that. We just need to put this into some perspective here, because these are routine, because they have happened before, these transits, there should be no reason for anybody to overreact one way or the other. As we have said many, many times, we do not seek a conflict with China, we don't seek any kind of escalation in the tensions in this relationship. As a matter of fact, as we've just been talking about, the president wants to keep the lines of communication open. He wants to be able to continue to try to build on the progress that he and President Xi were able to make in Bali. Now, unfortunately, that progress has been stunted somewhat by the fact that they flew a Chinese balloon over the country, but he believes that it's still the most consequential bilateral relationship in the world, and he wants to keep those lines open.
VOA: Honduras announced that it will cut diplomatic ties with Taiwan and switch to China. Is the Biden administration concerned about China's growing influence in America's backyard? And what are you doing to prevent this from happening?
Kirby: We aren't actively telling countries to choose between the United States and China. We're not, and these are sovereign decisions that nations have to make. We would hope that Hondurans, just like other people around the world, will see what China is trying to do with their expanding influence – that they will see that this is all about China's self and not about a genuine belief in the power of partnerships around the world. All I can do is speak for our foreign policy. We have a very active, engaged foreign policy in Latin America and we're going to continue to pursue that.
VOA: Taiwan will certainly be disappointed if Honduras actually cuts the tie. So how can the U.S. convince Taiwan and other allies that siding with the U.S. is beneficial diplomatically?
Kirby: Again, these are decisions that countries have to make, and I understand Honduras has to make this decision on their own, but we would just hope that Honduras and the Honduran people understand the potential risks and downsides that come with simply accepting China's influence and entering into negotiations with China that may not actually be in the best interest of the Honduran people.
VOA: Ukraine is having an ammunition shortage. Are you confident that Ukraine will be able to achieve their goals on the battlefield in the next few weeks or months? Are the U.S. and its partners trying to speed up the delivery and production right now?
Kirby: We have been putting security assistance in the hands of Ukrainian soldiers at an unprecedented rate and with a sense of urgency that we all have shared over the course of a year now, and that will continue going forward. I'm not going to get ahead of Ukrainian operations, or what they're going to need, or where they're going to be. That's for them to talk to. You're going to see another delivery package here from the United States in [the] coming days, and I think you'll see in that package the kinds of materiel, weapons and ammunition that we believe are going to be vital to Ukraine succeeding in the weeks and months ahead.
VOA: Last week Russia launched a massive missile attack against Ukraine using the type of rockets that Ukrainians don't have the ability to intercept for now. When will the first Patriot battery arrive in Ukraine?
Kirby: The Department of Defense will have a much better sense of that than I do. It's going to be many months before a Patriot battery can be delivered into Ukraine. I will remind that we continue to provide a full range of air defense capabilities to Ukraine, short and medium range, and it's not just us, it's our allies and partners that are doing that as well. There are four things that we think the Ukrainians need the most right now: artillery, ammunition, armored capability and air defense. And I think, again, if you look at what we have provided in recent months and what we will continue to provide, you'll see that we prioritize air defense.
VOA: Following Tehran's and Riyadh's normalization of diplomatic relations, Saudi Arabia's finance minister said Saudi will soon invest in Iran. Are you concerned that this will be a way for Tehran to circumvent the U.S. sanctions?
Kirby: Iran is a destabilizing actor throughout the region. Make no mistake about that. Whether it's the way they're treating their own people, whether the support for the terrorist groups – Hamas and Hezbollah as well as the Houthi rebels – or the attacks on maritime shipping, and let's not forget the provision of hundreds of lethal drones to Russia, so that Russia can, again, kill more Ukrainian people. That's what the regime is signing up to. They're killing their own people who are protesting in the country and they're helping Russia kill Ukrainian citizens, innocent people who are not involved and should not have ever been invaded. That's what Iran is up to. I'll let Iran and Saudi Arabia speak to this arrangement. If this arrangement can decrease tensions, if it can help us end the war in Yemen, if it can make safer the people living in Saudi Arabia, including 70,000 Americans, then that's all to the good and we support that, but it remains to be seen whether it was going to actually have that effect.
VOA: The Persian New Year, Nowruz, is coming up in a few days. What is the Biden administration's message to the Iranian people?
Kirby: The president will have a message. I certainly won't get ahead of that, but obviously, we wish the very best to the Iranian people for Nowruz and for the new year. We recognize that as we do wish the Iranian people a better new year, that the last year visited upon them an inordinate amount of suffering and pain at the hands of their own regime. And no citizen of any country should have to go through what so many Iranians have had to go through. But of course, our issues are with the regime in Tehran, it's not with the Iranian people. And again, we certainly wish that they have a better, safer, a more secure, and a more prosperous new year than they had last year.