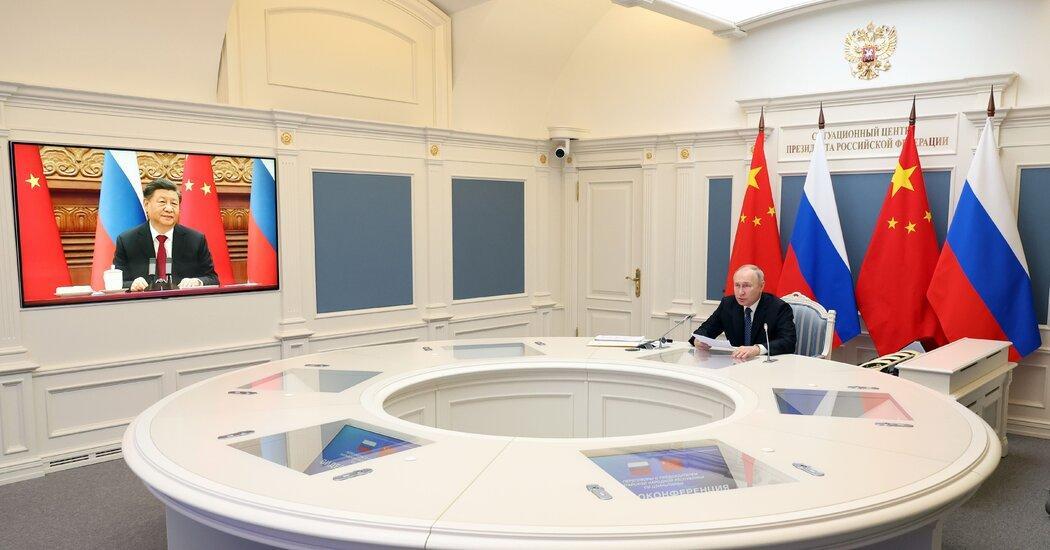 Global dividing lines over Russia's war in Ukraine hardened on Friday with the announcement that China's top leader, Xi Jinping, would personally meet with President Vladimir V. Putin in Russia next week — and that he would do so under the shadow of an arrest warrant issued by the International Criminal Court that accuses Mr. Putin of war crimes.
Mr. Xi's visit was cast by China as a mission of personal diplomacy to help make peace between Russia and Ukraine. But it is more broadly seen by Western officials as the most overt sign yet of China's support for Mr. Putin, and that Mr. Xi is increasingly determined to challenge the idea of any U.S.-led global order by drawing other countries into closer orbit with China.
Even with an apparently strengthening lifeline from China, Russia seemed more isolated than ever on Friday. Its neighbor Finland cleared a hurdle to join NATO. European allies maneuvered to get Ukraine warplanes. And, most dramatically, the International Criminal Court at The Hague accused Mr. Putin of war crimes, putting him alongside only a handful of other national leaders, including Slobodan Milosevic and Charles Taylor, to face such a charge.
In issuing its arrest warrant, the court said that Mr. Putin bore individual criminal responsibility for the abduction and deportation of Ukrainian children.
Russia did not sign the 2002 treaty that established the authority of the I.C.C., and its Foreign Ministry rejected the accusations of war crimes, as it has since the invasion began. Maria Zakharova, a ministry spokeswoman, said Russia would not cooperate with the court and that its decisions "have no meaning for our country, including from a legal point of view."
There was no immediate reaction to the I.C.C. from China, which is also not a party to the treaty and which has resisted Western calls to further isolate Russia.
Mr. Xi's three-day visit to Moscow was set to begin on Monday, as Beijing tries to leverage its power in global affairs and supplant American influence in world capitals. The diplomatic trip is to take place only a week after two steadfast rivals, Saudi Arabia and Iran, announced a rapprochement made possible with the mediation of China — stunning many diplomats in the United States and Europe.
China has already proposed a peace settlement to the war in Ukraine, but many American and European officials view it skeptically, noting it does not address important questions like whether Russian troops would withdraw.
"A cease-fire now is, again, effectively the ratification of Russian conquest," John F. Kirby, a spokesman for the National Security Council, told reporters on Friday. "It would, in effect, recognize Russia's gains and its attempt to conquer its neighbor's territory by force, allowing Russian troops to continue to occupy sovereign Ukrainian territory."
Mr. Kirby also expressed doubt that Mr. Xi's meeting next week in Russia represented a genuine effort at peacemaking, and repeated concerns that China was weighing whether to provide Russia with weapons for use in the war.
It is not clear whether Mr. Xi intends to speak separately with President Volodymyr Zelensky of Ukraine, who has spent much of the last year on a diplomatic push calling for support. Mr. Kirby said it was "very important" that Mr. Xi hear from Ukraine, "and not just from Mr. Putin and not just from a Russian perspective."
Although a spokesman for China's Foreign Ministry, Wang Wenbin, said that Mr. Xi's visit is meant to "persuade peace and promote talks," both Beijing and Moscow described the meeting as a chance to deepen ties.
The Kremlin said that talks would focus on "comprehensive partnership and strategic cooperation." China's Foreign Ministry said that Mr. Xi would use the visit to increase the "mutual trust and understanding" between Russia and China, which he said had "established a new paradigm for international relations."
That push for a "new paradigm" appears to be at the heart of Mr. Xi's diplomacy push in recent months, as he has tried to project an image as a global statesman who works with all comers, regardless of how they came to power or how they hold it. Most prominently, Mr. Xi has recently courted leaders whose relations with the United States are strained or those openly at odds with it.
He met with President Aleksandr G. Lukashenko of Belarus in March, and President Ebrahim Raisi of Iran before that, welcoming the Iranian leader, who has supplied Russia with drones, with a 21-gun salute in Tiananmen Square.
And visiting Saudi Arabia, he met Crown Prince Mohammed bin Salman, the kingdom's de facto ruler, who embraced him with pageantry that stood in stark contrast to the prince's earlier meeting with President Biden, who had called Saudi Arabia a "pariah" for its rights record.
Taking up his third term as president, Mr. Xi has pursued a harder stance against what he calls an American effort to block China's rise. To counter it, he has urged Chinese industries to reduce their reliance on Western technology, hailed China's growth as proof that it does not need Western politics, and portrayed China as a nation besieged — much as Mr. Putin has done in speeches to Russians.
"Western countries led by the United States have implemented all-around containment, encirclement and suppression of China, which has brought unprecedented severe challenges to our country's development," Mr. Xi said in a speech this month, according to China's official news agency.
As China has drawn closer to Russia, European nations have done the same around NATO and Ukraine. Turkey announced on Friday that it would move to ratify Finland's application to join NATO, clearing a significant hurdle for the country to join the alliance, although Sweden's application remains stalled.
And the government of Slovakia said it would send 13 Soviet-designed MiG fighter jets to Ukraine, a day after Poland's president made a similar announcement. Ukraine has pleaded for warplanes for months, just as it urged members of NATO to send it advanced rocket systems, air defenses and, most recently, tanks — slowly receiving many of the weapons it asked for.
But that has not come without intense wrangling among allies, and on Friday, German officials said that Poland needed to ensure that any of the MiG jets it now plans to send to Ukraine were not among those that Berlin sold to Warsaw in 2003.
The Biden administration has so far refused to send F-16 fighter jets that Ukraine has asked for, but suggested that weapons may continue to reach the battlefield from other nations.
Ukraine has welcomed the help, though it has also persisted in its calls for more advanced weaponry that could be used to more significant effect. Most of Slovakia's MiG-29 warplanes are not in working order, for instance, meaning that although they could provide spare parts for Ukraine's own fleet of Soviet-era jets, Ukrainian officials believe they are not likely to change the balance of force on the battlefield.
David Pierson, Valerie Hopkins, Lara Jakes, Marc Santora, Michael D. Shear, Vivian Nereim and Keith Bradsher contributed reporting.