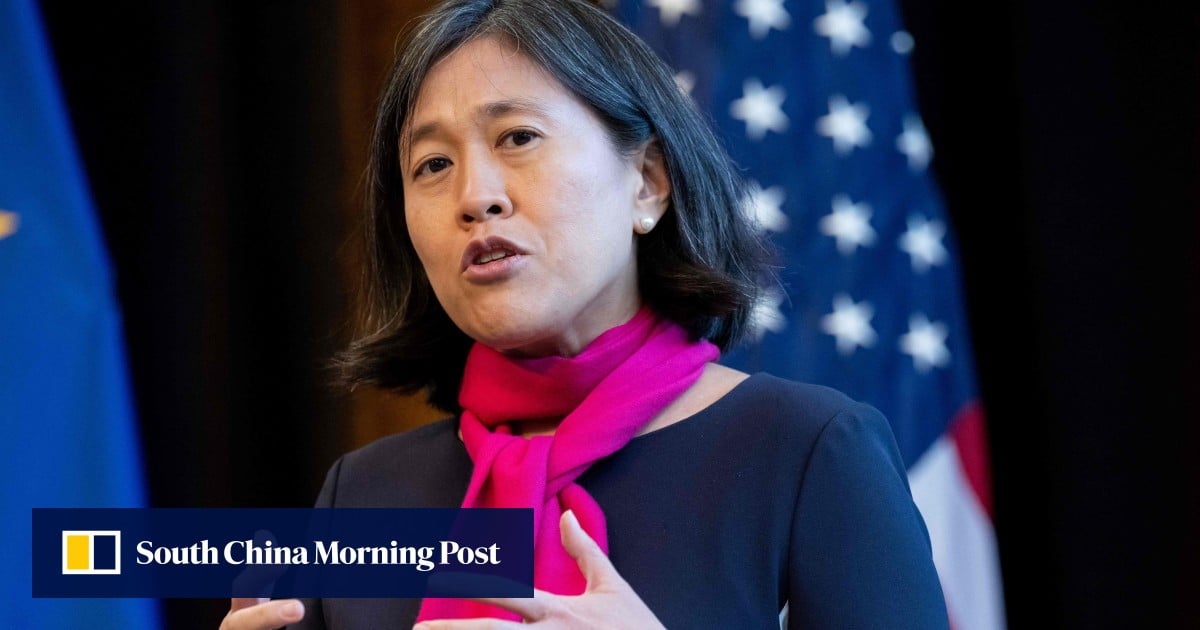 "We need a new playbook on China that serves our interests," she said.
Tai stressed that the Biden administration was not working from a clean slate when it came to realigning trade policies towards China.
"China's growth and development over the past 20 years in particular has profoundly changed the global economy and created pressures and distortions that we need to correct for," she said.
"That frame guides how we must responsibly manage this economic relationship."
Tai's remarks came as trade relations between the world's two largest economies remain strained. The two sides are locked in a fierce technology war despite a series of face-to-face, senior-level engagements following last month's meeting between Chinese President Xi Jinping and his US counterpart Joe Biden in Indonesia.
Tai's latest comments on China resembled views she outlined earlier this year.
In September, she said punitive tariffs on Chinese imports would not come down until Beijing adopted more market-oriented trade and economic principles.
Before that, she stated the US needed to "turn the page on an old playbook" on China, noting talks with Beijing intended to forge an agreement on issues beyond the phase-one trade deal reached more than two years ago had been "unduly difficult".
In July, during the early phase of the USTR's four-year review of the deal, the White House was considering whether to cut tariffs on Chinese imports to ease surging inflation. But the decision was complicated by the USTR receiving more than 400 requests to keep the tariffs in place.
Many of the requests came from unions, a key constituency for Biden, who has described himself as America's most pro-labour president ever.
Tai on Monday did not specify what steps she would take on tariffs in the future, nor did she elaborate what new tools the US government was considering.
But she said Washington should explore new tools it can develop in partnership with other like-minded economies and that the US needed to think about how to use traditional trade tools "more effectively".
Tai also said the US was "looking for more choices" via the Indo-Pacific Economic Framework for its economic resilience in a region where supply chains are closely integrated with the Chinese economy.
As part of a modest easing of tensions between Beijing and Washington, China's ambassador to the US, Qin Gang, met on Thursday with US Treasury Secretary Janet Yellen.
Qin and Yellen agreed that "the two sides may have disputes but can seek solutions" through dialogue and communication, according to Chinese embassy spokesman Liu Pengyu.
Liu last Friday said the two countries would continue to communicate and coordinate on macroeconomic policies as well as China-US economic and trade relations, among other issues.
Still, Beijing has decried Washington's trade stances, especially its escalation of chip technology export controls meant to remove China from the international technology supply chain.
Last week during a quadrennial review of US trade policies at the World Trade Organization, Li Chenggang, China's envoy to the WTO, called the US a "destroyer of the multilateral trading system" and a "disturber of the global supply chain".
Li also blasted the US for strongly rejecting the WTO's rulings against Trump-era duties on steel and aluminium.
Tai on Monday asserted that the WTO was "getting itself on very, very thin ice" by ruling that tariffs violate trade rules.
"It really challenges the integrity of the system," she said, criticising the WTO's rationale as wading into the direction of "creating requirements and parameters for what is or is not a legitimate national-security decision."