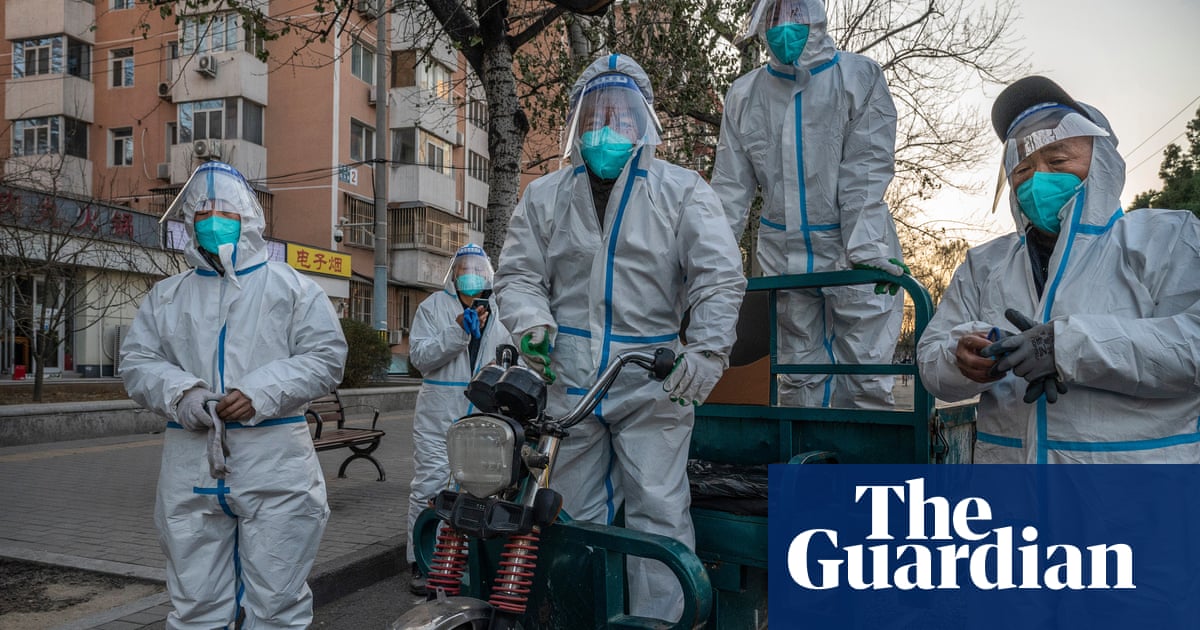 China's government has said people with Covid-19 who have mild or no symptoms can quarantine at home, in a significant shift towards living with the virus.
The directives, issued on Wednesday afternoon by China's national health commission, also instructed officials to stop launching temporary lockdowns, and ended testing and health code requirements for "cross-regional migrants", suggesting much freer travel across China for the lunar new year period.
The new rules are the strongest sign that China's ruling Communist party has abandoned its long-running zero-Covid policy.
Previously, sick people and their contacts, ranging from immediate family members to distant neighbours, were forced into centralised quarantine facilities, while areas ranging from residential buildings to entire cities could be locked down for days, weeks, or months.
While some cities and regions have eased restrictions at a local level in recent days, Wednesday's changes appear to create a national consistent response to the management of patients and contacts.
"Asymptomatic persons and mild cases can be isolated at home while strengthening health monitoring, and they can transfer to designated hospitals for treatment in a timely manner if their condition worsens," the NHC statement said.
The order said local officials must stop arbitrarily expanding quarantine areas, and "more scientifically and accurately" designate "risk zones". Anywhere designated high-risk must be opened up after five days of no cases, it said.
Mass testing has also been wound back, with a focus on people working or living in high-risk settings. Negative PCR results and health codes are now only required for nursing homes, welfare homes, medical institutions, childcare institutions, and primary and secondary schools. Schools without outbreaks must operate as normal.
Other directives include a renewed focus on vaccinations of elderly people – who have sought out immunisation at much lower rates than younger demographics – ensuring the availability of medication and rapid tests, and enhancing protections of vulnerable groups.
Since the pandemic began, China had managed Covid-19 under the protocols set for dangerous diseases like the bubonic plague and cholera. The resource intensive and hyper-strict policy of outbreak containment and elimination, brought huge economic and social consequences.
Officials are emphasising the reduced severity of Omicron, which has been in China for about a year, and government messaging has shifted from elimination of the virus to mitigating its effects.
The change comes a week after widespread protests against the zero-Covid policy. Demonstrators called for an end to restrictions, with some anger also directed at the authoritarian government and its leader Xi Jinping.
The public frustrations escalated after a building fire in Urumqi killed 10 people, with a local lockdown blamed. It followed a bus crash which killed 27 people being taken to quarantine, and widespread concerns about "secondary deaths" linked to zero-Covid enforcement, like suicides and denial of emergency healthcare.
Wednesday's announcement also appeared to answer some of that anger.
"It is strictly forbidden to block fire exits, unit doors, and community doors in various ways to ensure that the public's access to medical treatment, emergency escape, etc. is unobstructed," it said.
Early online reaction to the changes appeared positive, particularly over the hopeful end of inconsistent outbreak management.
"The key is that the local and grassroots levels can carry out the policy, not this 'you do yours, I do mine' mentality," said one Weibo commenter. "Epidemic prevention is not about sacrificing the existence of normal life."
"Three full years, the end, is also a new beginning," said another.
Additional research by Xiaoqian Zhu and Chi Hui Lin