China's most populous city, Shanghai, has issued its highest alert for extreme heat for the third time this summer as sweltering temperatures repeatedly tested records this week.
The commercial and industrial hub of 25 million people declared a red alert on Thursday, warning of expected temperatures of at least 40C (104F) in the next 24 hours. Temperatures soared as high as 40.6 C in the afternoon but fell short of Wednesday's 40.9 C, which matched a 2017 record.
Extreme heat conditions have also taken hold in parts of Europe. Firefighters have been battling wildfires in Spain, Portugal, France and Croatia.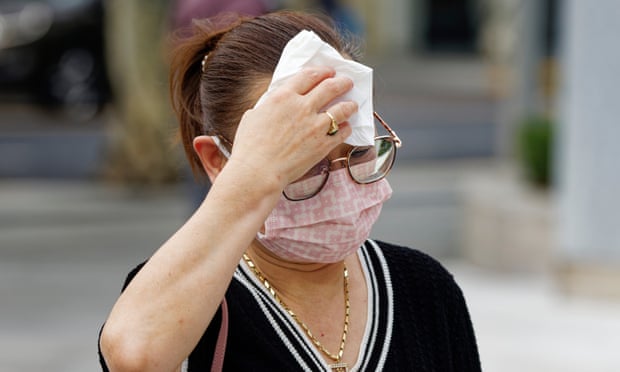 As of 5pm local time, Shanghai's red alert was in force. The highest of a three-tier colour-coded warning system, it requires construction and other outdoor work to be reduced or halted.
Shanghai has issued three red alerts in the past five days, though these are a relatively rare occurrence, with just 17 issued since record-keeping began in 1873.
The hot weather coincided with mass testing for Covid-19 in several districts amid minor outbreaks, adding to heat woes for both residents and health workers wearing protective suits.
Some Covid-19 testers taped bottles of frozen mineral water to their white hazmat suits as they worked, while others sat next to huge blocks of ice to cool off. "This suit is terribly hot," Peng Lei, who worked at one testing site, told Reuters. "The clothes are never dry. All day long they are wet with sweat."
Some communities also began testing in the evening, when it was cooler.
The past month's unusually hot spell has affected half of China. The Yangtze River basin, encompassing large cities from Shanghai to Chongqing in the heartland, has broiled in heatwaves over the past week.
By 5pm, 86 red alerts had been declared across China, most in the Yangtze basin.
Higher demand for air conditioning pushed China's maximum power load to an all-time high on Tuesday. Authorities said they were making every effort to ensure energy supplies during the summer's peak demand period.
Nations across southern Europe – experiencing the second heatwave in as many months – have been hit by a series of wildfires over the last few weeks.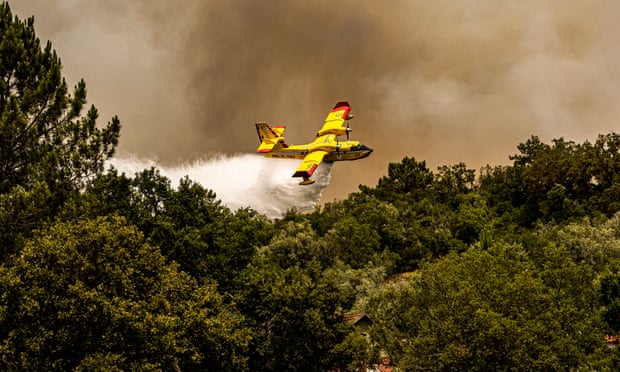 In Portugal's central Leiria district, tired firefighters battled to control blazes that have been fanned by strong winds. Footage from the area on Wednesday showed smoke darkening the sky and billowing across a highway, while flames licked around the roofs of houses in one small village.
Across the border in western Spain, a fire that started in the Extremadura region on Tuesday swept into Salamanca province in the region of Castile and León, forcing the evacuation of 49 children from a summer camp on Thursday.
Regional authorities said more than 4,000 hectares (9,900 acres) of land had been burned.
Spain's meteorological agency Aemet expected the heatwave to reach its peak later on Thursday, with temperatures likely to exceed 44C in large parts of southern Spain.
On Croatia's Adriatic coast, firefighting planes swooped low to dump water over burning forests, and troops were called in to help firefighters battling to contain three major wildfires around Zadar and Šibenik.
In south-west France, about 1,000 firefighters, supported by six water-bombing planes, were battling two wildfires that started on Tuesday.
The biggest of the two Gironde fires was around the town of Landiras, south of Bordeaux, where roads have been closed and 500 residents evacuated.
The other blaze was along the Atlantic coast, close to the Dune du Pilat – the tallest sand dune in Europe – in the Arcachon Bay area, above which heavy clouds of dark smoke were seen rising into the sky.
About 6,000 people were evacuated from surrounding campsites on Wednesday, and another 4,000 people early on Thursday.
Scientists blame human-caused climate change for the increased frequency of extreme weather such as heatwaves, which have also hit parts of China and the United States in recent days.
A study in the journal Nature last week found the number of heatwaves in Europe has increased three-to-four times faster than in the rest of the northern mid-latitudes, such as the United States and Canada, due in large part to the jet stream air current splitting into two parts for longer periods.
"Europe is very much affected by changes in atmospheric circulation," co-author Kai Kornhuber, a climate scientist at Columbia University, told Reuters. It's a heatwave hotspot."