EasyJet said near-term bookings had weakened since the new Omicron variant was identified amid concerns over travel restrictions, but it still expects passenger numbers to return to close to pre-pandemic levels by the end of the summer.
The airline reported a loss before tax of £1.1bn for the year to 30 September, wider than the £835m loss made in 2020, but the figure was better than analysts had expected.
Johan Lundgren, the chief executive, said that while "many uncertainties remain as we navigate the winter", the airline expects to benefit from a bounce back.
"We're seeing very strong demand into next summer" Lundgren said, "because there is very strong pent-up demand. We have more revenue for next summer than we had at this point in time for the summer of 2019."
Commenting on demand since the new variant emerged, easyJet said: "It's too soon to say what impact Omicron may have on European travel and any further short-term restrictions that may result.
Read more of Julia Kollewe's report: EasyJet says Omicron variant already affecting bookings
One person has tested positive for the new Omicron variant of the coronavirus on the French Indian Ocean island of La Reunion and six of his contacts are being tested. That makes it the first confirmed French case.
Official researcher Dr Patrick Mavingui said the person was a 53-year old man who had travelled to Mozambique and made a stop-over in South Africa.
The patient, who returned to La Reunion some two weeks ago, is in isolation, Mavingui told local French media.
Reuters report French government spokesman Gabriel Attal Attal confirmed the case. "Six of his contacts have been put in isolation, three coming from his family circle and three from his professional circle," he told Europe 1 radio.
Scotland's health secretary, Humza Yousaf, has said the vaccination booster programme will be accelerated in the country, but that workforce issues will be the "biggest constraining factor".
Lucinda Cameron reports for PA Scotland that booster vaccinations are being extended to all those aged 18 and over in Scotland in line with the UK's Joint Committee on Vaccination and Immunisation (JCVI) recommendation, with the interval after the second dose cut from six to three months.
Yousaf told BBC Good Morning Scotland: "We have adequate supply including with the most recent JCVI advice but the biggest constraining factor is workforce, we'd have to go from a position of administering around about 500,000 flu and booster vaccines – don't forget we're also doing flu vaccines – a week to around about 700,000 a week, that is before yesterday's advice came in.
"Now with yesterday's advice we suspect there's an additional at least 1m doses added to the eligibility criteria."
He said authorities are working to ramp up the programme and "accelerate it as quickly as we possibly can".
Yousaf said calls to reopen mass vaccination centres do not take account of the "challenges and complexities" of the vaccination programme, and authorities do not want to take NHS staff away from other important duties.
He told the programme: "The NHS is under significant pressure, what we don't want to do is take people away from really core, important, significant duties and get them doing vaccinations.
A quick snap from Reuters here that global vaccine-sharing network Covax has set aside 4.73m doses of AstraZeneca's vaccine for shipment to North Korea, according to its allocation plan.
North Korea and Eritrea are the only countries that have yet to start their vaccination campaign against Covid, according to the World Health Organization.
North Korea has not officially confirmed any Covid cases, a figure widely considered to be unlikely. It has imposed strict anti-virus measures, including border closures and domestic travel curbs.
Dr Jenny Harries, the chief executive of the UK Health Security Agency (UKHSA), told BBC Radio 4's Today programme that people could do their bit by reducing the number of social contacts they have.
She said that even if our "vaccines appear to be effective, but we find that the variant is more highly transmissible, having lowish grade infection, but in very large numbers of the population, it could still be a significant impact on our hospitals.
"And of course, our behaviours in winter and particularly around Christmas we tend to socialise more so I think all of those will need to be taken into account."
Asked about working from home, PA Media quotes her saying: "We've seen that not everybody has gone back to work and I'd like to think of it more in a general way, which is if we all decrease our social contacts a little bit, actually that helps to keep the variant at bay.
"So I think being careful, not socialising when we don't particularly need to and particularly going and getting those booster jobs which, of course, people will now be able to have at a three-month interval from their primary course."
Germany reported a further 45,753 new coronavirus cases and 388 deaths today, but the seven-day incidence of cases per 100,000 people fell slightly for the first time in three weeks.
The Robert Koch Institute for infectious diseases reported that 452.2 people per 100,000 were infected in the last week, down from 452.4 on Monday and the first fall since early November.
Reuters note that the number of new cases was still 427 more than a week ago, but the pace of weekly increase has been flattening in the last few days.
Chancellor Angela Merkel, her designated successor Olaf Scholz and regional leaders are due to meet later today to discuss how to respond to the crisis, especially after cases of the new Omicron variant were detected in the country.
About 68% of the population of about 83 million is fully vaccinated, far behind the rates in southern European countries such as Portugal and Spain. Ten per cent of the population has received a booster shot.
Here's an updated map of the latest caseload figures across Europe.
The other constant questioning line to UK junior health minister Gillian Keegan this morning has been what impact Omicron will have on people's Christmas plans.
I must confess to having some sympathy with the minister here, as, given the lack of confirmed scientific information about the variant, I don't really see what answer she can realistically be expected to give.
Here's what she told BBC Breakfast, when asked particularly how the clinically vulnerable should be preparing for the holiday season:
What we're basically saying, you know, we're being proportionate and balanced in our response, but continue with your Christmas plans. We don't know, as Jonathan Van-Tam suggested yesterday, we don't know an awful lot about the virus and about this variant. So we do need to wait for the information.

But you know, be cautious. I think people who are extremely physically vulnerable are very cautious anyway. They continue to wear masks, they continue to consider where they go and make sure that they have the right arrangements in place. Be sensible, do what you feel comfortable doing.

But we're not telling people to not continue with their plans. We very much hope that we can continue with our Christmas plans. But of course, we were putting these measures in place now to build up our defence to it.
Junior health minister Gillian Keegan has been doing the media round in the UK today, and she's been on BBC Breakfast now. A couple of points of interest from that, firstly on whether the onus is on retailers to enforce England's new face covering rules, which come into force today. She said:
Well, it is actually the British public's personal responsibility, to follow the rules, to wear the masks. Obviously shopkeepers have done an absolutely brilliant job of keeping our shelves supplied under very trying circumstances, and we thank them for their service and everything they do. And clearly there have been occasions where you know, that's been confrontational. So you know, we have a lot of sympathy with that, but really, it's for British public to please be sensible, please wear your mask. But it's really the police who would enforce that.
She added:
Obviously, [retailers] will put signs up and ask people to respect the rules and obey the law and to wear a mask and you know, that's reasonable. But really, it's down to individuals. We're all in this together. You know, it's not for everybody to be carrying around being policed by shop assistants. Not at all. We all have to do the right thing.
Just a quick note that shortly we are expecting European medicines agency boss Emer Cooke to start giving evidence to a European parliament committee hearing. I'll bring you any Covid lines of interest from that in due course.
Prof Adam Finn, a member of the Joint Committee on Vaccination and Immunisation (JCVI) in the UK, has said that the country had to "act immediately and not wait" after the discovery of the Omicron variant. PA Media quotes his appearance on BBC Breakfast, saying:
I do think we need to take this seriously. It is a possibility that this will not turn out to be a major problem but there are lots of signs that suggest that it might. It looks like it's quite a transmissible virus. We don't really yet know whether it causes worse disease. It may well not do that.

But the main question is whether it's able to evade the immunity that we've got to some extent from the vaccine so far and the infections we've all had. And so because of that, and because of the possibility of a major wave, the thing to do now is to act immediately and not wait.
Politico's London Playbook sets up what we can expect politically in the day ahead …
Boris Johnson will hold a press conference this afternoon where he will present the government's plan to roll out coronavirus booster vaccines to all adults in the coming weeks. After Monday's decision to expand the booster campaign, the question tens of millions of Britons are asking is when can they get their third jab – the prime minister will be giving details later on. From this morning you now have to wear a face mask in shops and on public transport [in England, this was already the case in the other nations of the UK], and isolate if NHS Test and Trace says you've been in contact with an Omicron case. New arrivals into the country have to stay at home until they're cleared by a Day 2 test. Health Secretary Sajid Javid is speaking in the Commons ahead of today's vote on the new measures, with a relatively minor Tory rebellion expected.
Nine cases of the Omicron variant of coronavirus have been identified in Scotland, the country's health secretary, Humza Yousaf, has said.
Yousaf said there are five cases in the Lanarkshire area and four in NHS Greater Glasgow and Clyde, up from the six identified across the two areas announced on Monday.
Asked on BBC Good Morning Scotland if there was any connection between Cop26 or a recent South Africa rugby match, PA Media reports he said: "There's nothing that links these cases or indeed the variant back to Cop26 or indeed the rugby match."
He added: "There's nothing that indicates these cases or this new variant has come via the rugby or Cop26 but that work of course is still ongoing ."
France's minister for overseas territories left the Caribbean island of Guadeloupe on Monday night at an impasse over ways to end more than a week of violent protests sparked by Covid-19 restrictions.
Before departing for more talks in neighbouring Martinique, Sebastien Lecornu told reporters that the Guadeloupe negotiations had been deadlocked over the "obvious and indispensable" demand that the various unions condemn the violence.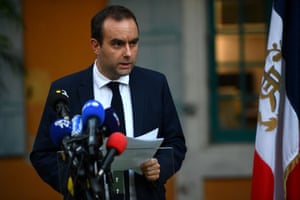 Agence France-Presse reports that unrest in the former colonial outpost began with a protest over compulsory Covid-19 vaccinations for health workers, but quickly ballooned into a broader revolt over living conditions, and spread to next door Martinique. Both islands are now under curfew.
On his arrival in Guadeloupe on Sunday, Lecornu vowed to stand firm on the obligation for health workers and first responders to be vaccinated against Covid by 31 December or face suspension without pay. But he insisted he was open to dialogue on other issues.
The vaccine mandate for health workers, which was enforced in September on the mainland, has met with greater resistance in Guadeloupe and Martinique, where vaccine hesitancy is high.
Gillian Keegan, the UK junior health minister, has said the government has the capacity to ramp up the rollout of booster jabs. She told Sky News on the issue of staffing:
Well, we've used in the past NHS staff, community nursing staff, pharmacies, the GPs, volunteers, retired doctors and nurses. We've used that pool of staff in the past. So I guess they're going to be looking at which of those they need to bring back in. We do have the facilities and we do have the people and we do the vaccines. So they'll just be putting the plan together to see what's what's going to make most sense.
The UK is aiming for 500,000 jabs a day in bid to outpace Omicron variant.
In the UK, junior health minister Gillian Keegan is doing the media round this morning, and her opening interview has been on Sky News, where she has said: "I'd rather over-react than under-react" to the Omnicron variant.
She said:
We're trying to get a balance and proportion. And it is difficult because it's unknown. So we need to have some time where the world's leading scientists basically sort of figure out what. We know it's very transmissible. We don't know whether the vaccine works or the other treatments. So the scientists do need some time for that. We think we've got the balanced and proportional response to it, but we will review it in three weeks. That will give scientists enough time to help you give us some insights.
Here's a quick summary of the changes in Covid rules coming into effect in England today.
In England face coverings will become compulsory on public transport, and also in shops. That brings it in line with the rest of the UK.
But unlike Scotland, Wales and Northern Ireland, people in England do not have to wear masks in pubs and restaurants.
School staff and pupils in year seven and above are strongly advised to wear face masks in communal areas unless exempt
Teachers and pupils in Wales or have been told they should wear face coverings in indoor settings.
Educational and childcare settings should also continue to encourage staff and students to test twice weekly using a lateral flow device.
There are 10 countries on England's travel red list. Travellers need a negative pre-departure Covid test, a PCR test two days after arrival, and will need to stay in an approved government hotel quarantine.
Hello, it is Martin Belam here in London, taking over from my colleague Samantha Lock in Sydney. I suspect we will be in much of a news holding pattern for the next few days, with increasing case numbers and global spread of the Omicron variant dominating headlines, but no real scientific consensus emerging yet on whether it has the vaccine escape capability that is feared while the work is done to research that. I'll be bringing you the latest news from the UK and around the world.
Japan has confirmed its first case of the Omicron variant, Kyodo news agency reports, citing unnamed government sources.
A Namibian diplomat in his 30s is thought to have tested positive for the variant at Narita airport near Tokyo upon his arrival on Sunday, the publication said.
Japan on Tuesday banned new foreign entries for at least one month in an attempt to stave off the new Omicron Covid variant.
Prime minister Fumio Kishida said during a press conference:
In order to avoid the worst situation, Japan will first prohibit the entry of foreigners from midnight on 30 November to the whole world as an emergency evacuation precautionary measure. For Japanese etc, in addition to nine countries such as South Africa, 14 countries where infection has been confirmed, and when returning from the region, we will implement strict quarantine measures at designated facilities according to the risk.