Police in Shanghai have detained a number of young people for walking the streets on Halloween in costumes carrying a political message, as the authorities start warning people not to engage in any form of cosplay, Radio Free Asia has learned.
The detentions come after photos of a number of young people appeared on social media at Halloween wearing Winnie the Pooh and COVID-19 enforcer costumes in a satirical swipe at their government, and displaying blank sheets of paper in a reference to the "white paper" movement of November 2022.
News footage and social media clips showed spontaneous street gatherings of people in Halloween costumes, including ghosts and Chinese-style corpse brides, along with some more contemporary horrors: the white-clad COVID-19 enforcers of the zero-COVID lockdowns and even Winnie-the-Pooh – a figure banned by censors due to his reported resemblance to President Xi Jinping.
Dressing up as COVID enforcers, Winnie-the-Pooh or Taiwan's president is a covert way to make a political point in #China pic.twitter.com/bSR4CCji2P

— Radio Free Asia (@RadioFreeAsia) November 2, 2023
Now, state security police are detaining a number of people identified as having taken part, according to Nanjing-based veteran rights activist Her Peirong, holding them for at least 24 hours.
"The ones who live in Shanghai were detained at noon on [Nov. 16]," Her said. "Several people told me that one of the young women was a cosplayer, and she and some of her friends who took the photos are under investigation."
"I am fairly familiar with these people, and some of their family members have called me."
Cosplay has long been used in China to make a political point, and was regarded as a fairly low-risk form of satire – until now.
Several people in one social media video clip sported head-to-toe white hazmat suits, wielding coronavirus testing swabs and dispensing hand sanitizer to passers-by, in a jovial nod to the horrors and anguish experienced by many in the city under its 2022 lockdown.
Another person came as beauty influencer Austin Li, asking onlookers why everything was so expensive, while another dressed as Taiwan's cat-loving president, Tsai Ing-wen, who has vowed to defend the island's democratic way of life from infiltration or invasion by Beijing.
But X account @Rumoreconomy tweeted on Friday: "Shanghai authorities have started arresting young cosplayers, and several celebrities have been invited to drink tea."
"Drinking tea" is a euphemism to refer to questioning by China's feared state security police.
Shanghai journalist Zhang Chen said he has heard similar reports.
"I heard that they have started detaining young people for cosplay and warning them to stop dressing up as characters from games or anime," Zhang said. "Young people love cosplay, and regularly go to these types of parties."
"But some of the characters are also linked to reality."
He said the police want to ban such dressing up, ostensibly to stop China's young people from being "invaded by Western ideas."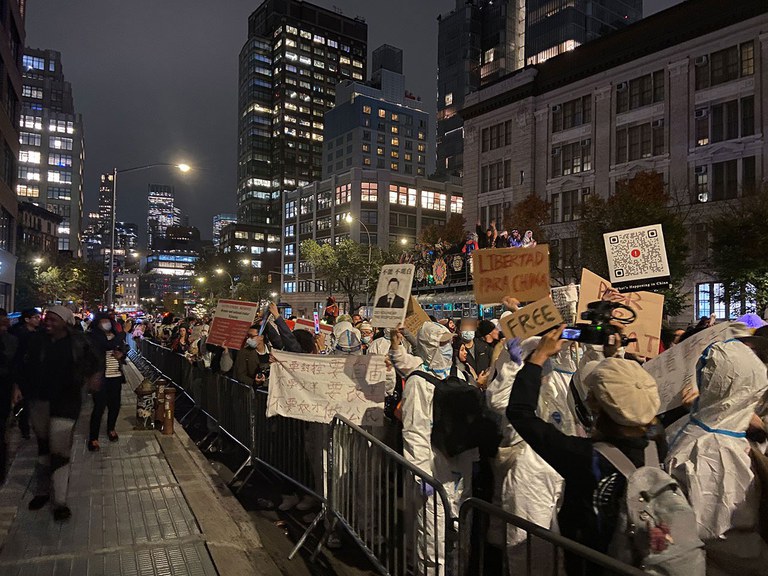 Shanghai-based animation artist Zhang Ting said she has heard similar reports.
"I heard that some of those people who dressed up as various characters during Halloween have been interviewed and given warnings by the police, and that the consequences were serious," she said.
She said the Shanghai Film Festival has also been told it can't showcase homegrown talent, but must only screen officially approved films praising the ruling Chinese Communist Party.
Meanwhile, internet regulators have been contacting major online service providers about censoring cosplay on their platforms.
Officials from the the Cyberspace Administration have hauled in executives charged with implementing government censorship from Tencent, Xiaohongshu and Douyin in recent days, to ask them to "rectify" the matter, according to an employee of a Beijing-based online media company, who asked to remain anonymous for fear of reprisals.
"Some people from Tencent and those in charge at Xiaohongshu have been called in for interviews," and told to make sure they don't allow any posts that "violate the core values of socialism" during Halloween, the employee said.
"They're now following up by detaining people," she said.
The Cyberspace Administration has interviewed those in charge of 5,518 websites, suspended or ordered editing of 188 websites and taken down 120 apps from app stores so far this year, while shutting down 7,704 "illegal websites" and more than 39,000 "illegal accounts" on online platforms, according to official figures.
The Shanghai cosplay wasn't the first time critics of the Chinese Communist Party have used Halloween as a way to protest against its leader Xi Jinping.
In 2022, around 30 overseas Chinese protesters staged a Halloween parade in New York holding up placards calling for Xi's removal, for a "free China" as well as an amnesty for political prisoners, more personal freedom and respect for human rights.
In 2019, Hong Kong police used tear gas and pepper spray to clear revelers from the streets as thousands marched in a Halloween "masquerade" that included Winnie the Pooh masks, full-face masks depicting then Hong Kong leader Carrie Lam as a vampire, chanting "five demands, not one less!" in a demand for fully democratic elections, greater official accountability, and an amnesty for political prisoners.
Translated by Luisetta Mudie.