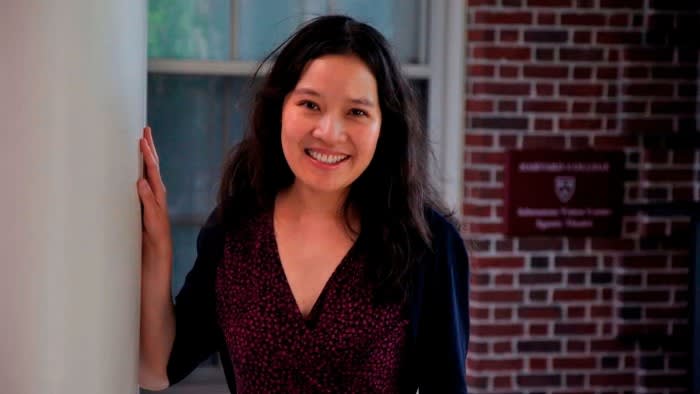 Unlock the Editor's Digest for free
Roula Khalaf, Editor of the FT, selects her favourite stories in this weekly newsletter.
Hong Kong has denied a visa to Rowena He, an eminent scholar of China's bloody 1989 Tiananmen Square crackdown, preventing her from returning to her teaching post in the city and fuelling concerns about academic freedom in the Chinese territory.
He, a Canadian citizen who was associate professor in history at the Chinese University of Hong Kong, told the Financial Times she had also been "terminated with immediate effect" by the university on Friday, with CUHK citing the city immigration department's rejection of her visa renewal as a reason.
"People told me that I should not work on Tiananmen from the very beginning," said He, who at present has a temporary research position at the University of Texas at Austin. "It would not come without a price. This time, the price is the ending of my academic life in Hong Kong."
Beijing imposed a sweeping national security law in Hong Kong after huge pro-democracy protests in the territory in 2019. Authorities have silenced dissent, restricted civic freedoms and tightened controls on sectors including higher education. A growing number of academics are leaving Hong Kong, with many citing the shrinking free space to pursue China studies.
The Chinese army's brutal crushing of pro-democracy protests in Beijing on June 4 1989 is one of China's most sensitive political topics, with authorities seeking to suppress discussion of it on the mainland and increasingly in Hong Kong.
He, who was born and raised in mainland China, moved to Canada in 1998 and later worked at US institutions including Harvard University. She arrived in Hong Kong for her role at CUHK in 2019 and applied to Hong Kong immigration authorities in July last year for a visa extension.
He said she had planned to return to the city in June after a nearly year in the US but had to postpone because she had not heard back from immigration officials.
"People have been telling me that, in the US, 'now you can write in freedom', without fear," He said. "But at the same time, I really want to be able to return to Hong Kong, which is the closest I can get to mainland China."
She said her visa rejection symbolised "the deterioration of intellectual freedom in Hong Kong", adding that it would have a chilling effect on other academics working on China-related topics.
State-affiliated newspaper Wen Wei Po in February ran an opinion piece by a pro-Beijing politician attacking He of "slandering and attacking the Chinese government". She is the author of Tiananmen Exiles: Voices of the Struggle for Democracy in China, which was removed from Hong Kong's public libraries in May.
Hong Kong authorities have declined to give details of how many academics have been denied visas since the national security law came into effect in 2020. Last year, US human rights law scholar Ryan Thoreson was denied a work visa by the territory's immigration department despite already being hired by the University of Hong Kong.
Asked about He's case, CUHK said visa approval decisions were "a matter for the immigration department and the university is unable to influence visa outcomes".
"The employment of non-permanent residents is conditional upon the possession of a valid visa. This is consistent with jurisdictions around the world," the university said.
Hong Kong's immigration department said it would not comment on individual cases, adding that officials acted "in accordance with law and relevant policies in handling each application".