An alliance of three ethnic armies opened an offensive against Myanmar's military regime on Friday, launching attacks on outposts in seven different locations in Shan state, in the east, including the headquarters of the junta's Northeastern Command.
At around 4:00 a.m., the Northern Alliance made up of the Ta'ang National Liberation Army, Myanmar National Democratic Alliance Army and the Arakan Army simultaneously struck junta positions in the strategic Shan cities of Kunlong, Theinni, Chin Shwe Haw, Laukkaing, Namhkan, Kutkai, and Lashio – the state's largest municipality.
In a statement, the alliance said "Operation 1027" – named for the Oct. 27 date of the offensive – was initiated to protect the lives and property of civilians, defend its three member armies, and exert greater control over the self-administered regions within their territories.
It said the operation was also part of a bid to reduce the junta's air and artillery strike capabilities, remove the military regime from power, and crack down on criminal activities – including online scam operations – that have proliferated along the country's northeastern border with China.
Residents of Shan state told RFA Burmese that at least eight civilians were killed in Friday's fighting, including three children. The number of combatant casualties was not immediately available, as the clashes were ongoing at the time of publishing.
Pho Wa, a resident of Hopang, near Chin Shwe Haw in Shan's Kokang region, said there were "many casualties" among junta troops and civil servants, and that key infrastructure, including bridges, had been destroyed, slowing the flow of goods in and out of the area.
"Since multiple checkpoints … were raided, many customs agents, police officers and soldiers were killed," he said. "The residents of Chin Shwe Haw have fled to [a region] administered by an [ethnic] Wa force called Nam Tit. Many are still trapped in Chin Shwe Haw city."
Residents said Myanmar National Democratic Alliance Army, or MNDAA, troops raided the downtown area of Chin Shwe Haw on Friday afternoon. They said inhabitants of Laukkaing were urgently preparing to flee the area ahead of an anticipated raid on the city by the armed group
Kutkai and Lashio clashes
In Kutkai township, Ta'ang National Liberation Army, or TNLA, soldiers attacked a pro-junta Pan Saye militia outpost on Friday morning, leading to fierce fighting, residents said.
A woman from Kutkai said that junta troops based in nearby Nam Hpat Kar village counterattacked with artillery fire, drawing the village into the battlezone. At least two civilians – a man and a child – were killed and five others wounded, she said, speaking on condition of anonymity due to fear of reprisal.
"I think there were more than 30 artillery strikes this morning," the woman said. "Clashes broke out when the TNLA attacked the [junta's] outposts … That's why they counterattacked with artillery from Nam Hpat Kar, but many of the shells fell on Nam Hpat Kar village."
A 40-year-old man was also killed in a military air strike amid fighting near Kutkai's Nawng Hswe Nam Kut village, residents said.
In Mong Ko township, fighting between junta forces and MNDAA troops has been fierce since Friday morning, and at midday the junta sent two combat helicopters to attack, residents said.
Junta outposts near villages of Tar Pong, Nar Hpa and Mat Hki Nu in Lashio township, which is the seat of the military's Northeastern Command, as well as a toll gate in Ho Peik village, were attacked Friday morning. Lashio residents said they heard the sound of heavy weapons until 7:00 p.m. on Friday and that all flights out of the city's airport had been suspended amid the clashes.
Due to the complicated and fast-moving situation in the villages around Lashio, the exact number of casualties is not yet known, but a rescue worker said that two people had been injured and sent to the hospital. Fighting in the area was tense until noon on Friday.
'Strategic shift' for region
RFA reached out to TNLA spokesperson Lt. Col. Tar Aik Kyaw regarding the alliance operation, but had yet to receive a response by the time of publishing. Attempts to contact the MNDAA and Arakan Army, or AA, went unanswered Friday.
Myanmar's shadow National Unity Government's ministry of defense welcomed the operation in a statement.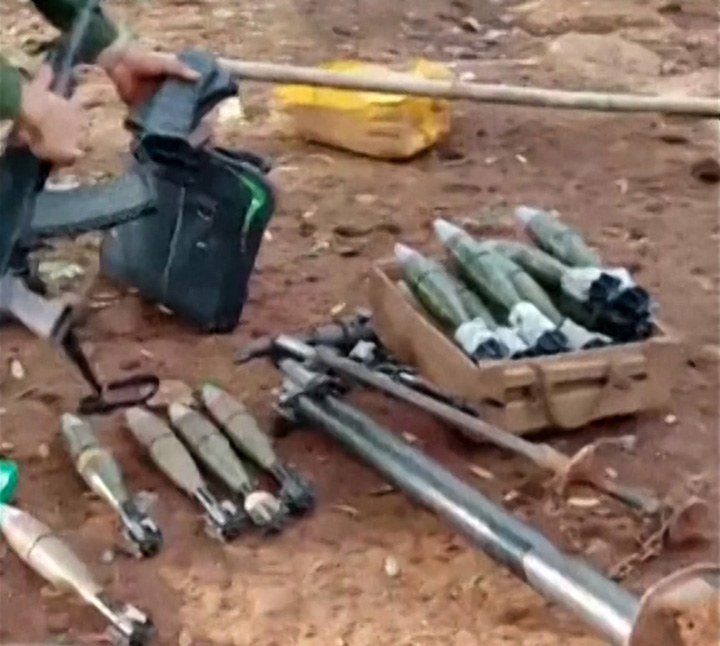 RFA was unable to reach junta Deputy Information Minister Major Gen. Zaw Min Tun for comment, but he confirmed to local media that fighting had taken place in Chin Shwe Haw, Laukkaing, Theinni, Kunlong and Lashio townships.
He said that the military and police had "suffered casualties" in attacks on outposts at Chin Shwe Haw's Phaung Seik and Tar Par bridges.
Chinese foreign ministry spokesperson Mao Ning told reporters at a regularly scheduled press conference that Beijing is "closely following" the latest fighting along its border and called for dialogue between all parties to avoid escalation of the situation.
Speaking to RFA on Friday, military commentator Than Soe Naing said that the alliance operation was retaliation for recent junta attacks on the headquarters of their ally, the Kachin Independence Army, in Lai Zar, a remote town in Kachin state on the border with China.
"I consider this to be a strategic shift for the entire northern region, centered on Shan state," he said.
Translated by Htin Aung Kyaw. Edited by Joshua Lipes and Malcolm Foster.