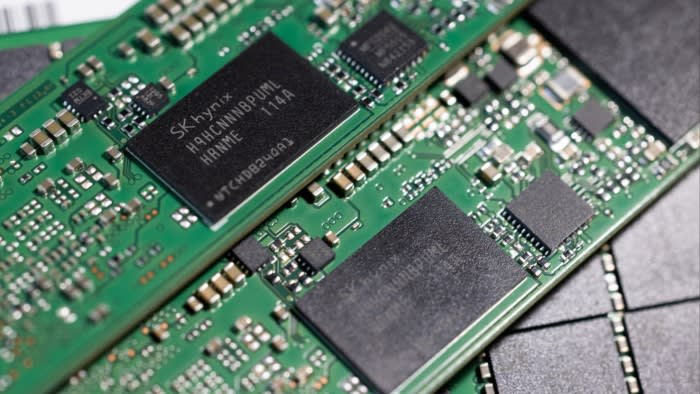 Unlock the Editor's Digest for free
Roula Khalaf, Editor of the FT, selects her favourite stories in this weekly newsletter.
Western Digital has abruptly walked out of merger talks with Kioxia, shattering Bain Capital's ambitions to create a US-Japan memory-chip champion, according to three people with direct knowledge of the talks.
The collapse in negotiations come after South Korean chipmaker SK Hynix, which has a significant stake in Kioxia, declared its opposition to the deal amid concerns that the combined entity could challenge its position in the Nand memory sector. Analysts said the merged entity's market share would be double that of SK Hynix.
The merger talks had received substantial behind-the-scenes support from the US and Japanese governments. The move was viewed by both as a means of solidifying co-operation on semiconductor supply chains, said people with direct knowledge of the situation.
One participant in the talks said Western Digital's sudden walkout was "genuinely shocking" after years of negotiations seemed to be nearing a conclusion.
But others were keen to stress that there was still hope that the US side could, even now, be coaxed back to the table. Two people involved in the discussions said the situation was "still fluid", adding that there were pathways to allow talks to resume in the future.
SK Hynix had invested about $3.5bn in the Bain-led consortium that made a bid for Toshiba's semiconductor unit, later renamed Kioxia, for $18bn in 2017. An agreement from SK Hynix and other investors in the consortium was needed for the deal to go through.
The 2017 deal, which itself followed months of exceptionally tormented negotiations and reversals, was the biggest ever led by a private equity firm in Japan and came to symbolise the huge ambitions that the global PE industry had for dealmaking in Japan. At the same time, bankers said, the difficulties experienced by Bain in securing either an IPO for Kioxia or a merger with Western Digital also highlighted the rising challenges of achieving a clean exit.
Bain shelved plans to list Kioxia in 2020 due to the Covid-19 pandemic and geopolitical uncertainty created by deteriorating US-China relations. Talks between Western Digital and Kioxia started the following year, but a merger was repeatedly delayed after multiple clashes between management teams, according to people close to the deal.
Kioxia is still exploring an initial public offering, but a drop in global demand for memory chips and continuing losses at the Japanese group have made the option unlikely for now.
Other investors in the consortium had expressed concerns about whether the tie-up would be strong enough to compete against industry leader Samsung, the people said.
Shares in Western Digital fell as much as 16 per cent on Thursday following news of the breakdown, which was first reported by Nikkei.
Kioxia, Bain and SK Hynix declined to comment. Western Digital did not immediately respond to a request for comment.
Additional reporting by Song Jung-a in Seoul