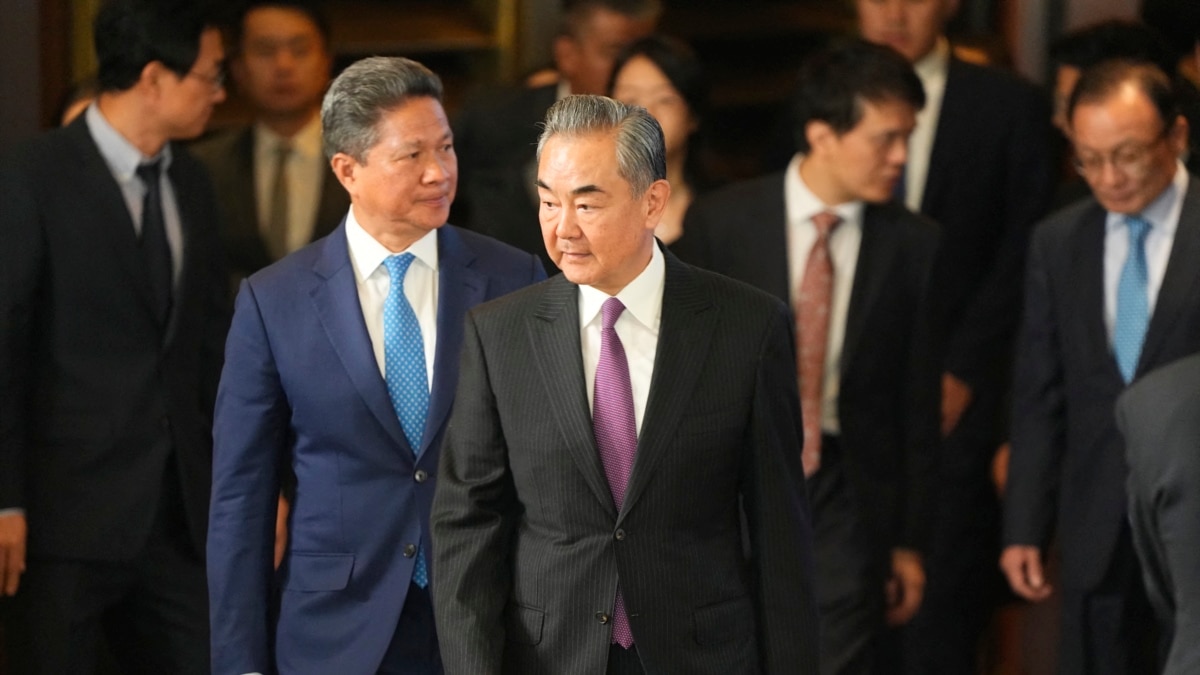 State Department —
Chinese Foreign Minister Wang Yi arrived in Washington Thursday for meetings with senior U.S. officials on bilateral and regional security issues as the two countries aim to maintain open communication channels.
U.S. Secretary of State Antony Blinken is hosting Wang at the State Department for a working dinner after meetings in the late afternoon. White House national security adviser Jake Sullivan is holding talks with him at Blair House, near the White House, Friday.
"This meeting is consistent with commitments by both sides to maintain this strategic channel of communication as part of ongoing efforts to responsibly manage the relationship," NSC spokesperson Adrienne Watson said in a statement.
Senior officials from U.S. President Joe Biden's administration have previewed a range of issues, including Israel's war with Hamas, Russia's war on Ukraine, the fentanyl crisis, and a recent vessel collision in the South China Sea.
Meanwhile, congressional critics have urged China to release wrongfully detained American citizens and condemned Chinese military behavior in the South China Sea.
"During its meetings with Wang Yi, the Biden administration should not fall for false promises but demand deliverables such as releasing Americans taken hostage in China, stopping the export of fentanyl precursors, and halting its military expansionism in the Indo-Pacific," House Foreign Affairs Committee Chairman Michael McCaul and Indo-Pacific Subcommittee Chairwoman Young Kim said in a statement.
"China is having their own internal and external difficulties right now," Biden said during a press conference with visiting Australian Prime Minister Anthony Albanese. "China's economic growth is stagnant compared to what it was. China has engaged in activities [of] intimidation" when dealing with other countries, he added.
Biden also reiterated Washington's support for the Philippines following a recent incident in which Chinese ships blocked and collided with two Philippine vessels near Second Thomas Shoal in the contested South China Sea.
"Just this past week, the PRC vessels acted dangerously and unlawfully as our Philippine friends conducted a routine resupply mission within their own exclusive economic zone in the South China Sea," Biden said, using an acronym for the People's Republic of China.
"The United States' defense commitment to the Philippines is ironclad," he said, adding that the U.S. is "not looking for a conflict" with China.
China asserts sovereignty over nearly the entire South China Sea, a resource-rich waterway with competing territorial claims from several other countries.
Middle East
Blinken has called on China to use its influence over Iran to prevent the Israel-Hamas war from spreading but the U.S. expectation is said to be low amid key divisions with China. Washington said Tehran continues to support Hamas militants, who do not support a two-state solution.
"Hamas does not represent the vast majority of the Palestinian people in the Gaza Strip or anywhere else," Biden said during the press conference. "Hamas is hiding behind Palestinian civilians."
The United States, Israel, Egypt, the European Union, Japan and others have designated Hamas a terrorist organization.
China, like Russia, does not classify Hamas as a terrorist group but regards it as a legitimate representative of the Palestinians in Gaza.
Earlier this week, Chinese Foreign Ministry spokesperson Mao Ning said the Beijing government hopes the U.S. will work with China to "properly manage differences and jointly bring the bilateral relations back to the track of sound and steady development."
As Israel prepares a ground incursion into Gaza, Wang told Israeli Foreign Minister Eli Cohen that "all countries have the right to self-defense, but it is important to observe international humanitarian law and protect civilians," during a phone call on October 23.
Sullivan held talks with Wang in Malta September 16 and 17 following their meetings in Vienna May 10 and 11. The White House said they discussed issues including Russia's war in Ukraine and also noted the importance of peace and stability across the Taiwan Strait.