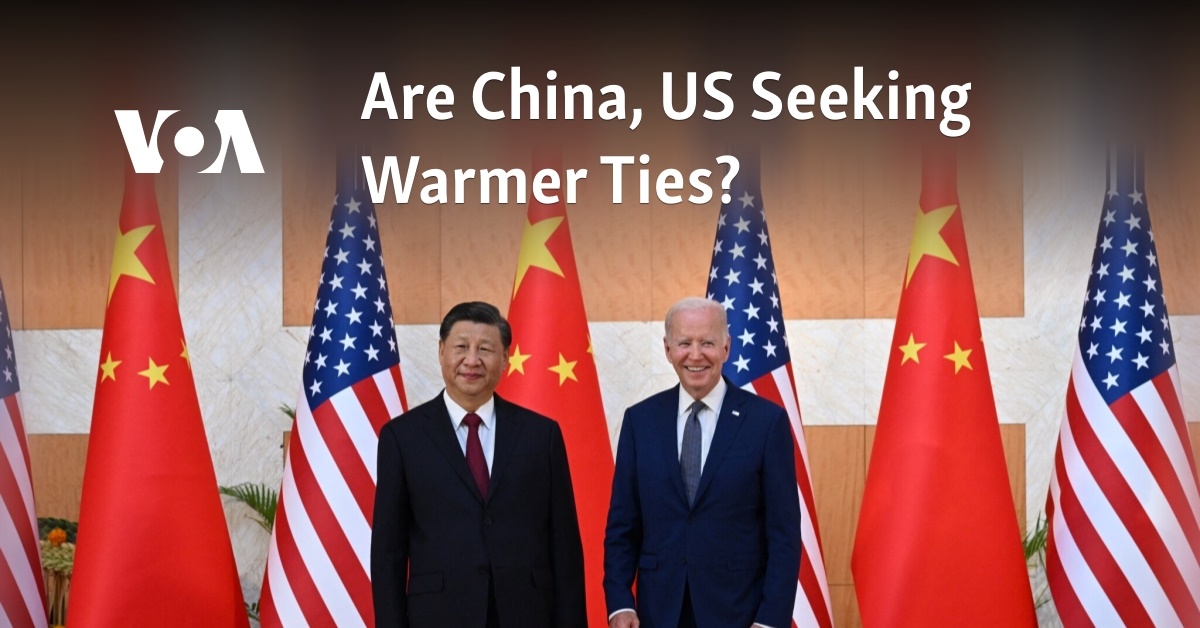 WASHINGTON —
Chinese President Xi Jinping, striking an unusually conciliatory tone, is calling for closer cooperation and more stable ties between China and the United States based on mutual respect and peaceful coexistence.
The message, contained in a letter to the New York-headquartered National Committee on United States-China Relations on Tuesday, came amid expectations of a meeting between Xi and U.S. President Joe Biden in San Francisco at the November Asia-Pacific Economic Cooperation summit.
In the letter, Xi said, "As two major countries in the world, whether China and the United States can find a right way to get along with each other, bears on world peace and development and the future of humanity."
"China is ready to work with the United States in the three principles of mutual respect, peaceful coexistence, and win-win cooperation to advance mutually beneficial cooperation, properly manage differences, jointly address global challenges, and to help each other succeed and prosper together to the benefits of both countries, as well as the world," he said.
At the NCUSCR's annual conference, Biden, also through a letter, said, "Both China and the U.S. have a duty to address transnational challenges that affect the lives of our peoples, including strengthening global food and health security, combating the climate crisis and countering narcotics trafficking."
"America will also continue to responsibly manage the competition between our countries as we advance our mutual vision for a free, open, secure and prosperous world, and we remain committed to partnering with any nation that shares our devotion to protecting the international institutions and rules of the road that have helped safeguard global security and prosperity for decades," he said.
Former U.S. Secretary of State Henry Kissinger said at the event, "I am convinced … the two countries have a unique ability to bring peace and progress to the world."
"And they also have a unique ability to destroy the world If they're not together," he added.
The conference came just before Chinese Foreign Minister Wang Yi is expected to visit Washington for talks which, among other things, are likely to involve planning for the Xi-Biden meeting.
From Thursday to Saturday, Wang is expected to meet with U.S. Secretary of State Antony Blinken and U.S. national security adviser Jake Sullivan. President Biden is also likely to meet with him.
Bonnie Glaser, managing director of the Indo-Pacific program at the German Marshall Fund of the United States, told VOA Mandarin the conversations would involve a full spectrum of issues, "including Israel and Gaza, Ukraine, Taiwan, the South China Sea, US-China military interaction, AI, and fentanyl."
Senator John Cornyn said he would like to see the Biden administration be more assertive toward China.
"Unfortunately, the administration seems to be all too willing to kowtow to the Chinese Communist Party, and they perceive that as weakness. So, I'd like to see a little bit of strength," he said.
With the exchange of letters at NCUSCR, and Wang's visit, the two superpowers appear to be warming up for a possible Biden-Xi meeting on the APEC sideline.
However, Beijing has not officially accepted the U.S. invitation to attend the APEC summit in San Francisco. Some analysts told VOA Mandarin they believe the delay in confirming Xi's attendance is strategic: Beijing is hoping to seize the initiative and force the U.S. to make concessions on issues such as the new chip export ban to China.
Beijing may also hope Washington will change its decision and allow Hong Kong Chief Executive John Lee, who is sanctioned by the U.S., to attend the APEC summit.
Craig Singleton, a senior fellow at the Foundation for Defense of Democracies, told VOA Mandarin, "The underlying expectation from Beijing seems to be for Washington to soften its critical stance – an unlikely move from the Biden administration."
Timothy Heath, a senior international defense researcher at the RAND Corporation, told VOA Mandarin, "Wang Yi is likely to seek to set the conditions for a possible Xi-Biden meeting on the sidelines of the APC summit in November. Wang also will also aim to ease tensions by having an exchange of views on regional and international issues."
Adrianna Zhang contributed to this report.