Cici, 27, doesn't want to have a baby until she's at least 35. Her mother is putting pressure on her to get married and "have a stable life", but with a busy job at a tech company in Beijing – while also completing a master's degree in law – she hardly has the time to think about starting a family.
Cici's story is not unique; across the world, young women are putting off marriage and childbirth for longer than their mothers did. However, in China the phenomenon is so acute that last year the population shrank by 850,000, the first decline in more than 50 years, as the birthrate fell to a record low.
As the population contracts, its makeup is changing in a way that portends serious problems for China's economy.
Cici's predicament might be familiar to millennials in many wealthy countries, but China cannot yet count itself among that rarefied group. The World Bank defines a high income country as one in which the gross national income per person is more than $13,845. Although China's income per person has skyrocketed in the 21st century, in 2022 it had only reached $12,850. Many economists now fear that China will get old before it gets rich.
An ageing country, a falling birthrate
Comparisons are being made between China and Japan, which entered a gloomy economic period in the early 1990s. The trigger for what became known as Japan's "lost decades" of deflation and stubbornly low growth was a stock market crash, but it was exacerbated by the country's ageing population.
About 14% of China's population is now over 65, a threshold that Japan passed in 1993. But while it took Japan nearly a decade to reach that level from 10%, China made the jump in just six years. In the next two decades, China is on track to add more over-65s to its population, than the US has people.
The government is well aware of these problems. In 2016, it abandoned the decades-old one child policy, replacing it with what is now a three child limit. Some provinces have abandoned restrictions on family-sizes altogether, one of a raft of measures to encourage women to have more babies. Other policies include up to 30 days of paid holiday for newlyweds, discounts on IVF and cash subsidies for second and third babies.
These incentives have made little difference. China now has a generation of young women like Cici who are more educated than their parents and are unwilling to adhere to patriarchal norms around family planning, despite official exhortations.
Last year, after unveiling a politburo that excluded women for the first time in 25 years, Beijing passed an amendment to China's gender law that called on women to "respect and obey … family values". Since then online feminist groups that call on women to reject marriage and procreation have been shut down.
The sums don't add up
Cici says she just wants to reach "career stability" before starting a family. Her and her boyfriend need to save up up to 2m yuan (US$270,000) to buy a property in Beijing, where average prices in July were 70,740 yuan (US$9,500) a square metre, according to a data provider.
As long as young people like Cici feel like the sums don't add up on having children, China's workforce will continue to shrink. Between 2019 and 2022, the number of people of working age declined by more than 40 million, making supporting the growing ranks of elderly people increasingly difficult.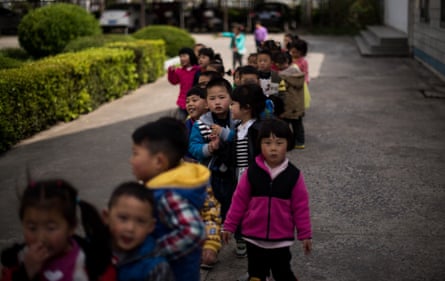 In 2019, government thinktank the Chinese Academy of Social Sciences, warned that the main state pension fund could run out of money by 2035. That was before the massive slowdown of the past few years, which hit pension contributions. As an emergency relief measure during the pandemic, the government allowed companies to pause social security contributions for up to six months. This saved businesses 1.54 trillion yuan, but also hit revenues for pension funds by 13%, sending the system into deficit for the first time.
The pensions deficit may be a temporary problem, says Zoe Zongyuan Liu, a fellow at thinktanks the Council on Foreign Relations, but "with the shrinking population it becomes very difficult to increase the pension base, therefore you have to increase your investment. The Chinese government has been developing different programmes to allow pensions to invest in different varieties of assets to increase investment returns … but it really depends on how the economy goes".
"If the economy is not doing well, if investments are not doing well, and the government continues to cut contribution rates," then the deficit problem will worsen, Liu says.
The fact that China has one of the lowest retirement ages in the world does not help matters. Men can retire at 60, while for women it is 55, or 50 for blue collar workers. Suggestions about raising the age have prompted public outcry.
This year state media said that Beijing was pushing ahead with plans to raise the age, without specifying when this would happen. But needs must, and wherever China's famously bottle black leaders look, they are finding grey hairs that threaten to derail the economy.