One was a coastguard vessel but the other eight Chinese ships were apparently fishing boats. Four of the steel-hulled civilian ships sailed with the Chinese coastguard vessel, taking turns to block the Philippine coastguard ships BRP Cabra and BRP Sindangan from getting close to the reef. Four more civilian ships were standing by as three more Chinese coastguard vessels surrounded the Philippine boats.
The Chinese ships came within metres of the BRP Cabra's hull, video footage released by the Philippine coastguard showed. The Philippines said the Chinese vessels' "dangerous manoeuvres" had endangered the crew and that their presence in its exclusive economic zone (EEZ) was illegal, but the
resupply mission was completed
.
The incident is an example of how China is increasingly using civilian ships to assert its territorial claims to nearly all of the resource-rich South China Sea. Its neighbours are concerned that Beijing is seeking to achieve its goals by blurring the lines between civilian and military forces, and by using force such as firing water cannon.
These so-called grey zone tactics are used by governments to compel others to act in a certain way while enabling them to deny responsibility for what are seemingly civilian activities.
Ray Powell, director of SeaLight, a Stanford University project focused on grey zone activities in the South China Sea, said there should be clear demarcation of troops and civilians in conflicts to avoid civilian casualties – a principle struck after the immense loss of civilian lives in World War II.
"Once you start blurring that, then it becomes very hard to decide who is a lawful target," Powell said. "That then leads us into places that are scary places."
He pointed to the firebombing and use of atomic bombs by the United States in Japan in World War II – which killed more than 200,000 civilians – before those rules of engagement were made.
In the South China Sea, the Chinese coastguard
fired water cannon
at Philippine ships resupplying troops on Second Thomas Shoal on August 5. Weeks later, a Chinese coastguard vessel was said to have used water cannon on a Vietnamese fishing boat near the disputed Paracel Islands, injuring some of the fishermen on board, according to Vietnamese media reports.
For more than two decades, China and the 10 members of the Association of Southeast Asian Nations have been negotiating a binding code of conduct for the South China Sea, but there is no agreement in sight. China did sign the non-binding Code for Unplanned Encounters at Sea in 2014, which sets out safe behaviour in a bid to make military action more predictable – but it only applies to navies, not coastguards or militias.
China's embassy in Manila did not respond to requests for comment. Responding earlier to the August 5 incident, the Chinese foreign ministry claimed the outpost on Second Thomas Shoal violated international law and that the Philippines had ignored China's warnings not to send building materials to reinforce the crumbling warship it uses as a base. China did not say how it knew the resupply boats were carrying construction materials.
Beijing claims "historical rights" over most of the South China Sea with its nine-dash line, though it has not specified what rights it has beyond its claims to the Spratly, Paracel and Pratas Islands and the Macclesfield Bank.
Its claims overlap with those of the Philippines, Vietnam, Malaysia, Brunei and Taiwan. Beijing also rejected a
2016 ruling
by an international tribunal in The Hague that invalidated its expansive claims – based on historical maps and documents about Chinese activity on disputed reefs and islands – because they went against the UN Convention on the Law of the Sea (Unclos), which China has signed and ratified.
Manila and Washington have repeatedly criticised Beijing for using what are ostensibly fishing boats to block Philippine vessels from getting to Second Thomas Shoal. They say those fishing boats are part of China's professional maritime militia.
At the Asean summit earlier this month, Philippine President Ferdinand Marcos Jnr called on the 10-nation bloc to rally and act against China's "dangerous use" of coastguard and militia ships.
Hours later, the September 8 confrontation unfolded. The Chinese fishing vessels all had names that began Qiong Sansha Yu – "Qiong" referring to the character for Hainan province, "Sansha" pointing to the city that includes the Spratlys, Paracels and Macclesfield Bank in its jurisdiction, and "Yu" meaning fishery.
Powell said they were professional militia ships, that their crew members wore paramilitary uniforms and they did not fish.
"No fishing ship would spend as much time as they do just roaming around doing nothing, but that's essentially what they do," he said. "They are paid militia, and their primary job is to help assert Chinese jurisdiction or sovereignty over maritime spaces."
According to MarineTraffic, the four civilian ships that confronted the Philippine fleet on September 8 – Qiong Sansha Yu 00008, 00114, 00115 and 00231 – had been at Mischief Reef since August 29, some 32km from Second Thomas Shoal.
MarineTraffic publishes ship data using their automatic identification systems that transmit location and speed.
Days before the confrontation, the Chinese ships took turns in pairs to guard Second Thomas Shoal before heading back to Mischief Reef, where China has built an artificial island, sent troops and installed radomes and an airfield.
The ships had sailed from Qinglan Port in Wenchang, on the southern Chinese island of Hainan, according to the tracking site. The port is one of three in the province where militia fleets can dock. Satellite images from Google Earth show nearly 20 ships measuring 50 to 60 metres docking at the port since it opened in 2017. Some of those ships have the same features as the civilian vessels involved in the September 8 incident near Second Thomas Shoal.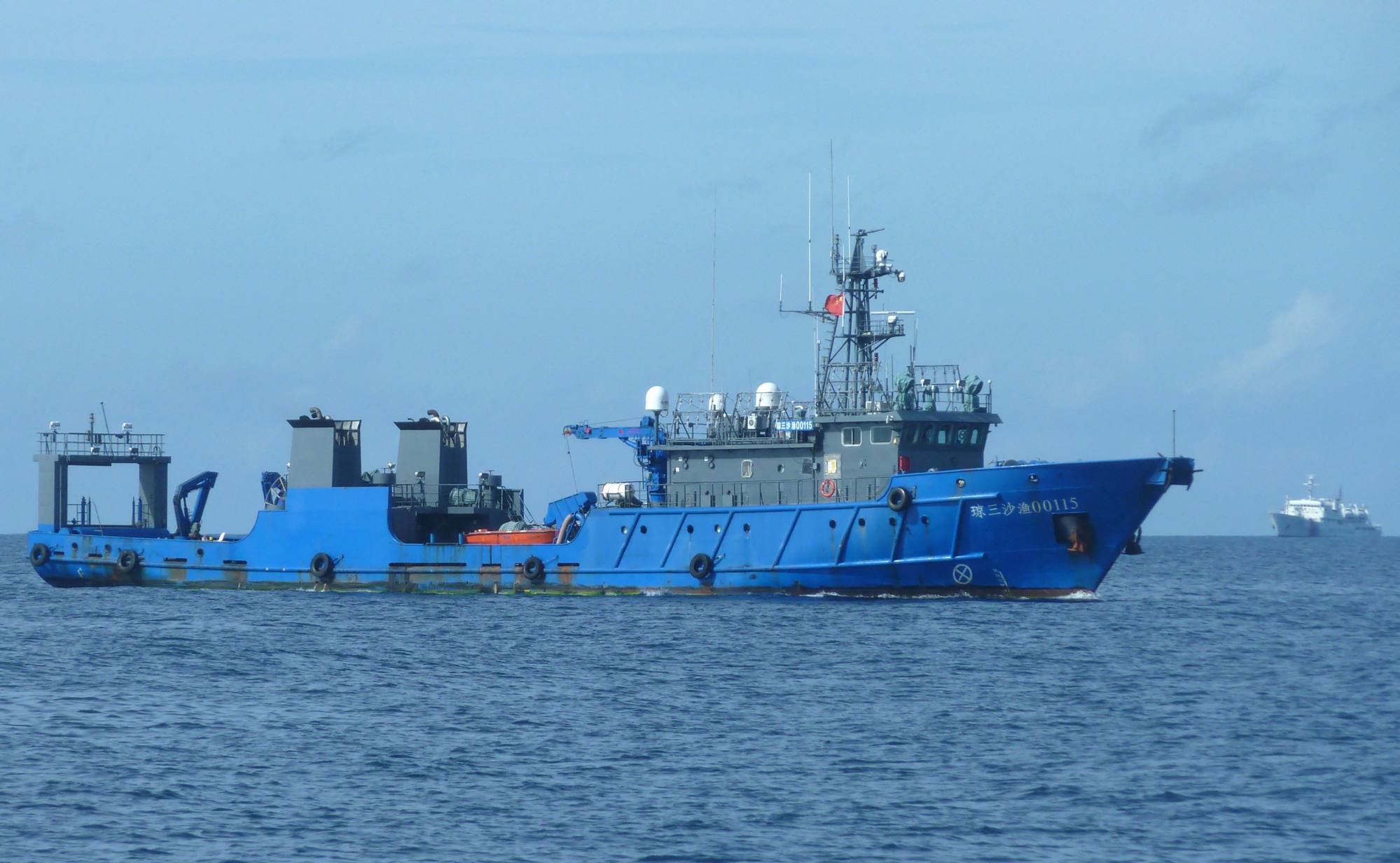 Chinese state media has reported on militia activities aimed at defending the country's territorial claims to reefs and islands in the South China Sea. But the foreign ministry has repeatedly denied using militia for this purpose. In 2021, asked why more than 200 such vessels had appeared in the disputed Whitsun Reef, also in the Spratlys, the ministry said they were fishing boats taking shelter from bad weather.
According to Powell from SeaLight, the Qiong Sansha Yu fleet is part of the professional, uniformed militias paid to assert Chinese sovereignty in disputed areas.
Their training is organised by local governments. Raoping county in Guangdong province, for example, arranged eight days of combat-readiness training for more than 160 maritime personnel in June 2022, the government's website said.
A maritime militia was established in 2013 under the People's Liberation Army's Sansha garrison command, according to state media reports. There were 215 people in the Sansha militia in its first two years, state-run Hainan Daily reported in 2014. A 2021 promotional video shows personnel training with grenades and assault rifles that are also used by the PLA.
An outpost for the Sansha maritime militia was set up on Woody Island in the Paracels, as well as an office for "united military, coastguard and civilian defence", Senior Colonel Cai Xihong wrote in an article in PLA journal Guofang in 2015.
Cai, commander of the Sansha garrison at the time, and co-author Hong Yao said the militia was overseen by Sansha City Fisheries Development. The company is wholly owned by the Sansha city government's financial bureau, according to Tianyancha, a Chinese company data provider.
Cai and Hong said the militia used fleets of steel-hulled ships that could be used for fishing and combat to protect maritime rights. Such ships had been deployed on 228 missions from 2012 to 2014 including to chase away foreign fishing boats, prevent them from landing on islands, and "safeguard peace and stability" at sea.
Another part of the militia is the Spratly Backbone Fleet, which uses smaller ships that sit near disputed reefs for most of the year to create, in effect, a floating outpost, according to Powell.
Sitting in the EEZ of another country is not illegal under Unclos. But he said: "What we're trying to expose in that case is not necessarily illegal activity, but activity that is intended to make an assertion on behalf of the state rather than fishing, as a fishing ship would normally do."
China is not the only South China Sea claimant to have a militia. Vietnam, another communist state, also does, but its maritime militia is believed to be much smaller. While Hanoi does not release official figures on the militia, Major General Pham Quang Ngan, head of Vietnam's militia and self-defence department, told local media in 2019 that there were 1.5 million personnel. Colonel Nguyen Phuong Hoa wrote in 2016 that 0.08 per cent of militia personnel worked for the maritime militia. That would suggest the country had about 1,200 maritime militia personnel if the proportion stayed the same from 2016 to 2019.
Chen Xiangmiao, an associate research fellow at the National Institute for South China Sea Studies in Hainan, said there was not much call for China's militia to operate as an armed force.
Still, he said it was needed to bolster the country's limited coastguard numbers in the South China Sea – though the size of its maritime militia is not known.
"The management of the Chinese militia is in a bit of a disarray," Chen said. "Vietnam's militia has a very clear survey method to separate militia personnel and ordinary fishers."