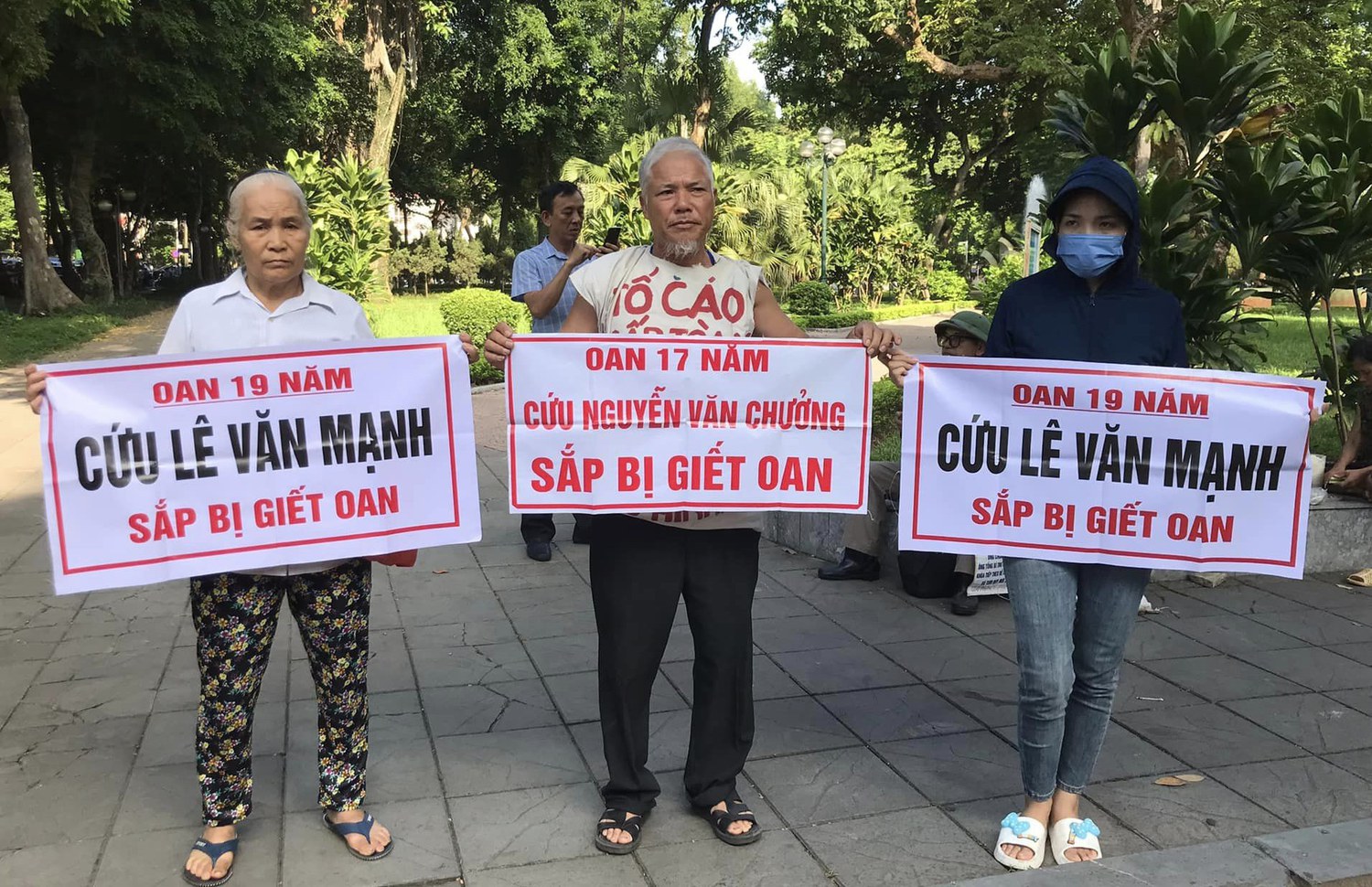 The European delegation to Vietnam and the Canadian and U.K. Embassies have urged Vietnamese authorities to halt the execution of death row inmate Le Van Manh, whose family was told this week to make preparations to receive his body after his sentence is carried out.
In a joint statement, posted to the E.U. delegation's Facebook page on Thursday, the diplomatic missions noted that Le Van Minh, 42, has repeatedly proclaimed his innocence since he was sentenced for rape and murder in 2005 and dismissed the death penalty as an acceptable form of punishment.
"We strongly oppose the use of capital punishment at all times and in all circumstances, which is a cruel, inhuman and degrading punishment and can never be justified, and advocate for Vietnam to adopt a moratorium on all executions," the statement said.
The diplomatic missions said that there is no evidence showing that the death penalty serves as a more efficient deterrent to crime than imprisonment, adding that rehabilitation "as an objective of modern criminal law" is rendered impossible by the application of capital punishment.
They warned that any errors, which they said are inevitable in any legal system, become irreversible when a person is put to death.
More than two-thirds of countries have abolished the death penalty in law or practice, the statement noted.
"We will continue to actively work to further the universal trend towards the eradication of the death penalty and stand ready to support Vietnam on a path towards abolition," it said.
Beaten to confess?
In 2005, Manh was charged with the rape and murder of a 13-year-old girl in Thanh Hoa province. He confessed to the crimes but later retracted his statement, saying that he had been severely beaten by police.
The joint statement was issued on the same day as a deadline given to Le Van Manh's family by the Thanh Hoa People's Court to register to receive his body following his execution. The court notice, sent on Sept. 18, said that Manh would be executed by lethal injection, but provided no date for when the sentence would be carried out.
This is the second statement condemning the use of the death penalty in Vietnam made by the three missions in two months, following one in late August that called for a halt to the execution of Nguyen Van Chuong, who was convicted of murder in Hai Phong City in 2007.
Attempts by RFA to contact the Vietnamese Ministry of Foreign Affairs for a response to the statement went unanswered Friday.
Petitioning the government
Since receiving notice of his impending execution this week, Manh's mother, Nguyen Thi Viet, and other relatives have repeatedly petitioned the government on his behalf. Viet told RFA that she has sent requests to the Office of the National Assembly, or parliament, and several other central agencies calling for a review of his sentence.
"My family went to see representatives from the State President's Citizen Reception Committee [on Friday], requesting a review of Le Van Manh's verdict and file to ensure transparency and that the sentence is commensurate with his alleged crime," she said.
"Seven trials … have been held but none were able to present any evidence to convince my family that my son's case had been handled seriously, transparently, and fairly. Many things at those seven trials still need clarification."
Also on Thursday, the Hanoi-based Hung Đao Thang Long law firm sent a petition letter to State President Vo Van Thuong, requesting that he halt Manh's execution.
The letter alleged that there were serious procedural errors in Manh's case, including the assessment of evidence against him.
"The accusations in a verdict, which itself is uncertain, need to be reviewed," the letter said. "Therefore, we urgently request the President to promptly issue a decision to halt the execution of the death penalty for Le Van Manh, as there is very limited time left."
In 2015, London-based rAmnesty International sent an open letter to then-President Truong Tan Sang, calling on him to stay Manh's execution and to order an investigation into accusations that he had been tortured. Following the letter, the Thanh Hoa People's Court halted the execution to review the case.
Translated by Anna Vu. Edited by Joshua Lipes and Malcolm Foster.