Taiwan's
defence ministry sounded alarm bells on Monday about a record 103
People's Liberation Army
warplanes operating near the island, warning such activities would only further escalate cross-strait tensions and destabilise security in the region.
The ministry said it had tracked 103 PLA aircraft in the 24 hours from 6am Sunday, with 40 of them crossing the de facto median line in the Taiwan Strait or entering the island's air defence identification zone (ADIZ) in the southwest and southeast.
There were 10 Su-30, 12 J-10, four J-11 and 10 J-16 fighter jets, as well as two Y-20 aerial refuelling planes and two KJ-500 airborne early warning aircraft among the 40 sorties, the ministry said, adding that nine PLA warships were also spotted near the island.
According to a chart released by the ministry showing the warplanes' flight paths, 32 PLA fighter jets entered Taiwan's southwest ADIZ.
At the same time, two Y-20 refuellers and two KJ-500 airborne early warning planes heading towards the Bashi Channel flew into the southeast ADIZ before continuing to the West Pacific, the ministry said.
The chart also showed four J-11s crossing the median line that notionally runs through the middle of the Taiwan Strait on the Taiwanese side and flying along the line before heading back to the mainland side.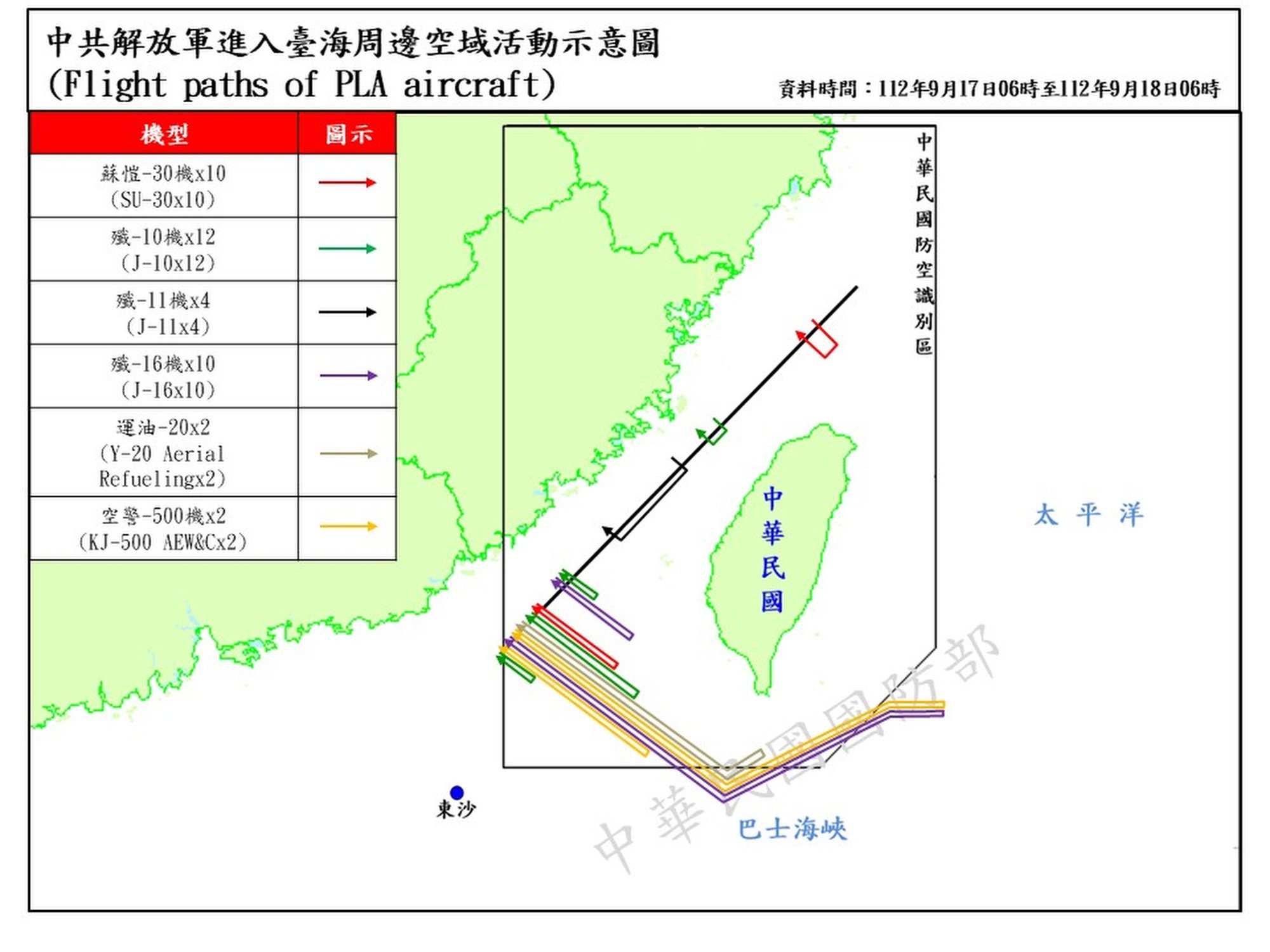 The ministry said it had closely monitored the situation and tasked warplanes and naval ships, as well as land-based missile systems, to respond to the heightened activity.
"The continuous military harassment by the Communist forces would only further escalate the tensions in the Taiwan Strait and deteriorate the security in the region," warned a ministry statement on Monday.
In the statement, the defence ministry called on Beijing to "immediately stop its destructive unilateral actions" and stressed that the Taiwanese military would not seek war, but nor would it avoid it.
Beijing has intensified military operations around Taiwan since then US House Speaker Nancy Pelosi visited the island in August last year.
Beijing, which has vowed to bring Taiwan under mainland control, by force if necessary, regarded Pelosi's trip as a violation of its sovereignty and a breach of Washington's one-China policy.
Most countries, including the US, do not recognise Taiwan as an independent state but are opposed to the unilateral change of the cross-strait status quo by force.