Chinese Vice-President
Han Zheng
and US Secretary of State Antony Blinken struck conciliatory notes at the start of a meeting they held on the sidelines of the UN General Assembly in New York on Monday.
Referring to the
visit
that Blinken made to Beijing in June, Han said the trip "sent to the whole world the constructive message of China and the United States stepping up engagement and dialogue and working together to stabilise the bilateral relationship".
Han also cited the meeting that US President Joe Biden held with his counterpart Xi Jinping in Indonesia last year, and asked for "more concrete action to deliver on the common understanding between our leaders for the sound and steady growth in China-US relations".
The one-on-one meeting at the headquarters of China's permanent mission to the UN followed two days of
"candid" talks
between US National Security Adviser Jake Sullivan and China's top diplomat,
Wang Yi
, in Malta over the weekend. Beijing announced last week that
Han would attend the UN
General Assembly instead of Wang, who is in
Russia
this week for annual strategic talks.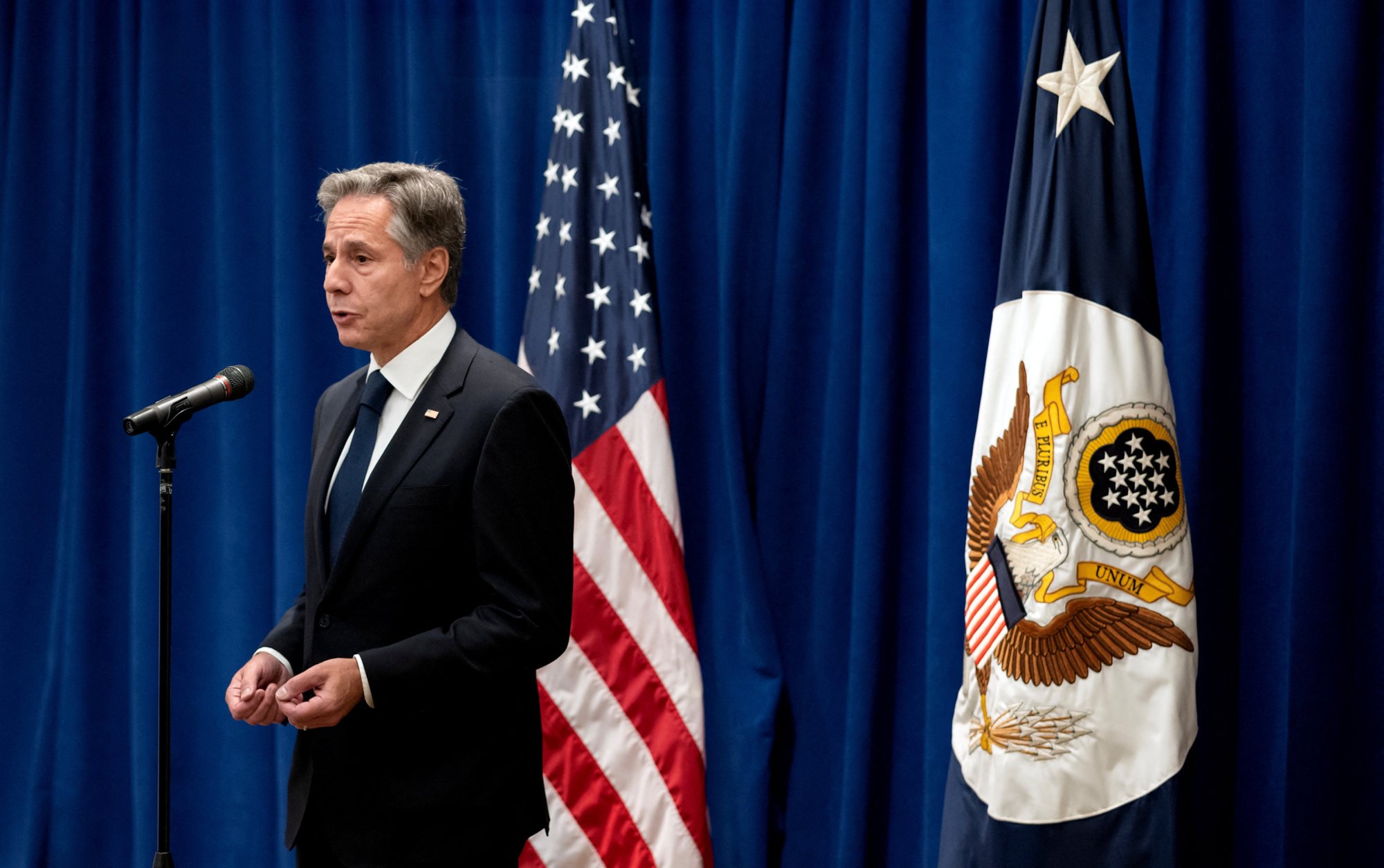 "It's a good thing that we have this opportunity to build on the recent high-level engagements that our countries have had, to make sure that we're maintaining open communications and to demonstrate that we are responsibly managing the relationship between our two countries," Blinken told Han.
In a flurry of diplomatic engagements on the eve of Biden's Tuesday address to the general assembly, Blinken hosted a working breakfast for the foreign ministers of the Gulf Cooperation Council's member states as part of his UN meetings on Monday.
He was also scheduled to meet in New York with Japanese Foreign Minister Yoko Kamikawa and join a
Group of 7
working dinner.
A senior White House official said that Biden intended to use his Tuesday morning speech at the UN General Assembly to promote Washington's leadership in global infrastructure, health, climate, multilateral financing and the value of democracy as it appeals to the Global South.
Analysts said that the US saw a strategic opportunity to drive its message home this week in New York at a time when China has declined to send its top officials to the annual gathering of global leaders.
"We have put a lot of points on the board," National Security Council spokesman John Kirby told reporters on Monday.
Biden was coming to the UN "in a position of strength and confidence, with strong allies and partners, provisions for institutional reform of the UN and the
World Bank
and elsewhere", Kirby said.
Biden is to speak to the 193-member body on Tuesday morning while China's representative is scheduled to speak on Thursday. China opted not to send Wang, its top diplomat, so Han, who holds the relatively ceremonial title of
vice-president
, is China's senior envoy on the ground this week.
Washington's push to bolster its oft-repeated talking points for a rules-based order and mutual benefit follows the notable absence of Chinese President
Xi Jinping
at the Group of 20 meeting in India earlier.
This has called into question whether Xi will attend the Asia-Pacific Economic Cooperation (Apec) summit in San Francisco in November, aimed at stabilising
US-China relations
after months of deterioration.
And despite meetings between Wang and Blinken over the weekend, there were few signs of progress, Kirby said, adding: "We still don't have a scheduled meeting between President Biden and President Xi. We're just not there yet."
Beijing remained non-committal on a meeting.
"We value Apec's role as an important multilateral economic cooperation mechanism," said Foreign Minister Mao Ning in Beijing on Monday. "We will release information about China's participation when we have it."
But Kirby touted the administration's continuing effort to keep bilateral lines of communication open, evidenced in recent visits to Beijing by the US commerce, treasury and state secretaries.
"The president's really put a premium on it," said Kirby. "You'd like to get back to a point where we were in Bali at the
G20
last year … and talk about how to responsibly manage this relationship."
Biden and Xi at the G20 meetings in Bali in November laid out a road map for easing tensions, but the process has hit several snags.
Kirby also noted that Biden planned this week in New York to meet with the presidents of five Central Asian nations –
Kazakhstan
, Kyrgyzstan, Tajikistan, Turkmenistan, and Uzbekistan – the first meeting of its kind involving the six leaders.
This comes as G20 nations introduced an India-Central Asia-Europe rail corridor and increased World Bank funding earlier this month in a bid to counter the
Belt and Road Initiative
, Beijing's China-centred trade scheme.