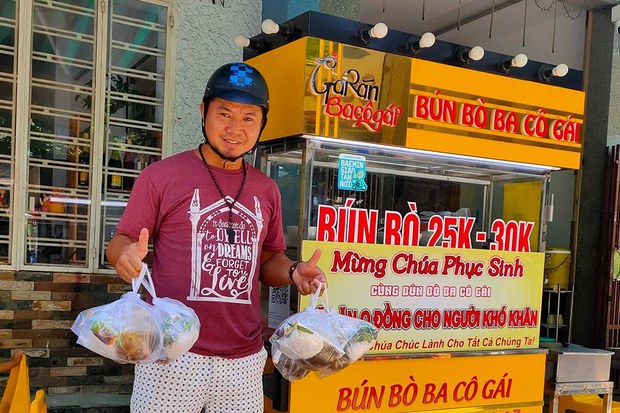 Prisoner of conscience Bui Tuan Lam, known as 'Onion Bae,' is being punished after unsuccessfully appealing his five year sentence, his wife told Radio Free Asia.
Lam was convicted of spreading 'propaganda against the state' and his sentence was upheld in an appeal last month.
His wife, Le Thanh Lam, told RFA Vietnamese that when she visited Lam last week, detention center officials told her all family meetings must be supervised and would therefore take time to arrange.
However, following multiple calls to arrange a visit, his wife was told family visits had been suspended because Lam was being disciplined.
"I asked them why my husband was disciplined, how long he would be disciplined and when my family would be able to see him again," she said.
"They did not provide any more information."
RFA called a police officer named Phong at the Da Nang detention center where Lam is being held. He refused to answer any questions.
"I'm very worried and confused," his wife said.
"I don't know whether he will be shackled and what the punishment will be like.
This is the second disciplinary action since the trial. In just a few months he was disciplined twice [and made to wear] leg shackles."
Ms Lam said the family had no information about her husband's health because he was denied access to lawyers before his appeal.
Lawyer Le Dinh Viet told her that during the appeal hearing the court denied him any form of communication with his client, even eye contact.
Lam is one of dozens of activists imprisoned on charges of 'anti-state propaganda' in recent years. Few of the other prisoners have been disciplined and denied family visits.
Lam, 39, campaigned for human rights in Vietnam at the U.N. headquarters in Geneva in 2014. He is a member of the No-U movement, which challenges China's 'Nine Dash Line' territorial claims in the South China Sea.
He earned the nickname 'Onion Bae' after posting a video mocking Minister of Public Security To Lam, who ate a US$1,800 steak at a restaurant owned by celebrity chef 'Salt Bae.'
In Lam's video, which went viral, he copies the chef's gesture of dramatically sprinkling salt, instead sprinkling spring onions on a bowl of noodles.
Before his trial and appeal, Human Rights Watch called for all charges to be dropped and Lam's immediate release.
Translated by RFA Vietnamese. Edited by Mike Firn and Elaine Chan.