Receive free US updates
We'll send you a myFT Daily Digest email rounding up the latest US news every morning.
This article is an on-site version of our FirstFT newsletter. Sign up to our Asia, Europe/Africa or Americas edition to get it sent straight to your inbox every weekday morning
Good morning. White House national security adviser Jake Sullivan met Chinese foreign minister Wang Yi in the latest effort to stabilise US-China relations ahead of a possible meeting between Joe Biden and Xi Jinping in November.
The White House said Sullivan and Wang met in Malta on Saturday and Sunday. The previously unannounced meeting comes four months after the pair held a secret meeting in Vienna that was aimed at resurrecting high-level diplomacy that had stalled after a suspected Chinese spy balloon flew over North America before being shot down by the US.
"This meeting was part of ongoing efforts to maintain open lines of communication and responsibly manage the relationship," the White House said. "The two sides discussed key issues in the US-China bilateral relationship, global and regional security issues, Russia's war against Ukraine, and cross-[Taiwan] Strait issues, among other topics." Read the full story.
Here's what else I'm keeping tabs on today:
China-Russia ties: China's foreign minister Wang Yi is expected to meet his Russian counterpart Sergey Lavrov in Moscow.

Australia: Michele Bullock becomes Reserve Bank of Australia governor, succeeding Philip Lowe, following her appointment by Treasurer Jim Chalmers in July.

Japan: Financial markets will be closed for Respect for the Aged Day.
Five more top stories
1. Turkey is in "intensive negotiations" with regional partners over its alternative to the India-Middle East trade corridor plan that was agreed at this month's G20 summit. Ankara has pushed back against the proposed India-Middle East route, backed by the US and EU as they attempt to repel China's growing influence, because it would completely bypass Turkey. Read more on Turkey's alternative.
2. The Chinese shadow bank at the heart of concerns over missed payments to customers has lent money to several of the country's struggling property developers. The connections between Zhongrong, a giant of China's $3tn shadow finance industry, and property developers have fuelled fears of spillover effects from a slowdown in the real estate sector. Here's what the FT's analysis revealed.
3. Two commercial ships have docked at a Ukrainian port as Kyiv steps up efforts to unilaterally break Russia's blockade of its Black Sea coast. The two incoming vessels docked at Chornomorsk hours before Russia launched its latest barrage of overnight missile and drone strikes across Ukraine. Agriculture infrastructure in the southern Odesa region was again targeted. Roman Olearchyk reports from Kyiv.
4. Arm's $5bn initial public offering this week was the most expensive in fees for five years, earning a $84mn windfall for the professional services firms that advised it, including Deloitte. The SoftBank-backed chip designer spent the most on IPO-related non-underwriting costs since the flotation of insurance group Axa's US arm in 2018, according to a FT analysis of SEC filings for companies that raised more than $1bn in an IPO.
5. Exclusive: Sir Keir Starmer has promised to seek a major rewrite of Britain's Brexit deal in 2025 if Labour win the next general election, saying he owes it to his children to rebuild relations with the EU. "Almost everyone recognises the deal [Boris] Johnson struck is not a good deal — it's far too thin," he said. Read the full interview.
News in-depth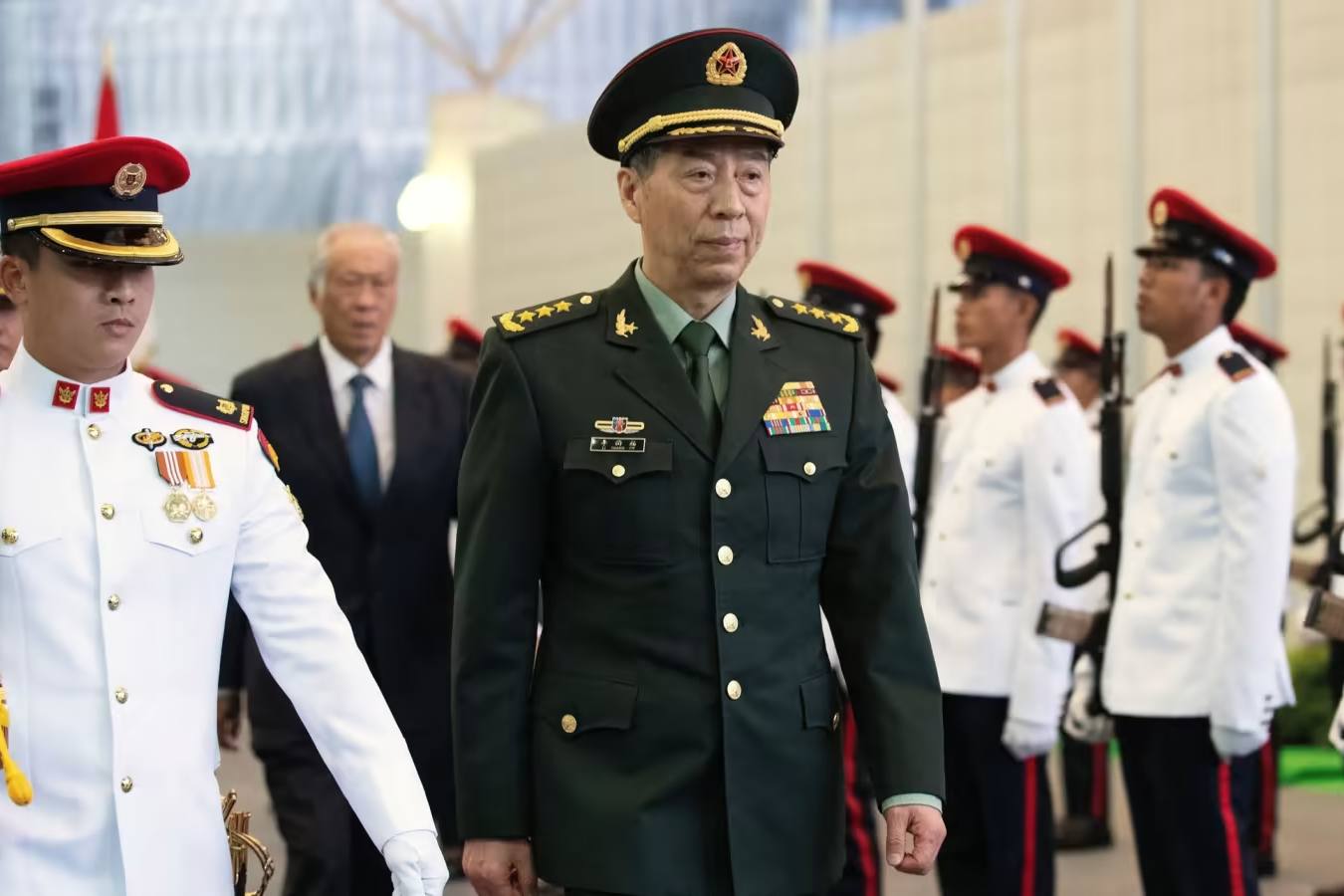 Officials and experts outside China are raising questions about the durability of Chinese president Xi Jinping's cabinet, after defence minister Li Shangfu became the second high-profile minister to disappear with little or no explanation from public view in less than two months. FT's Joe Leahy and Demetri Sevastopulo delve into the rapid purges and what they indicate about Xi's government.
We're also reading . . . 
Bad CEO behaviour: The departure of Bernard Looney as BP chief is another example of how boards are stepping up their scrutiny, writes Brooke Masters.

Good mistakes: Neither organisations nor people can learn from their errors if they deny that the mistakes ever happened, writes Tim Harford.

Carers in the workforce: Millions of staff secretly juggle busy jobs with demanding caring duties that need more recognition, writes Pilita Clark.
Chart of the day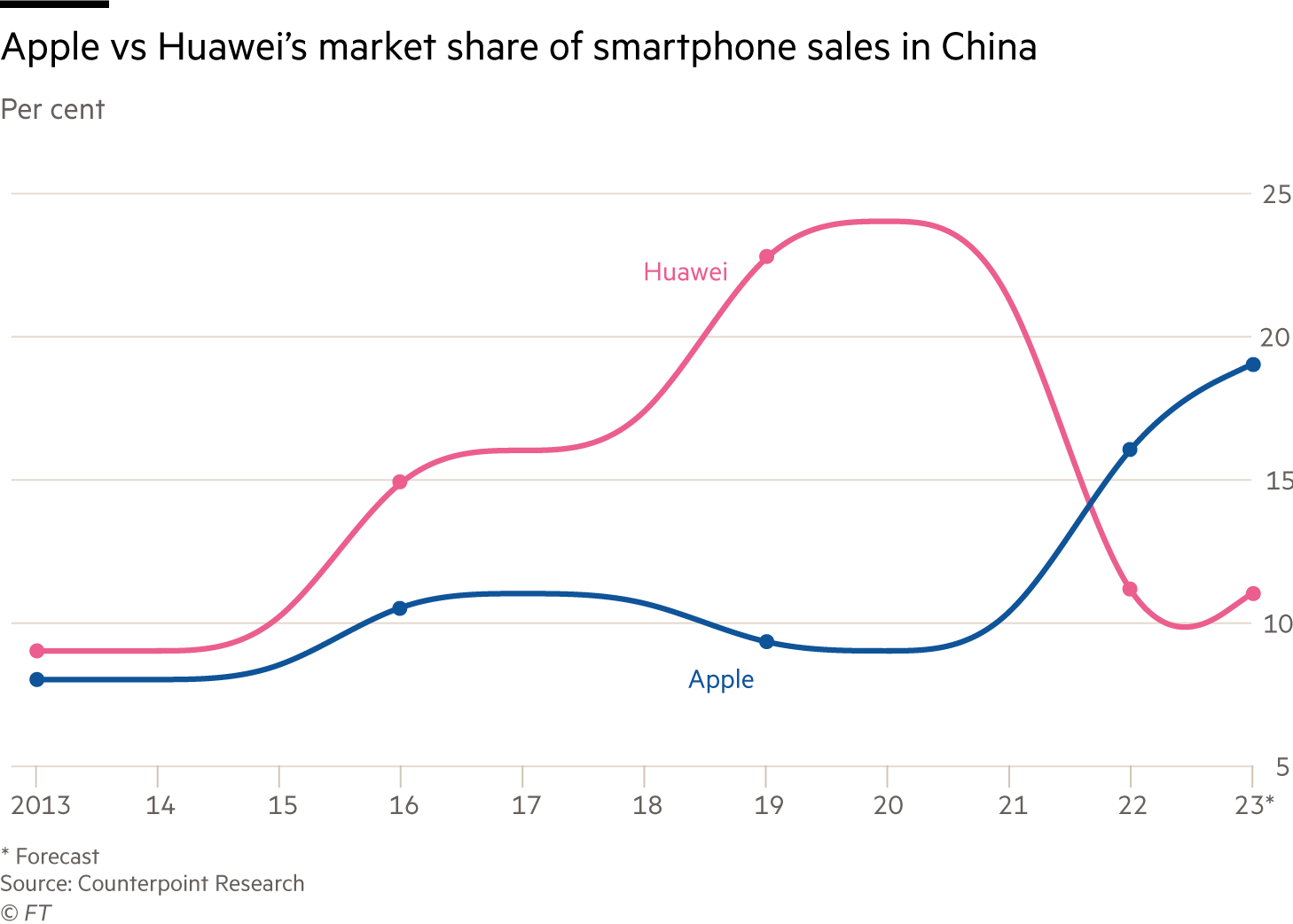 Apple is facing new pressures in China, a country that is not only its largest manufacturing hub but also its biggest international market. Along with concerns over possible curbs on its products, a fresh competitive threat has emerged with the unexpected launch of a new Huawei smartphone in China at the end of August.
Take a break from the news
Oscar-Claude Monet gave us Impressionism and transformed the art world forever. But what about his personal life? Monet biographer Jackie Wullschläger reflects on the revolutionary painter's inner life in this fascinating Weekend Essay.