Updated Sept. 14, 2023, 5:50 a.m. ET
Russian President Vladimir Putin may pay a reciprocal visit to North Korea to crow about the "unbreakable strategic partnership" between Moscow and Pyongyang, on the back of the united front that both had pledged against democracies spanning from Asia to Europe.
North Korea's official Korean Central News Agency said Thursday that Putin was set to visit the North. The report came as Russian presidential spokesman Dmitry Peskov said that an official visit was not yet "on the agenda," according to Russia's official news agency, Tass, on Thursday.

Russian state media first reported on Kim Jong Un's invitation to Putin at the banquet that was held after the landmark summit between the two leaders in the Russian Far East late Wednesday. The reports did not indicate Putin's response.
But the Korean Central News Agency said on Thursday: "Putin accepted the invitation with pleasure and reaffirmed his will to invariably carry forward the history and tradition of the Russia-DPRK friendship." The agency said Kim "courteously invited Putin to visit the DPRK at a convenient time", referring to North Korea by its formal name.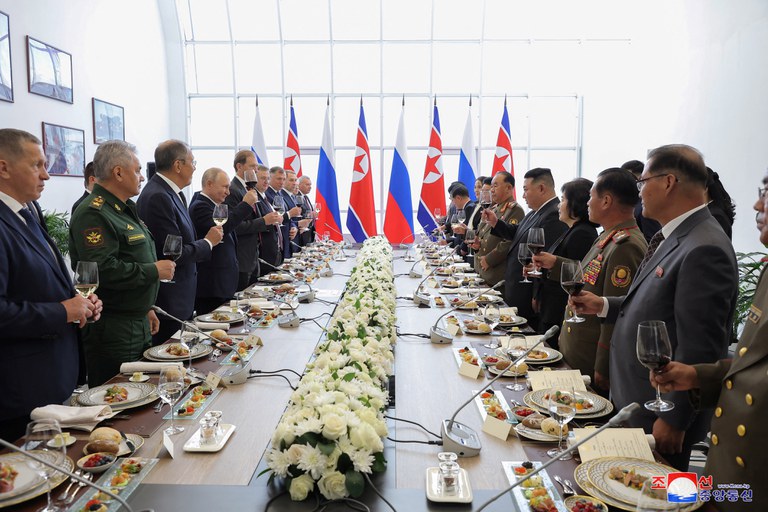 Seoul on Thursday slammed both Pyongyang and Moscow, warning the authoritarian leaders of "consequences" over their possible military cooperation and potential ammunition deal.
"We state that any actions by North Korea and Russia that threaten our security, and violating Security Council resolutions, will result in clear consequences," South Korea's presidential National Security Council said in a statement. South Korea assesses the recent development as a "very serious," situation, especially the purported bilateral military cooperation including the transfer of intercontinental ballistic missile technology.
The statement referred to Putin's offer on Wednesday to aid Kim in perfecting his satellite technology. 
Enhanced cooperation in the aerospace industry may risk international security as it would most likely advance Pyongyang's intercontinental ballistic missile technology. Rocket technology can be used for both launching satellites and missiles. For that reason, the UN bans North Korea from launching a ballistic rocket, even if it claims to be a satellite launch. 
Earlier on Thursday, South Korea's Unification Minister, Kim Yong-ho, told reporters that Seoul had assessed that Moscow and Pyongyang were pursuing a form of military agreement. "Russia and North Korea must stop their self-imposed decline into further isolation and regression, and comply with international norms, including those set by the Security Council resolutions," Kim Yong-ho said.

Regardless of Seoul's fury,  Kim had described his ties with Putin as "an unbreakable strategic partnership" during the banquet, saying that his visit to Russia "will be an important step in transforming the DPRK-Russia relationship", according to South Korean media, including Yonhap. Kim added that the two discussed the political situation on the Korean Peninsula as well as Europe, sending a fresh warning to democracies both in Asia and Europe.

The cementing of ties between the two nations may disrupt the U.S.'s efforts in curbing Russia's aggression on Ukraine, potentially prolonging the war, and containing North Korea's nuclear pursuits to enhance nuclear capabilities.