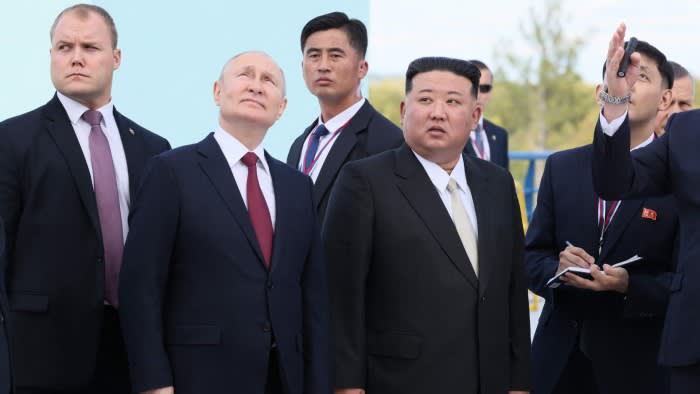 Receive free The FT View updates
We'll send you a myFT Daily Digest email rounding up the latest The FT View news every morning.
Not so long ago, Russia's Vladimir Putin sat at the table with G7 leaders. That he is now rolling out the red carpet for North Korea's dictator Kim Jong Un is a sign of how far he has driven his country into isolation and, no doubt, of its need to top up arms supplies for its disastrous war in Ukraine. Kim has seized the opportunity to lessen his own isolation. The emerging relationship between the two is an ominous development for the US and western allies, for Ukraine, and for stability in Asia.
Little was revealed about the talks' substance. But there are compelling indications that they revolved around a deal for Pyongyang to supply munitions to Moscow in return for material and technological aid. Kim has much to offer. North Korea, whose 1950-53 war with South Korea never officially ended, has a huge stockpile of munitions compatible with Russia's weapons, and a large production base.
Analysts say it could supply not just artillery shells and rockets — which Russia is consuming in Ukraine faster than it can replace them — but armoured vehicles, drones and even short-range ballistic missiles. It can also potentially provide manpower to ease Russian labour shortages caused in part by its military drafts.
Russia can offer much-needed grain and crude oil to Pyongyang, though of most interest to Kim is probably technical help in developing weapons, missiles, nuclear submarines and military spy satellites. The Kremlin will surely be wary of helping the capricious North Korean leader get hold of too many dangerous toys. But Kim is well-placed to drive a hard bargain.
If even elements of such a deal are done, the implications are profound. It could help Russia if not to make major breakthroughs in Ukraine then at least to sustain its grinding war. South Korea — which has a big stockpile of more advanced weapons — might then be persuaded to donate arms directly to Ukraine, rather than simply "backfill" US reserves being provided to Kyiv. (It has shied away from doing so in part for fear that would prompt Moscow to aid Pyongyang.) This would create linkages between Asian and European military flashpoints thousands of miles apart.
An arms deal with Russia would, meanwhile, blow a hole in UN sanctions on North Korea that Moscow voted to support as recently as 2017. Increased military capabilities thanks to Moscow's help might start to embolden Kim, endangering stability on the Korean peninsula. Collaboration between North Korea and Russia — which has a supposedly "no-limits" partnership with China — could spur Japan and South Korea to deepen their own military co-operation with the US, entrenching a dynamic of opposing blocs in Asia.
None of this is likely to please China. Yet while Pyongyang relies heavily on Chinese trade and supplies of food and fuel, limiting any of these would risk undermining Beijing's strategic priority of preserving stability on the peninsula. Beijing may have some sharp words in private for Russia's president, and be less willing to help Moscow withstand western sanctions, but may shrink from antagonising what it sees as an ally in countering US clout.
The US and its allies will be even more perturbed, but lack tools to influence Russia or North Korea beyond stepping up already extensive sanctions. Washington needs to make doubly clear it is ready to support Ukraine's military effort for as long as it takes. Despite recent US-China tensions, it should also step up efforts to reach understandings with Beijing on areas of common interest — which ought to include doing whatever might be possible to restrain an increasingly wayward Moscow and Pyongyang.