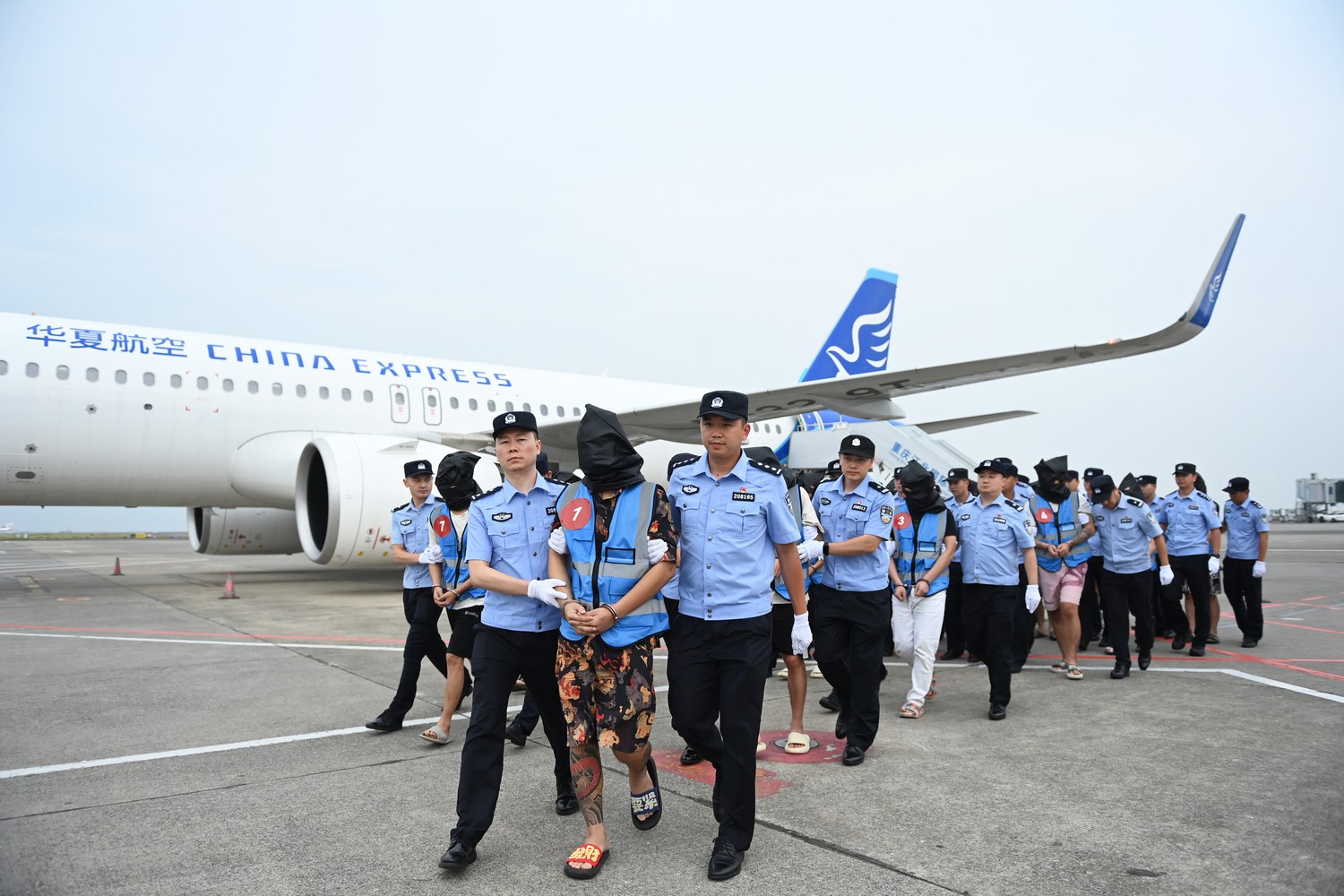 Laos has deported 164 Chinese arrested for various alleged crimes, including human trafficking in the murky "Golden Triangle" casino and tourist hub in northern Laos, to face justice in their homeland, officials said.
Some 46 of them were arrested in the Bokeo Special Economic Zone operated by a Chinese tycoon who the U.S. government has sanctioned for running a human trafficking network.
The individuals appeared to be involved in running call centers where scammers try to trick people into fake investments. Radio Free Asia has reported that these call centers often exploit their employees.
Among the other Chinese detainees, 77 were arrested in the capital Vientiane, 22 in Vientiane province and 19 in Savannakhet province, in the south.
"The repatriation of these Chinese criminals occurred in the morning of September 11, 2023," an immigration official at Vientiane's Wattay International Airport said. He said Chinese police used China Southern Airlines to fly them out of the country.
RFA contacted officials in the special economic zone and Chinese Embassy officials in Vientiane, but they declined to comment.
Positive step, but problem will remain
Ordinary Laotians welcomed the news, saying it would make the country safer, but also said that such crimes will continue if authorities do not go after ringleaders.
"We heard the news that they are being sent back," said one resident on condition of anonymity for security reasons. "They are gangs from call centers. There are so many of them and their numbers will be reduced after sending them back to China."
Another Laotian, from Bokeo province, said that unless the government deals with the conditions that attract criminals, more will appear.
"The main cause of the problem has not been solved," the second resident said. "Only the minor problems have been solved. There are still many call centers in Laos that the government has not dismantled. The government has only arrested the small guys this time."
A father whose daughter was a victim of a Chinese human trafficking scheme involving Laos and Myanmar told RFA on condition of anonymity that he was happy to see the authorities cracking down.
"I heard that the Chinese gangs from call centers are being arrested and the Chinese police came to take them back to China," he said. "But the people want the Lao and Chinese governments to help rescue Lao people who have become victims of human trafficking."
A woman who once worked for Chinese scammers told RFA that at present, there are still advertisements to recruit Lao women to work in the Golden Triangle Zone. She said Lao workers are still applying for jobs, which promise good pay.
"Newly recruited workers will get a salary of 2,000 yuan (US$275) per month plus a bonus of 1,000 yuan (US$137) if they do not take off from work and work weekends,"
Last week, the Myanmar police repatriated 1,207 Chinese criminals arrested from a call center in Myanmar. Thailand, Myanmar, China and Laos have set up a special unit to crack down on human trafficking but the problem still persists.
Translated by Sidney Khotpanya. Edited by Eugene Whong and Malcolm Foster.