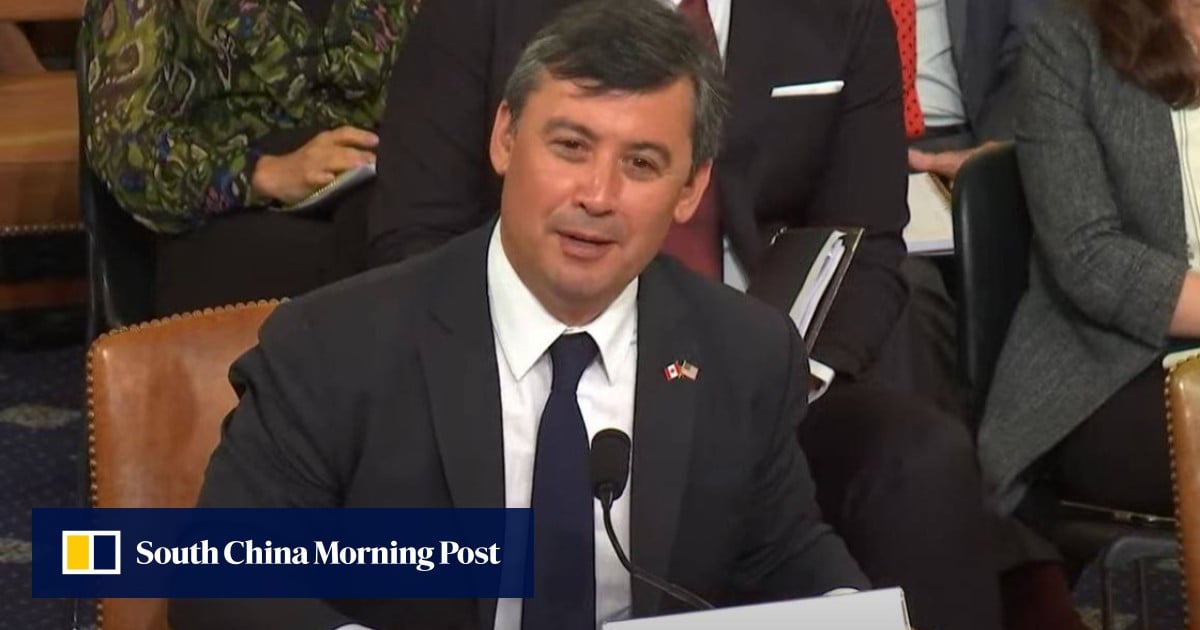 US lawmakers are refocusing attention on international cooperation to tackle Beijing's "transnational repression", inviting a Canadian parliamentarian who reports falling victim to it to testify on Tuesday.
Citing the scope of China's "sophisticated, global and comprehensive campaign of transnational repression", described as a strategy to silence critics around the world, Senator Jeff Merkley called for a "redoubling" of efforts to understand the threat, raise awareness globally and work more closely with other governments.
Merkley, a Democrat from Oregon, spoke at a hearing titled "Countering China's Global Transnational Repression Campaign" hosted by the Congressional-Executive Commission on China (CECC), a bipartisan panel on which he sits that advises lawmakers and the executive branch on human rights and the rule of law in China.
Canadian MP Michael Chong, a foreign policy critic who also serves as vice-chair of a special parliamentary committee on the Canada-China relationship, was one of four witnesses on Tuesday.
Chong spoke about a Toronto-based Chinese diplomat gathering information to target his family in Hong Kong and a disinformation campaign launched against him on Chinese social media platform WeChat, which the Canadian foreign ministry said was likely conducted by Beijing.
He also described Beijing's "systemic long-term effort to create fear on university campuses", which he said, citing two cases on Canadian campuses, involved Beijing getting Chinese international students to surveil and threaten each other as well as members of ethnic minorities like Uygurs and Tibetans.
According to Canadian news media, there was no evidence linking the incidents at McMaster University and the University of Toronto, Scarborough, to Chinese diplomatic missions. Beijing has repeatedly denied interference in Canada and the US.
Chong urged the US and Canada to work together to combat foreign interference, especially in countering disinformation that targets elected officials.
He said the two countries can share ideas on best practices related to creating a foreign-agent registry, which Ottawa is currently establishing and which Washington has had in place since 1938.
Last year, Merkley chaired a
CECC hearing
on how the US was responding to transnational repression. Since then, the US government has intensified steps to counter the practice, including prosecuting suspected perpetrators and launching a working group on the issue as part of a G7 coordinating mechanism.
Earlier this year, Merkley introduced the bipartisan
Transnational Repression Policy Act
, which would mandate additional US government reporting on the issue, require training for US diplomatic and law enforcement personnel and develop a more effective tip line for victims and witnesses. A version introduced by Representative Chris Smith, a Republican from New Jersey and the CECC chair, sits in the House.
Freedom House, a Washington-based human rights organisation, has documented 854 physical instances of transnational repression since 2014, with 253 cases – or about 30 per cent – conducted by Beijing. According to the group, China has conducted campaigns in at least 36 countries, including the United States.
During Tuesday's hearing, Yana Gorokhovskaia, a research director at Freedom House, highlighted the case of Chinese human rights lawyer Lu Siwei, who was arrested in July by Laotian police while boarding a train to Thailand.
Lu had recently fled China and intended to fly from Thailand to reunite with his family in the United States. According to the UN Human Rights Office, he is now at risk of imminent deportation to China, and rights groups fear that Beijing is behind his detention.
Gorokhovskaia urged the US government to codify a definition of transnational repression, conduct consistent and culturally sensitive outreach to diaspora communities, and deploy targeted sanctions against Chinese officials who target dissidents abroad.
Also testifying was Rushan Abbas, founder and executive director of the Washington-based
Campaign for Uyghurs
. She spoke about efforts by Beijing-backed actors to discredit her advocacy about her sister's detention in China.
She reminded the committee that at previous hearings, "a room full of Uygurs" would hold up pictures of missing family members.
"But today, you don't see many," she said. "They are afraid of coming to the public events like this as a direct result of [transnational repression]."