Updated Sept. 12, 2023, 03:35 a.m. ET
North Korean leader Kim Jong Un arrived in Russia's far east on Tuesday to meet his fellow leader of the authoritarian world, the Russian President Vladimir Putin.
"We believe that Kim Jong Un entered Russia on a private train, probably in the early hours of this morning," said South Korea's Defense Ministry spokesperson Jeon Ha-kyu Tuesday. "We're watching closely to see if there are any negotiations going on between North Korea and Russia regarding arms deals, technology transfers, especially given that he was accompanied by a number of military personnel."
The comments came just hours after North Korea's official Korean Central News Agency on Tuesday released photos of Kim, accompanied by senior officials from the ruling party and its military, boarding his train to Russia.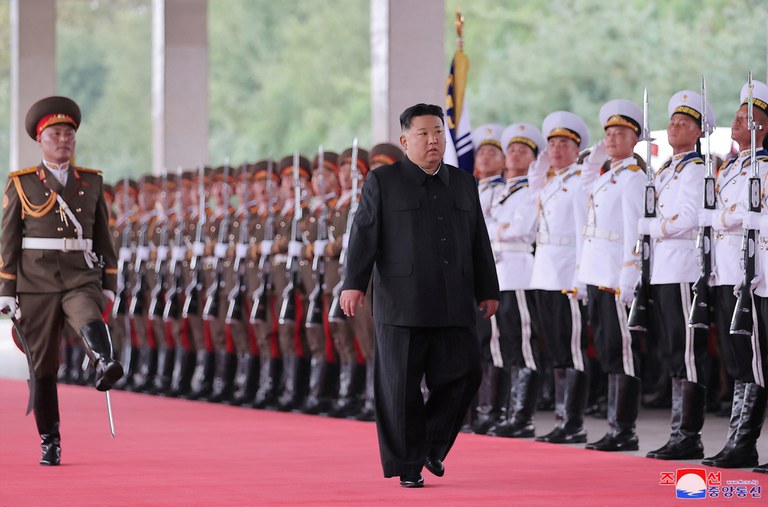 Kim is set to meet Putin during his trip to Russia, most likely in the far eastern city of Vladivostok. But a direct journey to Vladivostok on his armored train is not possible, as the North Korean train is not compatible with Russia's railway. This necessitates a transit at the Khasan station en route to Vladivostok.
The North Korean leader's travel route is largely kept secret, but he was most likely to have traveled across the Druzhny Bridge, also known as the Bridge of Friendship, between North Korea and Russia.
The leaders are set to have "negotiations" and attend an "official banquet", Russian presidential spokesman Dmitry Peskov told reporters, according to Russia's official news agency, Tass, Tuesday. "No press conferences are planned," Peskov added. 
"As you know, while implementing our relations with our neighbors, including North Korea, the interests of our two countries are important to us, and not warnings from Washington," Peskov said, according to Tass. "It is the interests of our two countries that we will focus on."
In response, Seoul on Tuesday urged Pyongyang and Moscow to align with the UN's security council resolutions in upholding regional peace. "Russia and North Korea should be reminded of their obligations under UN Security Council resolutions and various international sanctions against arms trade and military cooperation," Lim Soo-suk, South Korea's Foreign Ministry spokesperson said in a regular briefing. 
An official from South Korea's presidential office pressed Moscow to play a constructive role. President Yoon Suk Yeol hopes that "Russia would play a responsible role as a permanent member of the Security Council," the official told reporters, adding that both independently and in collaboration with its allies, Seoul was well-informed of the current development.
Kim's arrival in the far east on early Tuesday came as Pyongyang and Moscow confirmed the North Korean leader's visit to Russia late Monday. The North's Korea Central News Agency said that the visit was made at "the invitation of the President of the Russian Federation, Comrade Vladimir Putin." The Kremlin also confirmed the visit, according to Tass on Monday.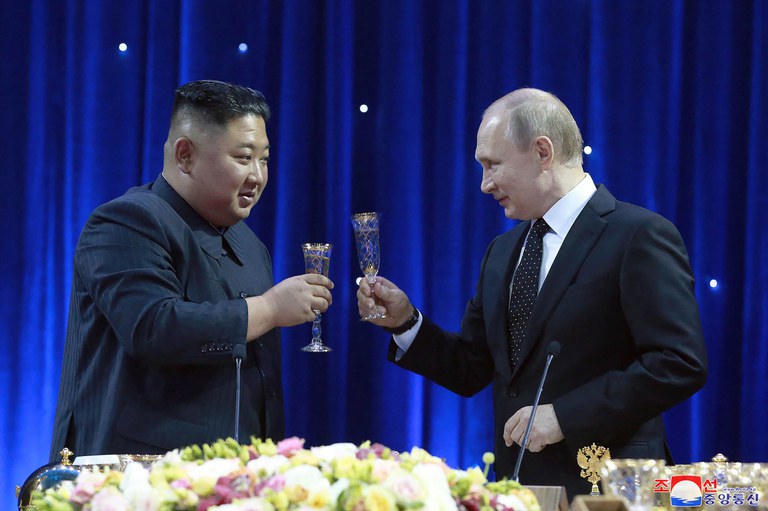 Kim and Putin's last summit in April 2019 also took place in Vladivostok, where the two reinforced their diplomatic ties. The meeting came a mere two months after Kim's high-stakes nuclear negotiation with the United States collapsed in Hanoi. After the summit, where Putin reiterated Russia's role as a regime backer, Kim returned to his brinkmanship diplomacy, firing multiple missiles.
The summit could change the dynamics of global security, as arms trade is likely to dominate the agenda. Any ammunition supplies to Russia would prolong its aggression against Ukraine and drag the war into a long-term conflict that further destabilizes Europe. Strained ammunition supplies are currently holding Russia back to advance deeper into Ukrainian territories. 
The talks, inevitably, would primarily be centered around bilateral military cooperation, said Cheon Seong-whun, a former security strategy secretary for South Korea's presidential office.
"Russia is in urgent need of conventional weapons, including artillery shells, and North Korea may ask for an S-400 missile defense system to compensate for its weak air defense."
The S-400 missile defense system, deployed in Russia, is designed to shoot down air-threats including enemy's aircraft, cruise and ballistic missiles. Incorporating the Russian defense system could significantly boost the North's relatively weak air defense, and therefore undermine the allies' deterrence capability.
"Other demands could include the transfer of technology for spy satellites, intercontinental ballistic missile reentry, nuclear-powered submarines, hypersonic missiles, and nuclear warhead miniaturization," Cheon said. "The bottom line is that North Korea's attempts to diversify tactical nuclear forces will continue."
Any economic support from Russia may also undermine and water down the effects of the international community's imposed sanctions to force North Korea to denuclearize. On the other hand, a bolstered alliance between Moscow and Pyongyang would reshape the region's geopolitical dynamics, pulling it further away from the pressure to disarm and non-proliferation.  
Kim is expected to visit Vladivostok, where he would meet Putin. North Korea is seeking diplomatic and economic support to revive its coronavirus and sanctions-hit economy. Almost half of the North Korean people were undernourished between 2020 and 2022, a World Food Program report published in July found. The food shortage in North Korea appears to be spreading, with sources inside the country telling Radio Free Asia that as many as 30% of farmers in two northern provinces are unable to work on collective farms because they're weak from hunger.

Edited by Elaine Chan and Mike Firn.
Updated to add quotes from S. Korean foreign ministry and analyst.