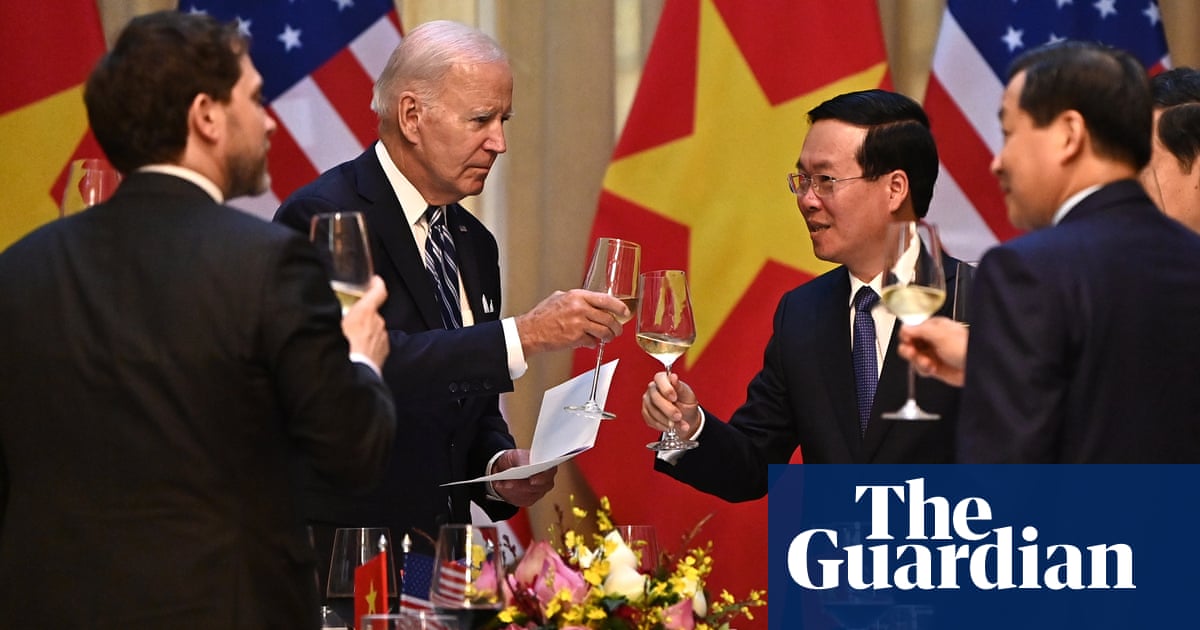 Over the weekend, US President Joe Biden arrived in Hanoi and finalised a diplomatic agreement with former foe Vietnam that was, until recently, almost unthinkable.
Shortly after touching down in the country, Biden met Nguyen Phu Trong, general secretary of the Communist party of Vietnam, to upgrade their ties to a comprehensive strategic partnership (CSP), the highest of Vietnam's three diplomatic levels – save for a special category reserved for Cambodia and Laos.
This puts the US in the same category as China, Russia, India, and South Korea, a move American diplomats had been seeking for years. Further CSPs are under discussion with Australia, Indonesia and Singapore.
Biden and Trong released a wide-ranging joint leaders' statement on Sunday that "reaffirmed the importance of economic, trade, and investment cooperation and innovation-driven inclusive economic growth as the core foundations and sources of momentum in the bilateral relationship".
On Monday Biden said US relations with Vietnam had "entered a new stage".
Nhan Dan, the official newspaper of the Communist party of Vietnam, hailed the agreement, with the headline "Vietnam, US establish comprehensive strategic partnership for peace, cooperation, and development."
The US only ended its postwar embargo on Vietnam in 1994, opening up economic ties after roughly two decades of isolation. The two sides established a comprehensive partnership in 2013, a relationship that deepened as ties between the US and China began to deteriorate while Vietnam began to ship huge amounts of exports to American consumers. While neither nation has forgotten the legacy of the war, particularly in Vietnam, where unexploded ordnance still kills and maims people every year, shared economic and geopolitical interests have drawn them ever closer.
Nguyen Khac Giang, an analyst at the ISEAS–Yusof Ishak Institute in Singapore, pointed to Vietnam's northern neighbour as a key driver of this upgrade.
"The influence of China cannot be overlooked," he said. "Vietnam is among the few nations in Asia prepared to challenge China's regional ambitions, all while maintaining open lines of communication with Beijing."
This balance has been evident in recent weeks. In late August, Vietnamese media devoted rare coverage to an incident in which a Chinese Coast Guard vessel allegedly harassed a Vietnamese fishing boat with water cannon, breaking a fisher's arm in the process.
On 4 September, General Secretary Trong welcomed Liu Jianchao, international liaison commission of the Central Committee of the Communist party of China, for a visit to Hanoi.
The reaction to the American CSP from Russia, Vietnam's historical security partner, and China, its largest trading partner and ideological peer, has been muted thus far. The Global Times dismissed Biden's visit as a "symbolic gesture", though Giang believes the Chinese response may be complex in the longer term.
"On the surface, I expect China to exhibit restraint in its reactions, especially since Hanoi has consistently emphasised that the upgrade isn't about 'containing' China," he said. "However, beneath the surface, China might be inclined to ramp up its aggressive manoeuvres in the South China Sea or wield its economic influence as a warning sent to Hanoi."
Dr Huong Le Thu, adjunct fellow at CSIS in Washington DC, said: "China has already been reacting by using language warning south-east Asian countries from external meddling, sending the water cannon, sending more delegations prior to Biden's visit.
"None of this is new from China's playbook, but the Vietnamese are well aware and playing along while going ahead with the partnership with the US."
In addition to the diplomatic upgrade, the White House announced numerous bilateral initiatives and business deals illustrating the key economic role it envisions for Vietnam moving forward.
These include a semiconductor partnership to "expand the capacity of the semiconductor ecosystem in Vietnam, in support of US industry" and a program on "workforce development initiatives in Vietnam that jointly develop hands-on teaching labs and training courses for semiconductor assembly, testing, and packaging".
Other focal points include upskilling Vietnam's labour force, developing its significant rare earth reserves – second in size to China's – improving climate change resilience in the Mekong delta, and expanding renewable energy storage capacity.
"This signifies that Vietnam is viewed as a key partner in the Indo-Pacific, potentially one of the most vital, in the US endeavour to forge a resilient supply chain amidst escalating great power rivalry," Giang said.