Joe Biden's national security tour of south-east Asia reached Hanoi, Vietnam, on Sunday, where the president called for stability in the US-China relationship against an increasingly complex diplomatic picture in the region for his country.
"I don't want to contain China," Biden said. "I just want to make sure that we have a relationship with China that is on the up and up, squared away, everybody knows what it's all about."
Biden also said that China's recent economic downturn may limit any inclination to invade Taiwan.
"I don't think it's going to cause China to invade Taiwan – matter of fact the opposite, probably doesn't have the same capacity as it had before," he said on Sunday during a press conference in Hanoi.
He added that the country's economic woes had left President Xi Jinping with "his hands full right now".
The president's remarks came after a meeting with Nguyen Phu Trong, the general secretary of Vietnam's ruling Communist party, in the nation's capital designed to secure global supply chains of semiconductors and critical minerals, which would offer a strategic alternative to China.
"I think we have an enormous opportunity," Biden said of the visit. "Vietnam and the United States are critical partners at what I would argue is a very critical time."
The meeting came during a multi-front diplomatic push to shore up international support for Ukrainian resistance to Russia's invasion and enunciate a policy toward China that both encourages trade and reduces the potential for US-Chinese conflict.
The complexities of the administration's approach were illustrated on Saturday, a day before Biden landed in Hanoi, when the New York Times reported that Vietnam is in talks with Russia over a new arms supply deal that could trigger US sanctions.
Reuters said it had seen – but could not authenticate – documents describing talks for a credit facility that Russia would extend to Vietnam to buy heavy weaponry, including anti-ship missiles, anti-submarine aircraft and helicopters, anti-aircraft missile systems and fighter jets.
Earlier, at the G20 summit in New Delhi, India, western leaders failed to reiterate an explicit condemnation of Russia's invasion of Ukraine. The summit declaration referred only to the "war in Ukraine" and lamented the "suffering" of the Ukrainian people – an equivocation that indicates a growing lack of international consensus.
Less than a year ago, G20 leaders still issued a strong condemnation of the Russian invasion and called on Moscow to withdraw its forces.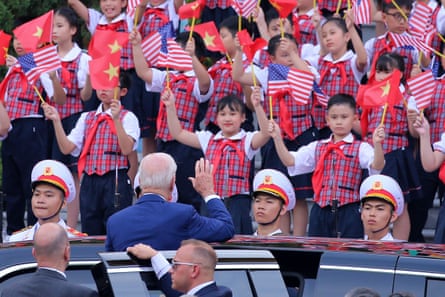 Biden's secretary of state, Antony Blinken, attempted to smooth over the disparity, telling ABC's This Week that world leaders meeting in New Delhi had "stood up very clearly, including in the statement, for Ukraine's sovereignty and territorial integrity".
Blinken said that virtually every meeting participant "is intent on making sure there is a just and durable end to this Russian aggression".
It was clear in the room, he said, that "countries are feeling the consequences and want the Russian aggression to stop".
White House press secretary Karine Jean-Pierre said: "The vast majority of G20 countries have supported multiple UN resolutions that call out Russia's illegal aggression."
Jean-Pierre said the New Delhi communique "builds on that, to send an unprecedented, unified statement on the imperative that Russia refrain from using force for territorial acquisition, abide by its obligations in the UN charter, and cease attacks on civilians and infrastructure".
The comments came as a CBS News poll found only 1 in 4 Americans think Biden is improving the US's global position. According to the survey, 24% thought Biden was making the US stronger, 50% said weaker and 26% that he was not having much effect.
Just 29% said they were optimistic for the prospects of world peace and stability in the world, and 71% said they were increasingly pessimistic. Asked if the Biden administration was being "too easy" on China, 57% agreed.
On CNN, Republican presidential hopeful Nikki Haley slammed the Biden administration's policy toward China, describing the country as an "enemy".
"China has practically been preparing for war with us for years," Haley said. "Yes, I view China as an enemy."
Haley said China had bought 400,000 acres (162,000 hectares) of US soil and the largest pork producer in the country, and continues to steal $600bn a year in intellectual property while spreading propaganda. She pointed to Chinese drones used by US law enforcement and to the crisis caused by Chinese-sourced fentanyl that "had killed more Americans than the Iraq, Afghanistan and Vietnam war combined".
"How much more has to happen for Biden to realize you don't send cabinet members over to China to appease them?" she said, referring to the recent visit of the US commerce secretary, Gina Raimondo, to Beijing.
The administration's effort to present a coherent picture of US foreign policy toward its two most vexing issues – China and Russia – continued Sunday with vice-president Kamala Harris telling CBS News that a planned meeting between North Korea's Kim Jong-un and Russia's Vladimir Putin "would be a huge mistake".
"When you look at Russia's unprovoked war on Ukraine, and the idea that they would supply ammunition to Russia – well, it's predictable where that ends up," Harris said. "I also believe very strongly that for both Russia and North Korea, this will further isolate them."
Harris also spoke to an emerging concern that China's president, Xi Jinping, who skipped the G20, may decline to attend the Asia-Pacific economic cooperation leaders' meeting in San Francisco, California, in November.
Last week, China's security agency hinted that a meeting between Xi Jinping and Joe Biden in San Francisco will depend on the US "showing sufficient sincerity".
China's ministry of state security said that the country "will never let its guard down".
The comments came after Raimondo said the US did not want to decouple from China but that American companies had complained to her that China had become "uninvestible".
Asked how important it is for Xi Jinping to come to America, Harris remarked that "it is important to the … stability of things that we keep open lines of communication".