North Korea staged an anniversary parade on Saturday as the nation strives to boost internal unity while seeking stronger military ties with China and Russia to buffer a slumping economy and growing regional tensions. 
"A civil defense military parade to celebrate the 75th anniversary of the founding of the republic was grandly held at Kim Il Sung Square in Pyongyang," North Korea's official Korean Central News Agency (KCNA) reported on Saturday.
The parade held at midnight featured "columns of motorcycles with high mobility" and "anti-tank missile launchers towed by tractors," KCNA said. A photo released by the news agency showed the Kim Il Sung Square filled with people, some of them holding cards that said "Arming the Entire People."
North Korean leader Kim Jong Un, clad in a black suit, watched the parade alongside his daughter Ju Ae from a white, marble-decorated balcony. Kim did not give a speech.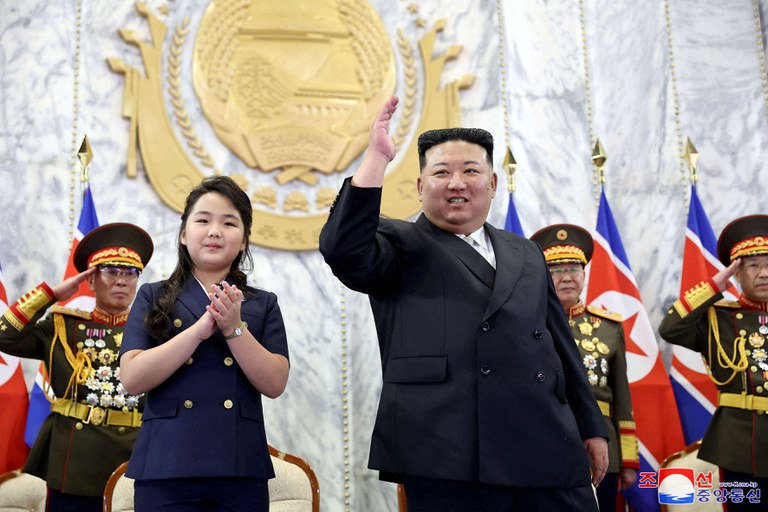 "Since it was a civil defense force parade, it could be seen that Pyongyang was predominantly aiming to solidify its internal unity," said Cheon Seong-whun, a former security strategy secretary for South Korea's presidential office.
"Internal solidarity is a prerequisite for the sustainability of the North Korean regime. It could also be that Pyongyang is preparing for possible social and ideological relaxations, following its decision to open its borders for the first time after the COVID pandemic," Cheon added. 
The parade is also the third of its kind this year, following similar events in February and July. It marks the first time under Kim Jong Un's leadership that North Korea has held three military parades within a single year.
Holding multiple parades within one year requires the state's decision to centralize resources, including finances, manpower and other logistical capabilities, which underscores its urgent need to shore up internal solidarity. North Korea usually tries to overcome its internal problems with its military might, via putting an emphasis on its defense capability.  
Pyongyang  also conducted multiple missile tests this year, among which were several launches of its Hwasong-series intercontinental ballistic missiles (ICBMs) that it claims could deliver nuclear warheads to the U.S. mainland. The military provocations came after its economy contracted for the third straight year in 2022, according to the Bank of Korea. The COVID restrictions, combined with international sanctions, are widely seen to have further depressed the North's struggling economy.
The economy may slump further this year. Kim last month blasted his premier Kim Tok Hun for his irresponsible response to flood damage on the western coast, which he claimed hurt the economy, according to KCNA. Almost half of the North Korean people were undernourished between 2020 and 2022, a World Food Program report published in July found.
The food shortage in North Korea appears to be spreading, with sources inside the country telling Radio Free Asia that as many as 30% of farmers in two northern provinces are unable to work on collective farms because they're weak from hunger.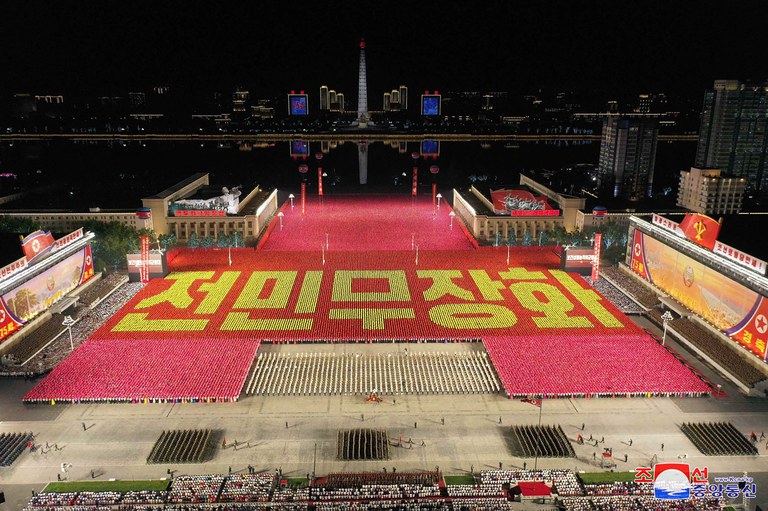 Although Saturday's parade only consisted of a civil defense force, any form of military parade may still elevate tension on the Korean Peninsula. The parade did not feature North Korea's regular military, new or strategic weapons, including ICBMs, but it bore diplomatic significance – demonstrated by support from its regime backers, China and Russia – despite Pyongyang's ongoing nuclear provocations.
China's vice premier Liu Guozhong was present at the military parade, while Russia sent its military orchestra to Pyongyang. Presidents Xi Jinping and Vladimir Putin sent letters hailing their countries' strengthening ties with North Korea, which will contribute to regional stability and prosperity, KCNA reported.
Beijing and Moscow remain among the few states that maintain amicable ties with Pyongayng, amid heavy sanctions and criticisms it faces due to its nuclear weapons and missile development.
Showcasing foreign delegations in North Korea's military parade is not common, according to South Korea's Kyunghee University professor Joo Jae-woo, a North Korea expert.  The latest, thus, signals the North's attempt to enhance the regime backers against the strengthening security collaboration with the U.S., South Korea and Japan. 
In reality, forming an authoritarian bloc against the U.S. and its allies may not be a simple task, given the diverse interests of Beijing and Moscow. 
With Russia, mutual interests are more aligned as Moscow also faces international sanctions for its aggression against Ukraine. According to South Korea's National Intelligence Service, Russia has formally proposed a joint naval drill with China and North Korea in July. Moreover, Russian President Vladimir Putin is likely to meet Kim Jong Un later this month, with arms trade anticipated to be at the center of discussion.
China's stance, however, differs. While North Korea is valued as a strategic asset against the U.S. and its allies, getting too cozy with North Korea could jeopardize its relations with the U.S. and its regional allies, which are crucial to improving its economic situation.
The international community has witnessed China's economic decline and weakening real estate market in recent months. China needs to maintain access to international markets and foreign investment in order to prevent a further deterioration of its economy. As China may seek to repair its ties with the U.S. and its allies, strengthening its political ties with North Korea and Russia may prove difficult. 
Edited by Elaine Chan and Mike Firn.