United States President Joe Biden touched down in India Friday, amid dwindling hopes that a New Delhi Declaration that is acceptable to all parties will emerge from the G20 summit.
U.S. National Security Advisor Jake Sullivan told media on board Air Force One that the U.S. was joining the summit in the "spirit of compromise," adding that the U.S. hoped it was possible "to agree on a text that everybody can live with.''
Speaking to objections raised by China on issues related to the Ukraine war and climate issues, Sullivan said, "We are not there yet."
Some 15 years after the inauguration of the G20, which brings together the world's 20 biggest economic powerhouses, this year's gathering shows every sign of having lost its momentum, as key members find themselves at loggerheads over everything from territorial claims to trade – and most of all Russia's invasion of Ukraine.
But China, like the U.S. said it would be working to achieve a mutually acceptable, positive outcome.
China's foreign ministry spokesperson Mao Ning said on Friday that China is willing to work with all parties and push for a positive outcome at the G20 summit in New Delhi.
Mao was responding to questions about media reports saying that British Prime Minister Rishi Sunak blamed China for delaying an agreement on various issues, including Ukraine.
NSA Advisor Sullivan said that Biden would not be meeting with Premier Li Qiang, who arrived from the ASEAN summit in Jakarta in place of Chinese President Xi Jinping, who is not attending the G20 summit for unknown reasons.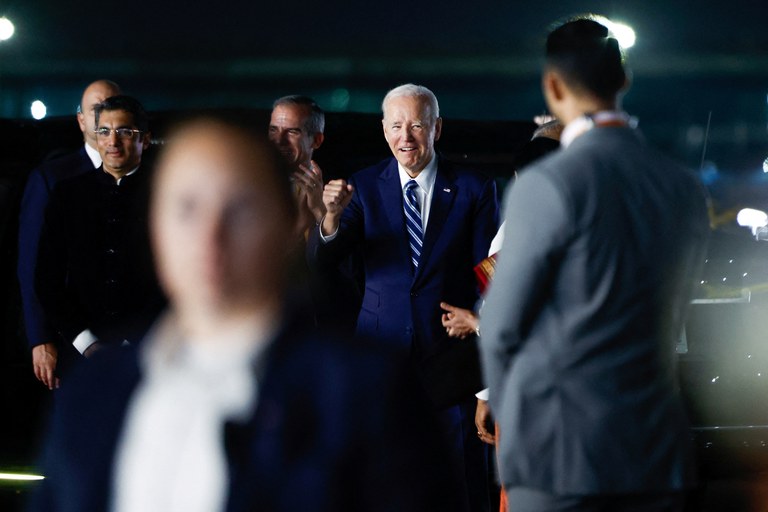 Russian President Vladimir Putin is not attending due to an international arrest warrant for war crimes, while Spanish Prime Minister Pedro Sánchez has tested positive for COVID and has withdrawn from attendance.
Miguel Chanto, the chief economist for emerging Asia at Pantheon Macroeconomics, an independent research firm, told RFA earlier in the week, the best hope was for a "nicely-worded – but naturally vague – statement" to be issued when the summit ends on the weekend.
Media reactions
Media coverage of the Indian summit was absent in China on Saturday morning, although English-language state media tabloid the Global Times suggested it was New Delhi not Beijing that was the "spoiler" at the global meet.
Meanwhile, Indian media has been abuzz in the leadup to the event about the ambitions of summit host Narendra Modi.
Indian media is also much preoccupied by an internal nationalist debate: should India change its name in accordance with classical Sanskrit and become Bharat – think of it as England renaming itself as Albion.
Modi today dominates India's politics, observers agree, and now his ambition is to make India shine on the world stage. Some argue he sees India as key to finding a balance in the geopolitical face-off between Washington and Beijing, a role Xi Jinping doesn't want India to have.
Xi's absence, China watchers say, underscores that reluctance to grant India a greater role in global geopolitics.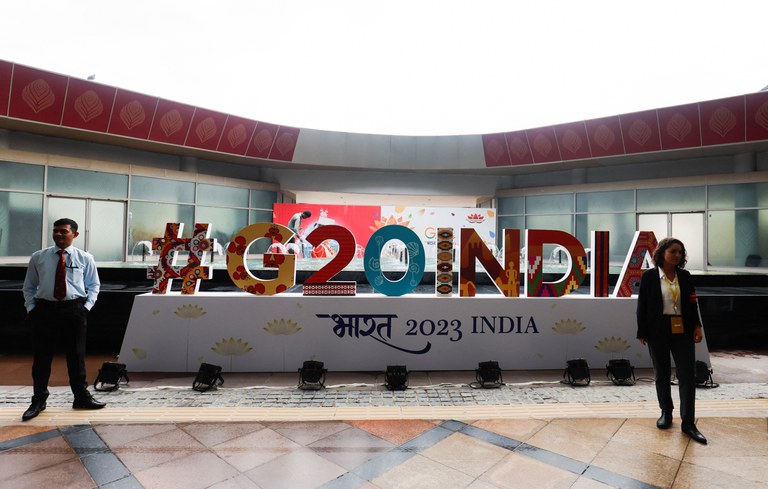 Meanwhile, foreign delegates to New Delhi received a G20 booklet titled "Bharat, The Mother Of Democracy," amid reports of slum clearances in the city, stray animals being rounded up and heated discussion on social media about India's decision to serve delegates "all veg" meals on golden plates.
Said Ashok Swain, professor of peace and conflict research at Uppsala University, "Modi has got Trump disease – silver plates and gold utensils for G20 dinner! Megalomaniac forgets India ranks 107th out of the 121 countries in Global Hunger Index, worse than Pakistan, Bangladesh & Nepal."
Where's Xi?
Despite no shortage of speculation – is Xi sick, is he snubbing India, snubbing the developed world, is he dealing with domestic issues, a power struggle even? – it's unknown why China's Xi is not gracing the New Delhi summit with his presence.
But it is lost on nobody that his absence contrasts sharply with his attendance at the recent BRICS summit in Johannesburg, South Africa, which Xi proclaimed "historic," announcing six new members for the grouping that claims to represent the Global South.
Xi has never skipped a G20 summit before, although he "attended" the Rome 2021 meet virtually by video link due to COVID-19 pandemic restrictions.
Senior Biden administration officials have flown to China in recent months in an attempt to break an unprecedented impasse between the two world powers and the G20 summit was seen as an opportunity for the two leaders to meet in person.
Speaking to Reuters 10 foreign envoys to China said that Xi's absence at the G20 comes at a time in which there are increasing concerns that China is turning in on itself and it is becoming ever more difficult to reach out to Chinese officials and collect information on China.
Ryan Neelam, a foreign policy analyst who previously served as an Australian diplomat based in Hong Kong, said that under Xi's strict regime, Beijing officials have become more wary about engaging with foreign powers.
"That has trickle-down effects through the system where lower-level officials, bureaucrats and diplomats are less willing to go off script," said Neelam.
Edited by Elaine Chan and Mike Firn.