A major detention facility in Hong Kong is overflowing after a years-long crackdown on political opposition and peaceful dissent, official documents show.
The Lai Chi Kok Reception Centre, one of the biggest remand centers in the city, is already full, with the government expecting a "growing penal population" in the years to come, according to a document submitted to lawmakers in July.
More than 10,000 people have been arrested and at least 2,800 prosecuted in a citywide crackdown in the wake of the 2019 protest movement, mostly under public order charges.
At least 230 have been arrested under the national security law, which criminalizes public criticism of the Hong Kong and Chinese governments, as well as ties and funding arrangements with overseas organizations deemed hostile to China.
According to the U.S.-based Hong Kong Democracy Council, 1,618 of those defendants are classed as political prisoners – peaceful critics of the government. Defendants in national security cases are far less likely to be granted bail, swelling the population of remand prisoners.
A major detention center at Lai Chi Kok where defendants are taken to await trial is currently running at around 104% capacity, the government has said.
"In view of the aging facilities and the overcrowded custodial environment of the Lai Chi Kok Reception Center, the Correctional Services Department proposes an in-situ partial redevelopment to increase … capacity … to free up more space to relieve the overcrowding problem," officials from the department told the Legislative Council in a letter in July.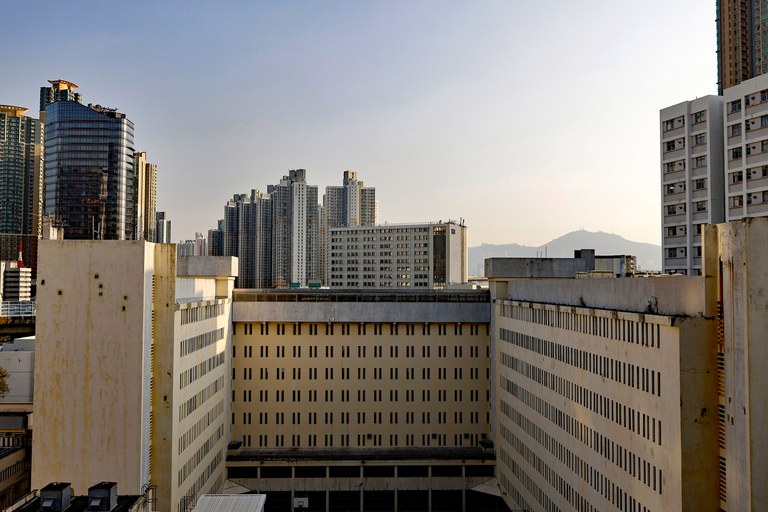 The plan is estimated to cost around HK$5.5 billion, according to the document, and will increase capacity to nearly 2,000 places, as well as enabling the building of a data center, new walls and fences as well as rooms where prisoners can attend remote hearings.
The number of people remanded in Hong Kong jails pending trial is at its highest in more than a decade, the South China Morning Post newspaper quoted correctional services chief Wong Kwok-hing as saying in February.
Targeted for their support
Fears are growing among supporters of those detained that they will be targeted themselves.
National security police continue to arrest people for supporting political prisoners via the 612 Humanitarian Relief fund.
Last month, police arrested 10 people in connection with the now-disbanded fund's activities. The arrests of outspoken Cardinal Joseph Zen and other trustees of the fund prompted an international outcry in May 2022.
The fund isn't the only prison-related charity to be targeted. Prisoner welfare charity Wall-fare disbanded after Beijing imposed the national security law on Hong Kong from July 1, 2020.
Under the current crackdown, police are apt to view such charities as aiding and abetting "rioters" or people who seek to "harm national security," with social worker Ka Tung Lau serving an eight-month jail term for helping people detained during the 2019 protest movement against the rolling back of Hong Kong's diminishing freedoms.
Lau said the authorities had frozen his bank account, but he got to work raising further funds on Patreon to support prisoners with monthly donations.
Despite his time in prison, Lau is keeping going, but alone, this time.
"I feel that it is risky to do anything that is even remotely political … so, given how easy it is for other people to get pulled into [such cases], it's better for me to do this alone," Lau said. "I also have a pretty clear idea of how much risk I can take, which I think makes me more flexible."
Lau keeps a court diary of his own, and keeps track of all the dates and times of the hearings, which he then observes from the public gallery.
He doesn't know whether such actions will put him at further risk, however.
"The idea of avoiding risk is really just a fantasy, because the boundaries are very unclear," Lau said.
Former Mong Kok District Councilor Derek Chu set up a platform called "Migratory Bird" to support prisoners, making money via the As One online shopping platform – part of the "yellow economic circle of pro-democracy businesses" – to support his prison work.
But he doesn't accept donations, as these can get a person or a group into trouble, especially as overseas donations are seen as funding by "foreign powers" under the national security law.
2019 protests
More than 90% of the prisoners Chu helps are being prosecuted or are serving jail terms for their role in the 2019 protests.
"I think just supporting prisoners is legal," Chu said. "But it's hard to predict whether I will run into obstacles or other risks."
Just being labeled as pro-democracy in people's minds can be a risk in today's Hong Kong, and Chu prefers to keep a low profile.
On Aug. 20, 15 national security police came along to a book reading event Chu held with social worker and former lawmaker Shiu Ka-chun and searched the venue.
Chu remains mentally prepared for his own arrest, he told Radio Free Asia.
According to Hong Kong court-reporting website The Witness, around 2,900 people had been prosecuted for taking part in the 2019 protests by December 2022, 819 for "rioting." Some 40% of sentences have already been served, while most of the remainder are scheduled for release this year.
However, arrests of people under the national security law continue.
Translated by Luisetta Mudie. Edited by Malcolm Foster.