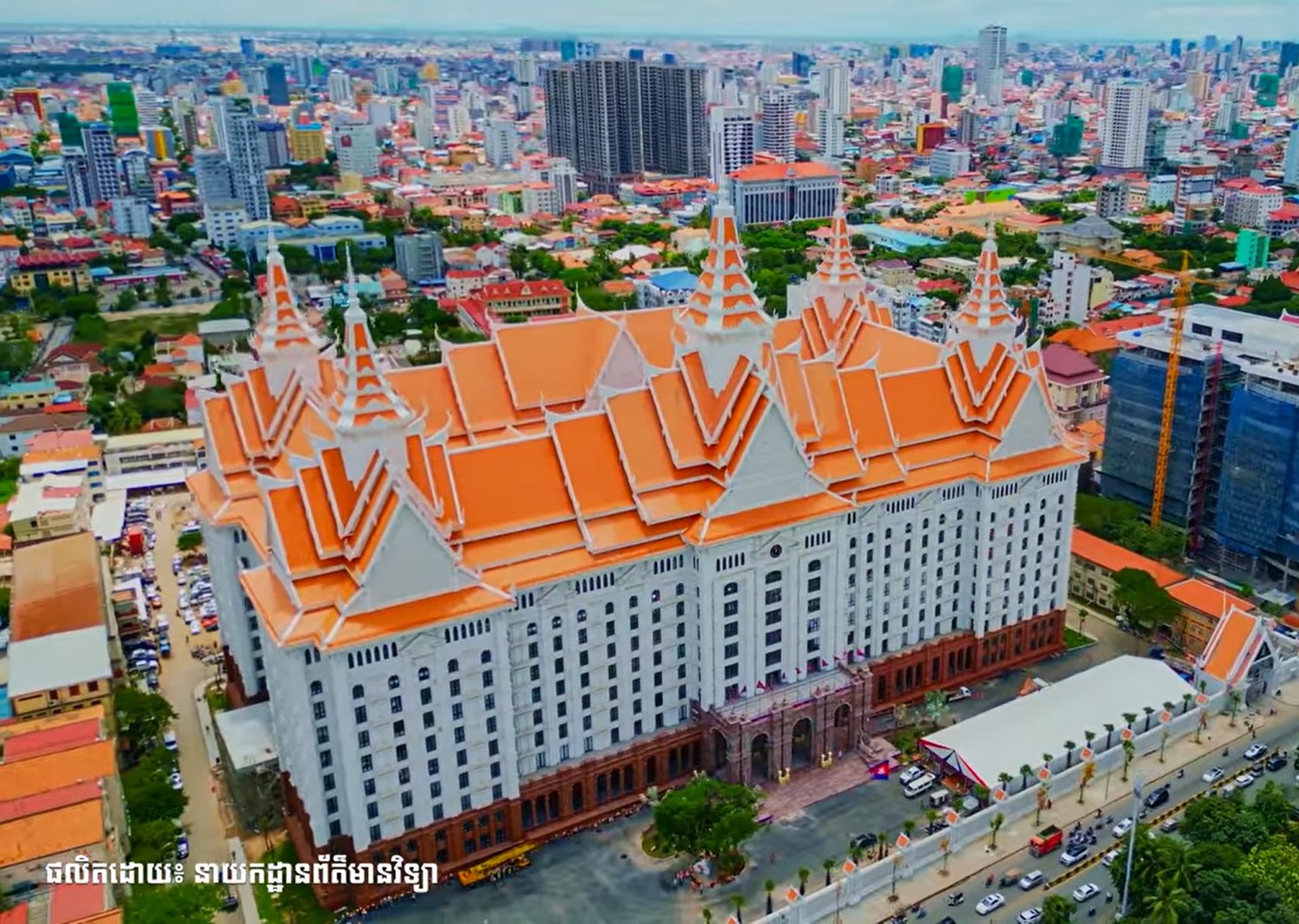 Water poured through the halls of the Interior Ministry's new main building after an unidentified person turned on several fire hoses, causing officials to scramble through the ankle-deep mess on the fourth floor to head off any damage.
Video footage posted on Facebook showed water gushing out of one room as uniformed ministry officials retreated to one end of a hallway.
The incident happened just before lunch on Aug. 30, the ministry said in a statement. The ministry's construction committee took immediate action to stop the water flow, it said.
"The incident didn't stem from a technical issue. It could be an ill attempt from individuals who aren't happy with the construction of the new building," said the ministry, which oversees law enforcement and public administration in Cambodia's provinces and municipalities.
Construction on the US$60 million building began in November 2021 and was completed last month. About 8,500 people will be able to work in the nine-floor building near Phnom Penh's riverfront.
Security cameras haven't been installed throughout the building just yet, but the construction committee is using other means to identify the person who turned on the hoses, according to the statement.
The committee is also investigating who posted the video footage on social media, the ministry said.
Radio Free Asia was unable to reach Interior Ministry spokesman Khieu Sopheak for comment on Tuesday.
The ministry recently saw a change in leadership as longtime Interior Minister Sar Kheng stepped down after more than 30 years in the role. His son, Sar Sokha, was named the new minister when Prime Minister Hun Manet's government was formed on Aug. 22.
The flooding could have been an attempt by someone to destroy government documents or damage other ministry property, said Ros Sotha, the executive director of the Cambodian Human Rights Action Coalition.
"The incident might stem from officials who aren't happy with the ministry's reshuffle or the new minister," he said.
Finland-based political analyst Kim Sok also noted that the new building is bigger and much more impressive than the building that houses the Council of Ministers, the government's executive body that oversees all ministries.
Translated by Yun Samean. Edited by Matt Reed.