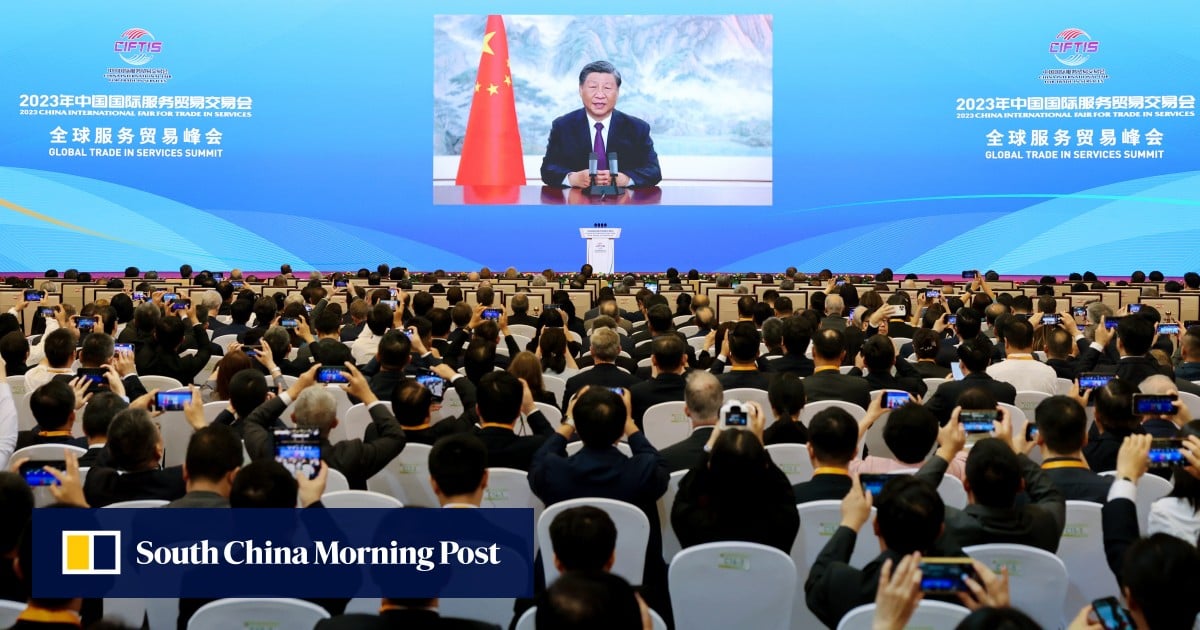 Foreign investors remain deeply concerned about China's tightening grip on matters of national security, and they are calling for greater transparency by Beijing to improve the business environment as they await the impact of policy changes and support measures.
"New data privacy and counter-espionage laws have led some international companies to segregate their China operations, inhibiting integration and FDI inflow. A review of these regulations is imperative," and Beijing needs to better integrate and open up into globalisation, said Noah Fraser, managing director and chief representative at the Canada China Business Council.
"Business, fundamentally, thrives on predictability and stability. We hope Beijing's policymakers will continue to engage in constructive conversations, integrating the perspectives from a diverse set of residents and investors," he said during a Monday panel at the China International Fair for Trade in Services in Beijing.
Roberta Lipson, founder of United Family Healthcare and vice-chair of the American Chamber of Commerce in China, said at the same panel that further transparency and continuity would be welcomed – especially greater transparency in regulations concerning portfolio investments, data protection and espionage, which represent some of the biggest worries among foreign companies in China.
The remarks came as the world's second-largest economy is grappling with dwindling confidence among foreign investors, leading many to consider pulling out of the country, while China's weak post-Covid economic performance has also raised worries over its growth prospects.
Policy predictability, data security and the anti-espionage law were high on the work agenda for US Commerce Secretary Gina Raimondo during her China visit last week.
Raimondo's comment that some American firms already believe China is "uninvestable" also raised eyebrows and sparked discourse.
January-July
foreign direct investment
fell by 9.8 per cent from a year earlier to US$111.8 billion, according to the Ministry of Commerce.
Beijing released guidelines last month in a bid to retain foreign investors, pledging more market access, speedier cross-border data flows and easier visa access, with an aim at luring foreign talent.
However, Beijing's raids of foreign consultancy firms and a newly enacted anti-espionage law continue to have a chilling effect on the foreign business community.
Rachel Tsang, managing director of the British Chamber of Commerce in China, pointed out that progress in the facilitation of cross-border data transfers and the acceleration of digital trade remain limited, and that the chamber would love to see more clarity when navigating security reviews of cross-border data with the cybersecurity administration.
"The postponement of the individual-income-tax law is extremely welcoming for the business community. Making lives easier for organisations that have to bring a large number of foreigners in, [such as] international schools," she added.
Many representatives of foreign investors have pointed to challenges in talent acquisition, as well as an unaccommodating living environment for expat employees.
"Beijing is one of the most restrictive areas in order to be able to hire people to work. Many of our companies want to hire people in Beijing, but to do so they need to register an entity here. Registering an entity in any other city is going to cost over a million yuan for companies … so they are forced to use a third-party provider, whereby they have to pay a lot more for hiring, and the benefits for employees are diluted as a result," said Adam Dunnett, secretary general with the European Union Chamber of Commerce in China.