Although little-known in the west, China's Jiangnan region has played a pivotal role in thousands of years of the country's history. "It's as if Ohio produced 20% of the GDP of the United States," said Clarissa von Spee, curator with the Cleveland Museum of Art. "It's pretty powerful, this region, and it has remained so for centuries." Producing many of the products most strongly associated with China, including jade and silk, it is a cultural powerhouse that is about to finally get its due in the United States.
For the past several years, Von Spee has worked with her colleagues at the Cleveland Museum of Art – including the museum director, William M Griswold – to create a major show on the Jiangnan region: this exhibition now sees the light of day as China's Southern Paradise: Treasures from the Lower Yangzi Delta.
With well over 200 offerings from dozens of public and private collections – including seven museums in mainland China – China's Southern Paradise offers audiences an important opportunity to see sides of China rarely seen in the west. "China is not just one entity, in terms of climate, geography, language, ethnicity," said Von Spee. "We think mostly in terms of Beijing, Shanghai and Hong Kong, and I hope that this show helps audiences to understand how diverse China is."
The show travels all the way back to Neolithic times to exhibit grains of rice recovered from Tianluoshan, an ancient site that was discovered in the early 2000s, and that scientists believe was inhabited as far back at 7,000BC. Believed to be among the first rice cultivated anywhere on Earth, these precious grains traveled thousands of miles across the Pacific Ocean – all the way from the Zhejiang Archaeological Institute in mainland China.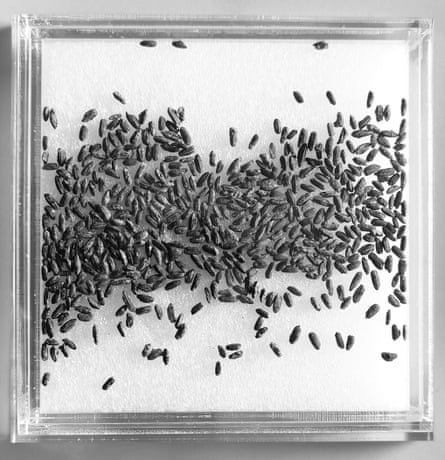 The Tianluoshan rice is one of many such precious artefacts lent by Chinese institutions for the exhibition, and they point to one of the special aspects of this show: the wide-ranging nature of the collectors that made it possible. This is a point of pride for Von Spee and Griswold, who see the Cleveland Museum of Art as uniquely positioned to stage this exhibition. "This is one of the first exhibitions working with China after the pandemic that succeeds in working with so many museums and getting so many loans," said Von Spee.
Griswold said: "This is an exhibition that the Cleveland Museum of Art is uniquely qualified to organize. Our incredible holdings of Chinese art have inspired the confidence of our more than 30 partners across the world."
From the stone age forward, China's Southern Paradise covers multiple eras of Jiangnan's history, corresponding with waves of migration that hit the region. Highlights include a rubbing of the Eulogy for Burying a Crane, an inscription in rock that dates to 6th century AD, and that has come to be known as one of the foremost masterpieces of Chinese calligraphy. It has inspired countless scholars to try to understand its eccentric memorial to the death of a beloved crane. Later eras of interest include the 12th century and the 18th century, with a wealth of impressive artefacts representing each.
Laying out the exhibition according to historical periods was very much in keeping with the way art and culture have flourished in Jiangnan. Von Spee said she consciously shaped the exhibit around waves of migration that kept the region dynamic, and that helped inspire so much cultural and artistic renewal. "The structure of the exhibition is composed of many, many narratives – not just one," she said. "The Jiangnan region began to prosper through great waves of migration. The structure of its art and culture and history is shaped by these waves of migration, which occurred regularly across hundreds of years when the north was occupied and pushed migrants toward this region."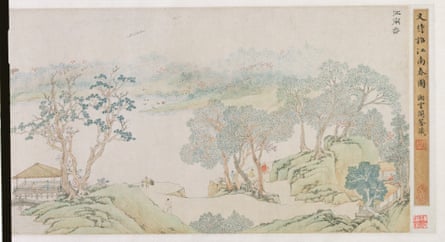 Among Von Spee's favorite pieces in the show is a scroll depicting one of the Qianlong Emperor's so-called southern inspection tours. Such tours were a way of maintaining the loyalty of outlying regions at a time when communications were far from swift, and power had to be projected majestically. "The emperor's legitimacy was always at stake," said Von Spee, "and the center of resistance was in the Yangtze delta region, so they made these processions. They were enormous, very costly, so it shows you that they recognized how important the Yangtze valley was for their empire."
Although major institutions around the world hold southern inspection tour scrolls, Von Spee purposely chose to exhibit one from the University of Alberta that is much less viewed than others she might have chosen. "I wanted to show a scroll that was rarely seen, and so it's exciting to have it on display," she said. A massive, detailed work of over 70ft in length, the scroll offers audiences a rare opportunity to peer into daily life in China hundreds of years ago. "It's just wonderful to see – over 26 meters long, and we spread it out as far as we can in the exhibition hall. You really get a very authentic, idealized vision of life in the Yangtze delta."
Von Spee said working on the exhibition throughout the pandemic forced her to fall back on her in-depth knowledge of China. "Curating during the pandemic, that's quite a story," she said. "Covid really came in between me and my colleagues in China. Thank God I had been to China often enough to do things, make photos and talk with colleagues – this allowed me to move forward with this show in spite of not being in China for three years."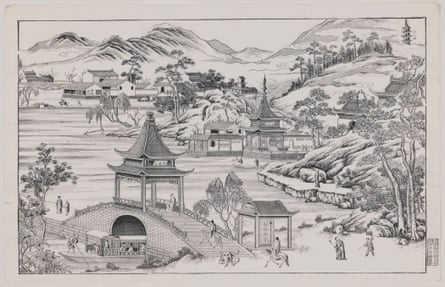 Although finding creative solution to the limits imposed by pandemic lockdowns proved initially difficult, Von Spee later found benefits to conducting her business digitally. "We all learned professionally how to deal with things digitally. I remember that one of the directors of a museum in China took his laptop into the galleries and showed us a magnificent silk robe. I was able to get a much better idea of the dimensions than I would have with just a photograph."
Von Spee said she hopes shows such as China's Southern Paradise will help to reduce tensions between China and the United States. Particularly now, when geopolitics has heightened the rivalry between these superpowers, and when the pandemic has caused increased racism against Chinese Americans living in the US, she hopes this show will foster mutual understanding.
"When we better understand each other and our cultures, that triggers respect," she said. "Once you learn more and know each other better, you have more respect for each other. Especially now, as the US and China have a strained relationship, culture is our resource to transcend this tension. There's nothing better than having an exhibition that counters biased ideas. I do know that our partners in China see it the same way; the museums are very excited to have this partnership and exchange."